Affiliate Disclaimer
We sometimes use affiliate links in our content. This won't cost you anything, but it helps us to keep the site running. Thanks for your support.
Teach your kids about the Israelites' freedom from slavery in Ancient Egypt with our free Passover Lapbook.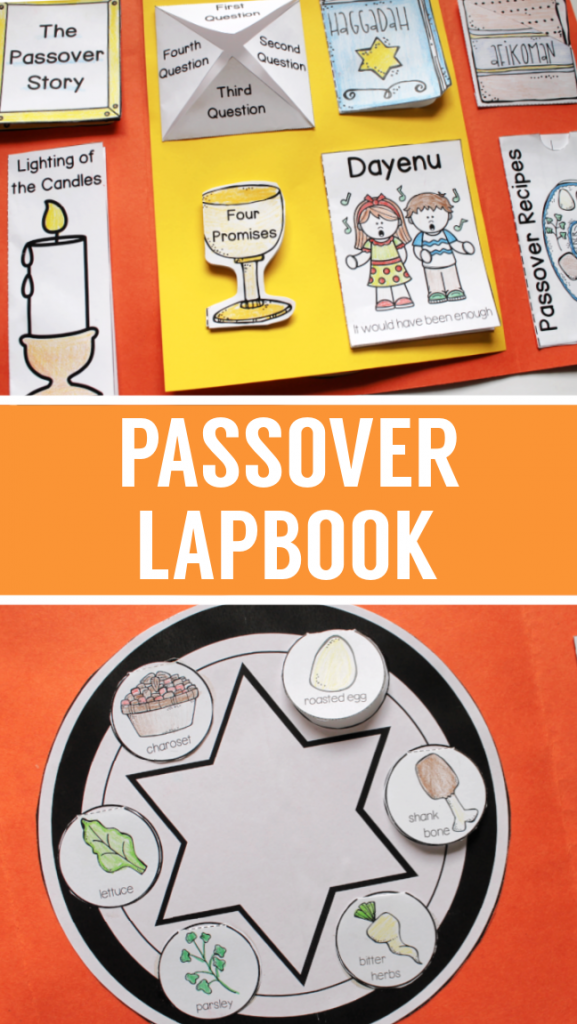 Thanks to Penny in TN for writing the lessons for this lapbook.
Passover Lapbook Lessons
Here are some sample lessons from the Passover study and lapbook.
Story of Passover
You can read the story, or just retell it in your own words. Your child can narrate the story with The Passover Story Book.
Seder Plate
What's Included in the Seder Plate?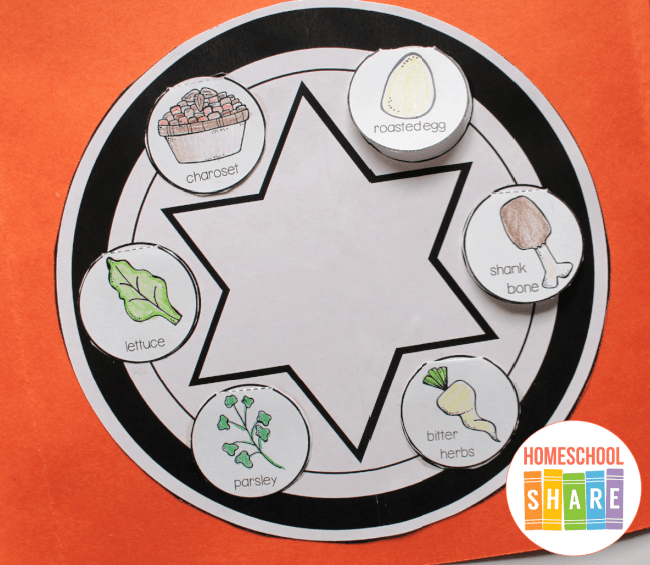 Karpas- anherb, like parsley or celery. Passover is a holiday that comes in the spring. This vegetable represents that all life is created and sustained by the creator.
Maror- bitter herbs, fresh grated horseradish, romaine lettuce, endive, or dandelion. This vegetable represents the bitterness the Israelites felt when in bondage to Egypt and to remind us of the bitterness we felt when in bondage to sin. When eating this herb often it will bring tears to eyes; these tears are a reminder of the sorrow the Israelites felt as well as the sorrow sin brought into our lives.
Kharoset- a mixture of apples, nuts, honey, and wine. Israel labored under the bondage of slavery making for Pharaoh a beautiful city with brick and clay. We remember this labor in this mixture made from apples, honey, nuts, and juice as it resembles the mortar. There is a sweetness to this mixture; the sweetness of deliverance brought to Israel.
Roasted Egg- This is a traditional food, with many symbols. Traditionally it was used as a replacement for the sacrificed lamb.
Shank Bone- This is a roasted shank bone of a lamb or chicken. Roast it over fire and remove meat. It represents the outstretched arm of deliverance.
Bowl of Salt Water- This is not found on the Seder plate but is part of the Seder celebration. The vegetable is dipped in the salt water. It represents the salting tears that Israel cried under the bondage of Egypt and the salty tears we shed so because of the bondage of sin.
You can grab a copy of the entire Passover Lapbook in an easy-to-print file at the end of this post.
Passover Lapbook Printables
In addition to the lessons, the file includes these mini-books for your student to create a lapbook.
Seder Plate with Circle Books
Passover Recipe Cards and Pocket
Matzah Pieces and Pocket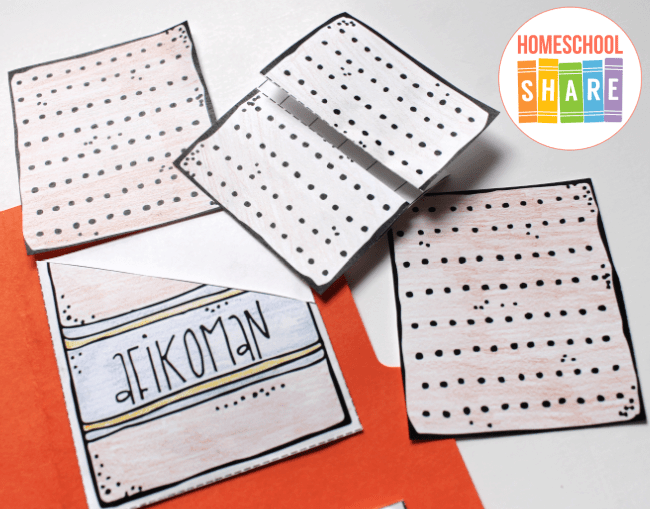 Haggadah Simple Fold Book
Four Promises Accordion Book
Four Questions Envelope Fold Book
The Ten Plagues of Egypt Simple Fold Book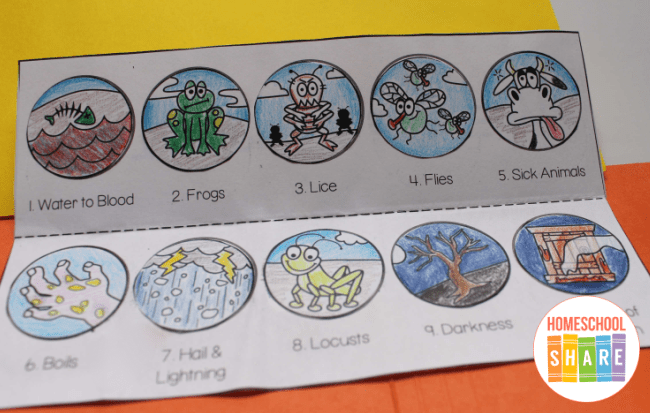 The Passover Story Mini-book
Lighting of the Candles Tri-fold Book
Dayenu Simple Fold Book
Lapbook Example
This lapbook example was made with one file folder and a piece of cardstock taped to the center to form an extension flap.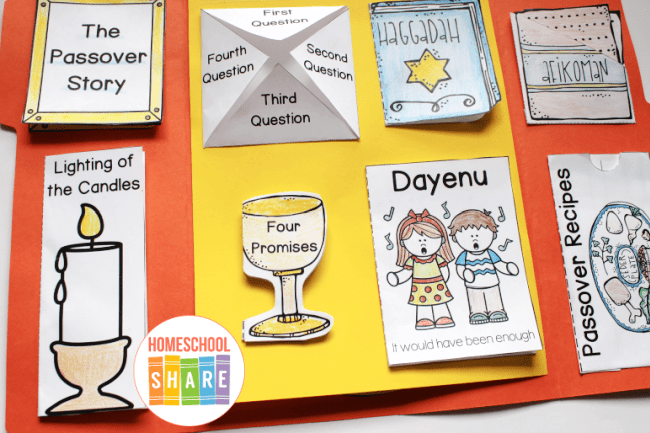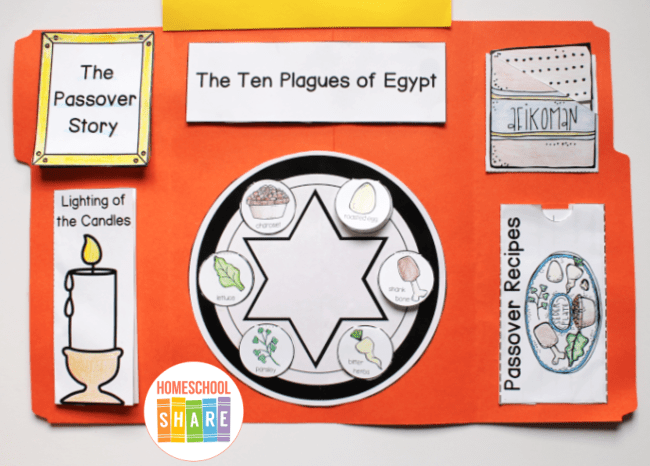 How to Get Started with Your Lapbook
Follow these simple instructions to get started with the Passover Lapbook:
Check out books about Passover from your local library.
Print the Passover lessons and lapbook.
Choose the lessons you want to use with your student (a highlighter works great for this).
Choose and prepare the lapbook printables you want to use with your student.
Enjoy learning about the Passover holiday.
Get Your Free Passover Lapbook
Simply click on the image below to access your free lapbook.
Learn More About Jewish Holidays
Learn more about Jewish holidays with these free resources.