Affiliate Disclaimer
We sometimes use affiliate links in our content. This won't cost you anything, but it helps us to keep the site running. Thanks for your support.
Learn all about flowers, emotions, and more as you celebrate Easter with this Parable of the Lily unit study and lapbook.
Maggie, the farmer's youngest daughter, loves getting gifts, especially mysterious ones. One wintry day, she receives a package in the mail. She excitedly opens the package to find a bulb buried in a crate of dirt. This was not what Maggie expected. She had hoped for a doll or a game, not a bulb that would one day become a plant. When spring comes, she finds the bulb in the cellar and tosses the lifeless thing into the garden, never to think of it again. . . . Until she walks outside on Easter morning and finds the most beautiful lily she has ever seen. Through the unique gift of a bulb, Maggie discovers the power of grace and forgiveness and the true meaning of Easter.

from Parable of the Lily at amazon.com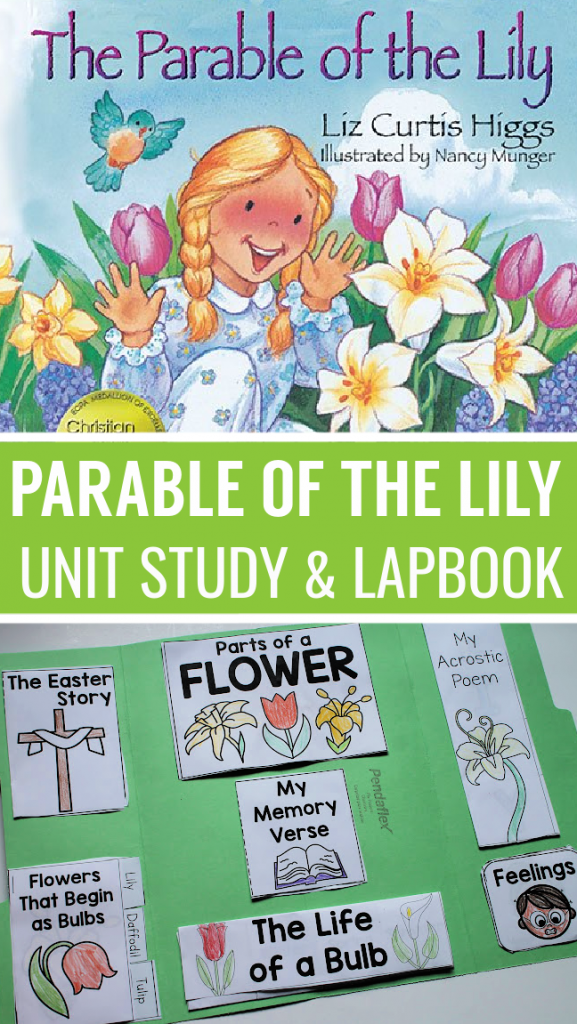 Thanks to Candace Crabtree and Rose Ann Kuhns for creating this Parable of the Lily unit study for Homeschool Share.
The Parable of the Lily Unit Study Lessons
Feelings: Disappointment and Anger
Maggie dealt with disappointment when she opened her gift. Why was she disappointed? Have you ever been disappointed? What happened? And what can we do when we are disappointed? Do you think Jesus or God is ever disappointed? Talk about being disappointed in others as well as ourselves, but remind your child that we can talk to God about our disappointments.
Also, after Maggie shows her disappointment the book tells us that her father was sad to see her disappointment. Why do you think that was? Do you think your parents are ever sad to see you upset or disappointed? Of course! Your parents love you very much, and they don't like to see you disappointed. You can also talk about how much God provides for the birds of the air and the grass in the fields and how much MORE He gives to us His children. He wants us to be joyful too!
Maggie gets mad at the box with the dirt in it. Why? Have you ever spilled something or dropped something or broken something and gotten mad? What do you think we should do when we feel that way?
Forgiveness
At the end of the story Maggie asks her father for forgiveness. Why does she do this? Can you recall a time you've had to ask for forgiveness? What about our heavenly Father? When should we go to Him and say we are sorry? Maggie's father says that forgiveness is what Easter is all about. Discuss this with your child.
Nursery Rhyme Connection
You may want to teach this nursery rhyme to your student this week. You could also use it for copywork.

Mary, Mary, quite contrary,
How does your garden grow?
With silver bells and cockle shells,
And pretty maids all in a row.
Bulbs
Discuss seeds and bulbs. If possible, have some of each this week for your student to observe. Some plants grow from seeds, and others grow from bulbs. Most of the beautiful spring flowers we know come from bulbs (crocus, daffodils, tulips, and lilies).
Seeds and Planting
Plant a seed or a bulb this week. The plant in the Parable of the Lily says to put the bulb in a dark, cool place. What are the directions for the seed you are going to plant?
More seed activities and other lessons are found in the full Parable of the Lily unit study download.
The Parable of the Lily Lapbook Printables
This Parable of the Lily unit study also includes a lapbook with these printable activitites: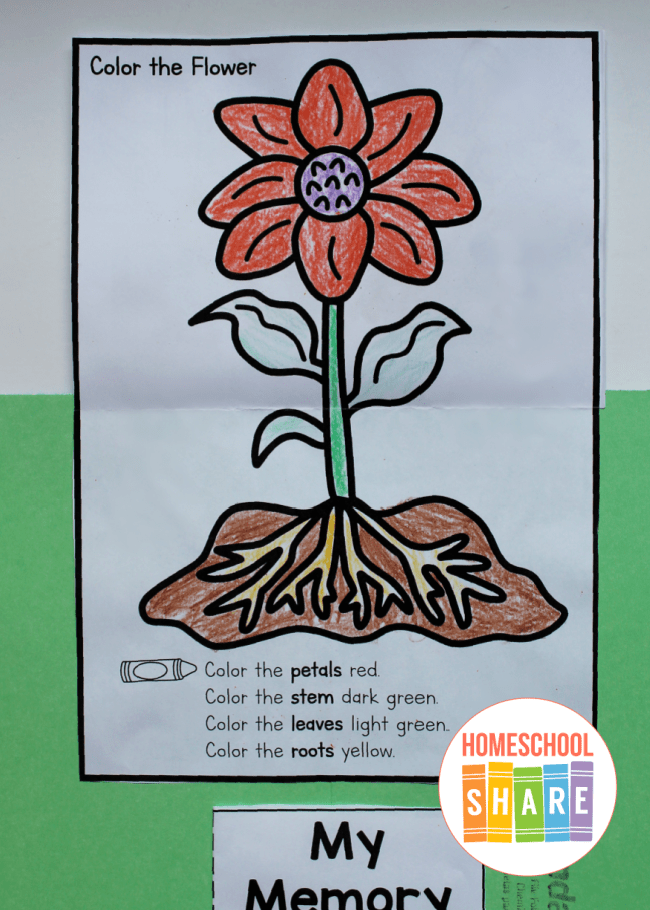 Feelings Mini-book
My Memory Verse Simple Fold
The Easter Story Simple Fold
My LILY Acrostic Poem
Flowers That Begin as Bulbs Tab Book
The Life of a Bulb (fall, winter, spring, summer) Flap Book
Parts of a Flower Diagram
My Flower Art
Spring Flower Memory Matching Game
Parable of the Lily Pattern Page
Lily Coloring Page
How to Get Started with this Parable of the Lily Unit Study and Lapbook
Follow these simple instructions to get started with the Parable of the Lily unit study and lapbook:
Buy a copy of the book, Parable of the Lily, or grab one from your local library.
Print the Parable of the Lily unit study.
Choose the lessons you want to use with your student (a highlighter works great for this).
Choose and prepare the lapbook activities s you want to use with your student.
Enjoy a week of growing and learning with your student.
Lapbook Sample
This lapbook was made with one file folder. In order to fit the flower drawing activity, the back of the lapbook was also used.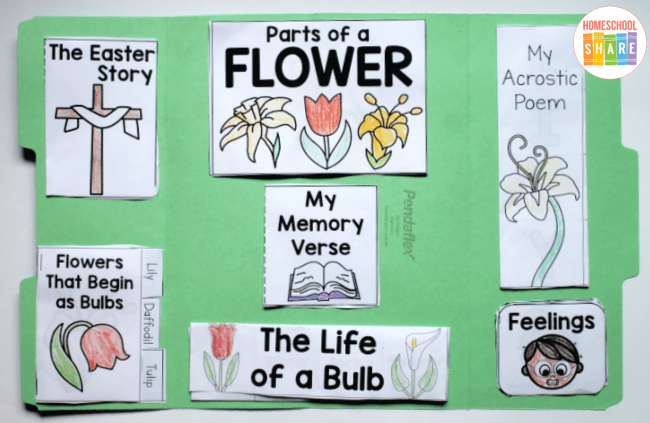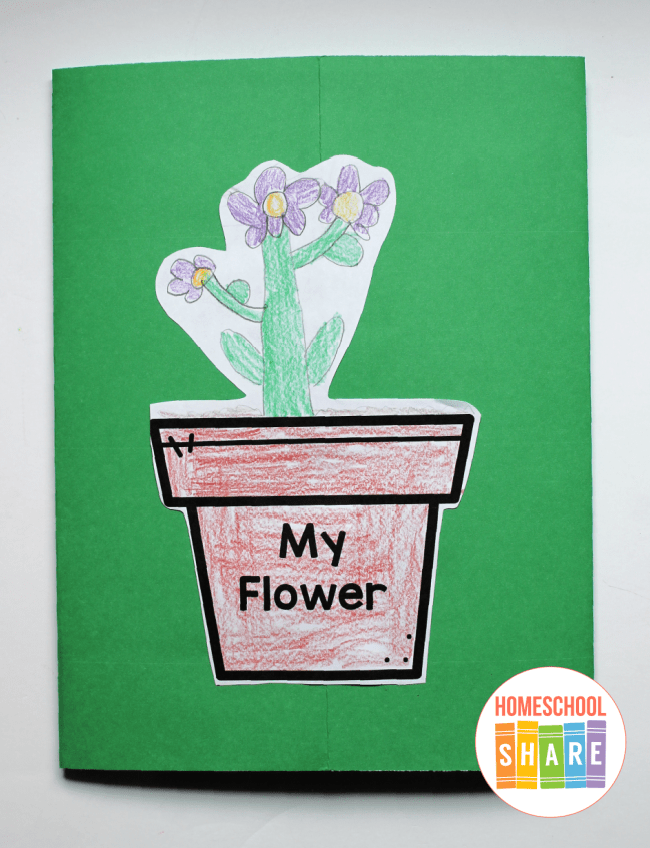 Download Your The Parable of the Lily Unit Study and Lapbook
Grab your free copy of the Parable of the Lily unit study and lapbook by clicking on the image below.
More Garden Themed Resources
You'll find a huge variety of resources on our Garden Theme for Preschool and Kindergarten page. You can also check out these: