Affiliate Disclaimer
We sometimes use affiliate links in our content. This won't cost you anything, but it helps us to keep the site running. Thanks for your support.
Pop some popcorn and watch a great flick. Afterwards, turn it into an educational study. Your student will learn so much with this Movie Lapbook!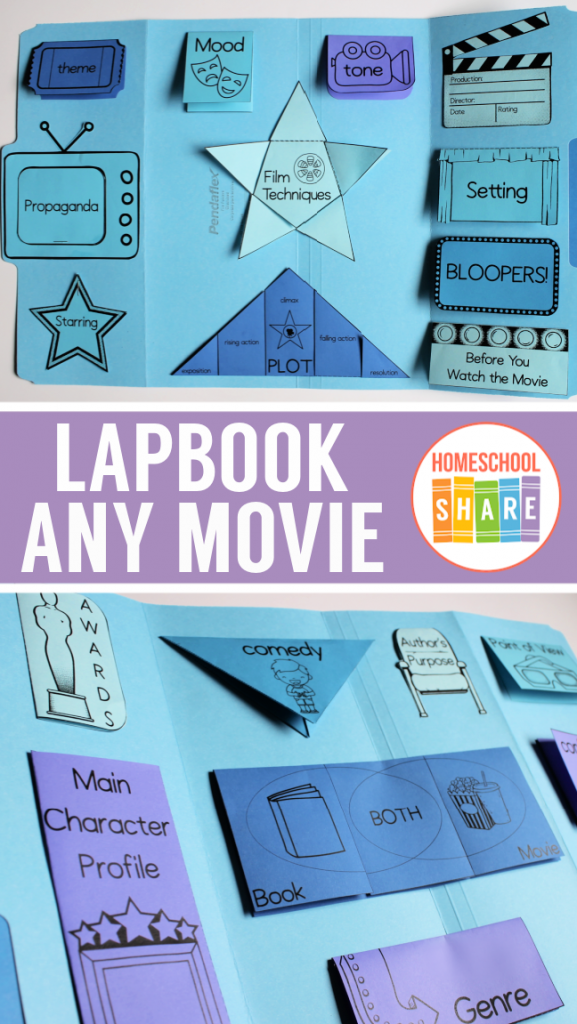 Thanks to Wende for preparing this movie lapbook.
Movie Lapbook Lessons
This study includes some wonderful lessons, and many of these concepts will apply in your student's literature studies as well. Here is a sample of the lessons in the Movie Lapbook.
Setting– Setting is the time and place in which the story takes place.
Mood– Mood is the feeling that a film arouses in a viewer. It could be happy, sad, peaceful, hopeful, etc. Various elements, such as setting, dialogue, or facial expressions help to create the mood. The mood can change throughout a work.
Tone–Tone is the attitude of the author towards his audience and characters. This attitude may be serious, light-hearted, humorous, satiric, ironic, optimistic, pessimistic, formal, or informal.
Point of View– Point of view is the vantage point from which a story is told. There are four basic points of view.
First-person: the story is told by one of the characters as he sees it.
Third-person Omniscient: someone outside of the story relates the thoughts and feelings of all the characters.
Third-person Limited Omniscient: someone outside of the story relates the thoughts and feelings of only one character.
Third-person Camera View: seeing and recording the action from a neutral or unemotional point of view, not knowing what any character thinks or feels.
To access all of the lessons and printables in this Movie Lapbook, subscribe to Homeschool Share's email list using the form in this post.
Movie Lapbook Printables
This Movie Lapbook is JAM-PACKED with printables for your student to create a lapbook or a notebook.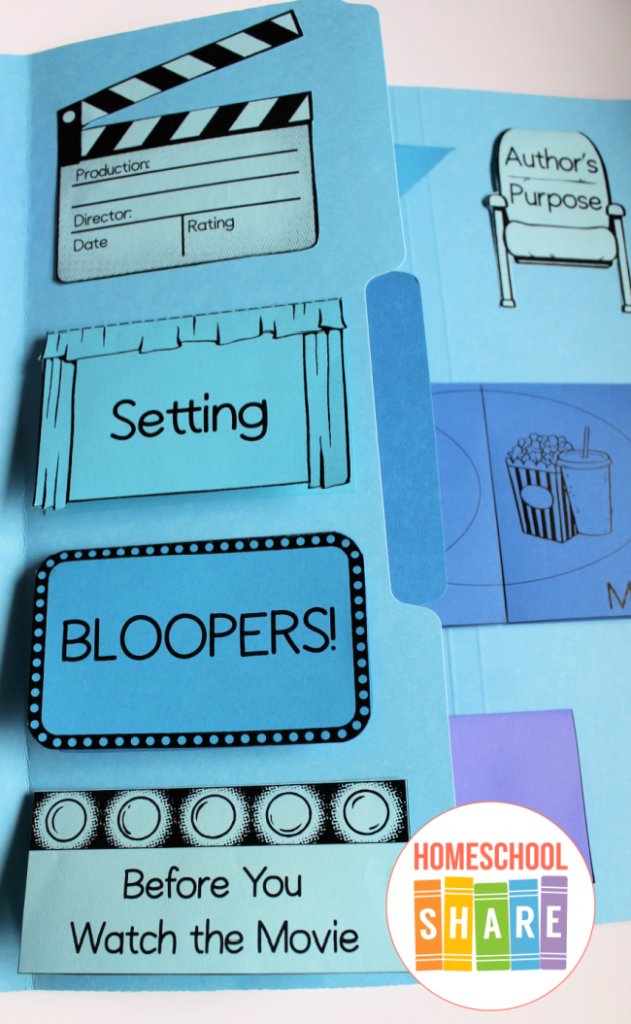 Before You Watch the Movie Flap Book
Movie Clapper
Author's Purpose Chair Shape
Awards Simple Fold Book
Starring Star Shapes
Genre Tri-fold Book
Tone Simple Fold Book
Conflict Accordion Book
Setting Simple Fold Book
Mood T-book
Point of View Simple Fold Book
Plot Diagram Flap Book
Theme Ticket Shape Book
Comedy Envelope Fold Book
Main Character Profile Flap Book
And SO much more!
Movie Lapbook Sample
This Movie Lapbook sample was made with two file folders glued together. You can gather ideas for your own Movie Lapbook lay-out by looking at this sample.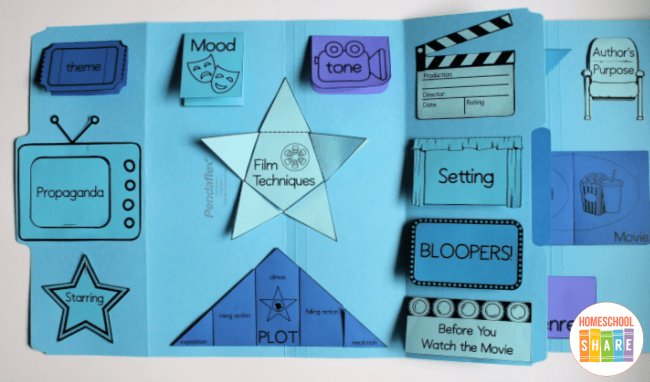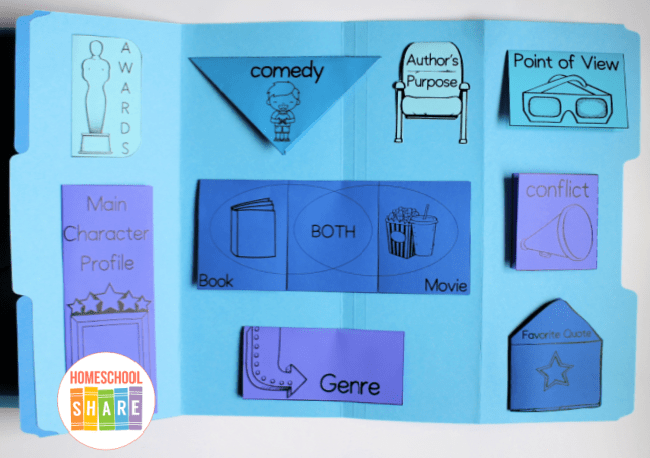 How to Get Started with the Movie Lapbook
Follow these simple instructions to get started with the Movie Lapbook.
Choose a movie to watch.

Choose and print the lapbook printables you want to use with your student.

Remember, you can use this again and again, so pick and choose a few lessons to use with the movie. You can use the other lessons and mini-books another time (with another movie).
Enjoy viewing and learning and lapbooking!
Download Your Free Movie Lapbook
Use the form below to subscribe to the newsletter. Once you confirm, you'll receive an email with the link to the lapbook. If you are already confirmed, simply enter your name and email address below, and you will receive an email with the link.