Affiliate Disclaimer
We sometimes use affiliate links in our content. This won't cost you anything, but it helps us to keep the site running. Thanks for your support.
Learn all about the magnificent maple tree and how to make maple syrup with our Maple Syrup Lapbook.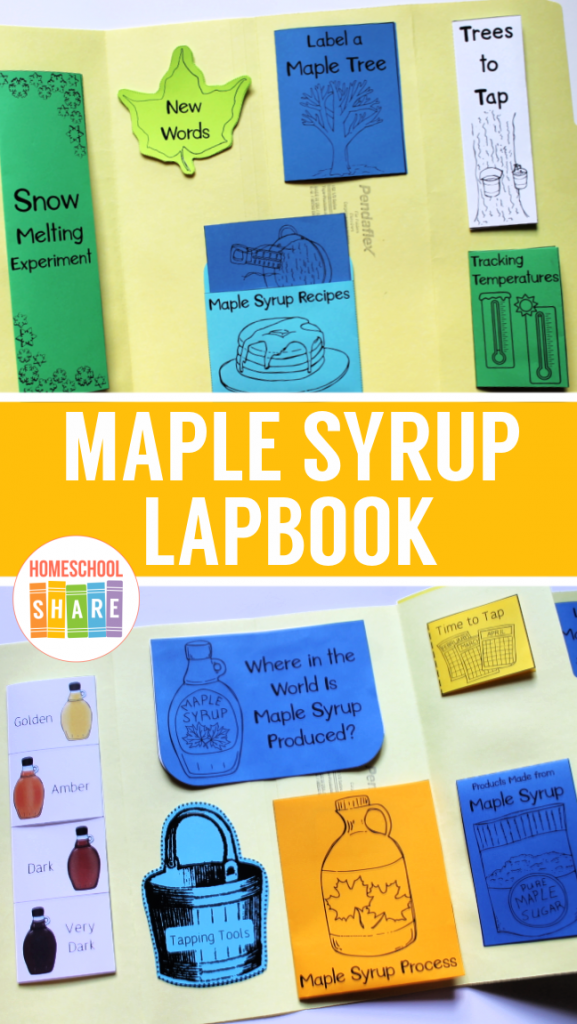 Thanks to Wende and Jodi Small for helping with the lessons and printables for this Maple Syrup Lapbook.
Maple Syrup Lapbook Lessons
Here are some sample lessons from the Maple Syrup Lapbook.
Making Maple Syrup
Discuss the process of making maple syrup.
Tools needed to tap the tree include:
An auger: a hand drill or power drill with a 7/16 inch drill bit
spiel (preferably with hooks)
sap bucket

Supplies needed to make maple syrup:
large plastic pail
large pot
cheesecloth or cone-shaped paper coffee filters
canning jars or bottles
cooking or candy thermometer
oven mitts
slotted spoon
sieve
Process:
1. Clean Your Equipment
Clean all of your equipment and rinse it well with hot water. Let it dry completely.

2. Pick Your Tree
Select a maple tree that is at least 10 inches in diameter at 4.5 feet high. Do not attempt to tap a smaller tree; you will do permanent damage.

3. Tap Your Tree
Do not tap a tree when the temperature is below 25 degrees Fahrenheit.
At about 4.5 feet, drill a hole on the sunny (south) side of your tree. Drill on an upward angle to a depth of no more than 3 inches. If your tree is larger than 18 inches in diameter, you can drill another hole. It should be at least 6 inches away from the first hole (you want to measure horizontally not vertically). Carefully and gently tap the spiel into the hole.

4. Collect the Sap
Place your bucket on the hook (below the spiel). Attach a cover to prevent unpleasant things from getting into your sap such as bugs, bark, and rain. Collect your sap at least once a day. If you leave it longer than a day, it may spoil. If the weather gets below freezing, your bucket might split. If you can't boil your sap immediately, store it in your freezer. Before you boil it, strain it through a cheesecloth.

5. Boil the Sap
Bring the sap to a boil. Continue boiling until it reaches 219 degrees Fahrenheit.
(If you would like to try this at home, I highly recommend that you read the information provided in The Maple Syrup Book by Eagleson & Hasner)

6. Filter and Bottle
You can use any bottle you would like to store your syrup as long as it is clean and dry. Filter your syrup through a cheesecloth or a few cone-shaped coffee filters stack together. You want to remove the sugar sand that was produced while the sap was boiling. Pour filtered syrup into the bottle, attach the cap, and place the container on its side (this will sterilize the lid).
To access all of the lessons in this Maple Syrup Lapbook, subscribe to Homeschool Share's email list using the form in this post.
Maple Syrup Lapbook Printables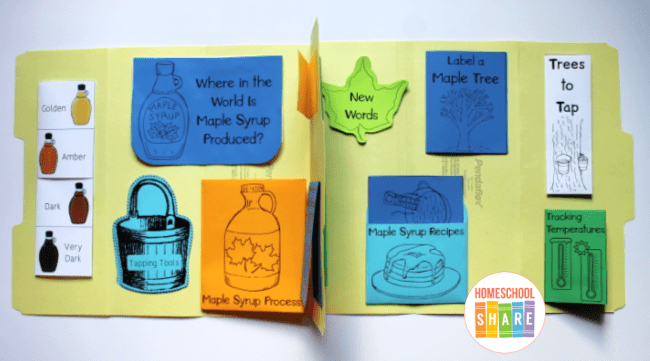 In addition to the lessons, this file contains several mini-books for your student to create a Maple Syrup Lapbook.
Tapping Tools Bucket Shape Book
Maple Syrup Recipe Cards and Pocket
Maple Syrup Map
Label a Maple Tree
Products Made from Maple Syrup Simple Fold Book
New Words Leaf Shape Book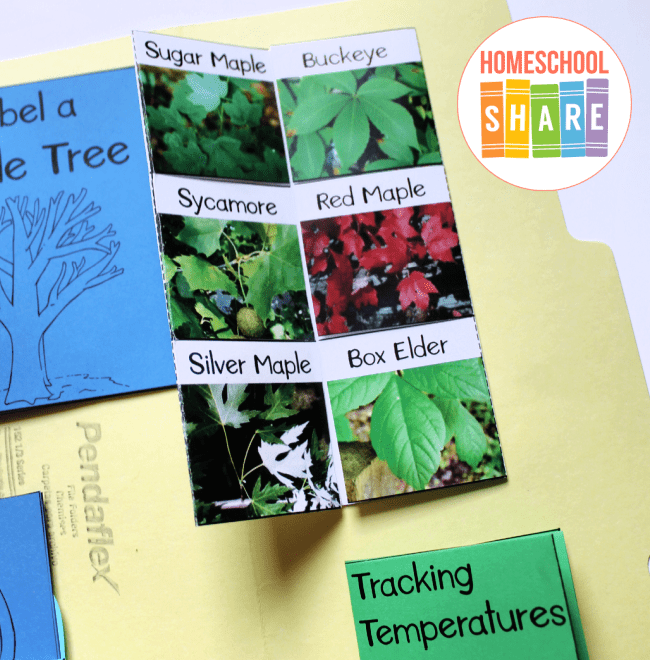 Tracking Temperatures Hotdog Book
Trees to Tap Flap Book
Syrup Grades Flap Book
Snow Melting Experiment Tri-fold Book
Maple Syrup Process Cards and Pocket
And more!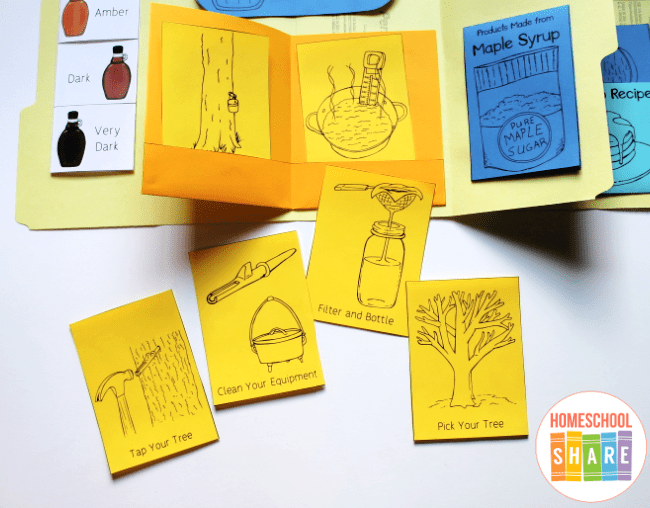 Maple Syrup Lapbook Example
This lapbook was made with two file folders. If you need more instructions on how to create a lapbook, start here.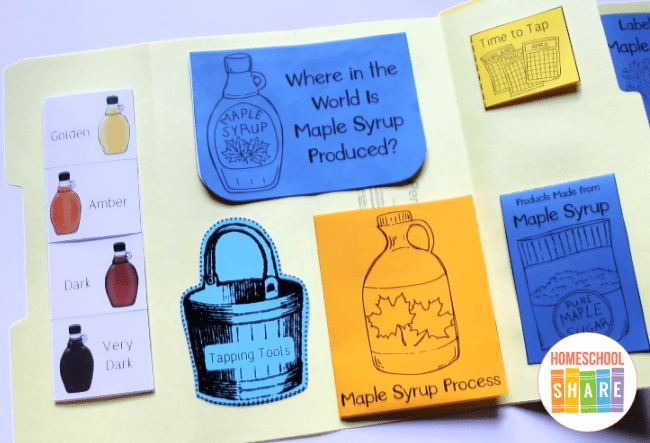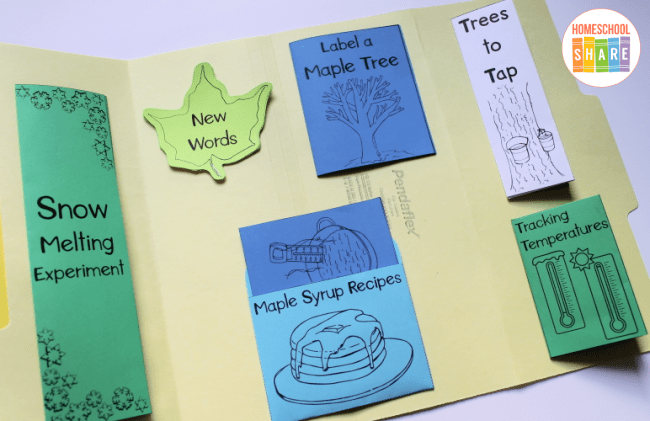 How to Get Started with Your Maple Syrup Lapbook
Follow these simple instructions to get started with the Maple Syrup Lapbook:
Borrow books about maple syrup from your library.
Print the Maple Syrup lessons.
Choose the lessons you want to use with your student (a highlighter works great for this).
Choose and prepare the lapbook printables you want to use with your student.
Enjoy learning about maple syrup.
Get Your Free Maple Syrup Lapbook
Use the form below to subscribe to the newsletter. Once you confirm, you'll receive an email with the link to the lapbook. If you are already confirmed, simply enter your name and email address below, and you will receive an email with the link.
Related Studies