Affiliate Disclaimer
We sometimes use affiliate links in our content. This won't cost you anything, but it helps us to keep the site running. Thanks for your support.
This unit study includes lessons and printables based on the book Little Kit: or, The Industrious Flea Circus Girl by Emily Arnold McCully.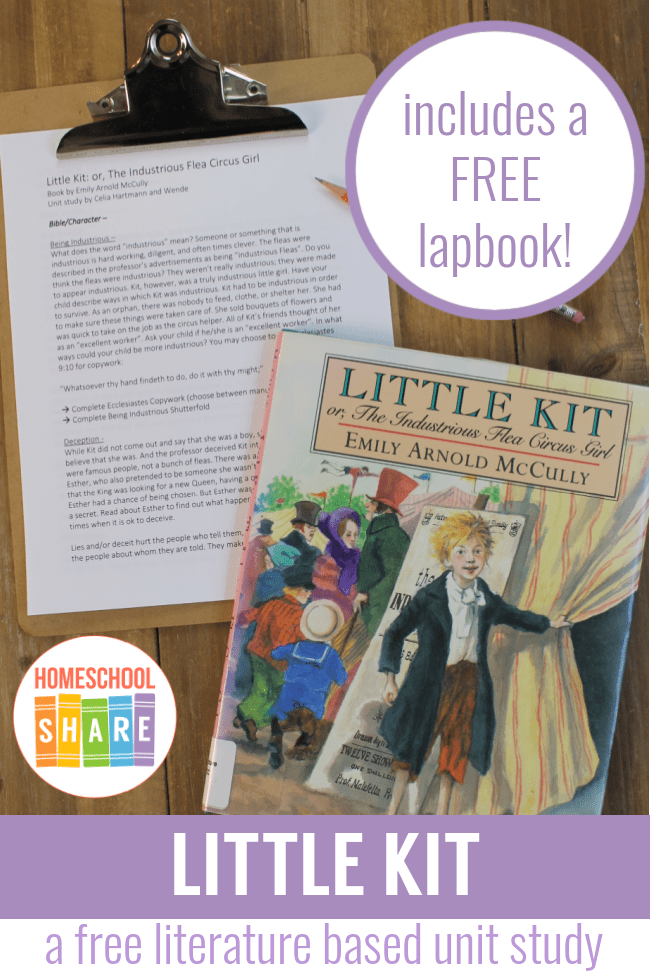 Thanks to Wende for writing the lessons for this unit study.
Little Kit Unit Study Lessons
Here are some sample lessons from the Little Kit: or, The Industrious Flea Circus Girl Unit Study:
Character Quality: Being Industrious
What does the word "industrious" mean? Someone or something that is industrious is hard working, diligent, and often times clever. The fleas were described in the professor's advertisements as being "Industrious Fleas". Do you think the fleas were industrious? They weren't really industrious; they were made to appear industrious. Kit, however, was a truly industrious little girl.
Have your child describe ways in which Kit was industrious. Kit had to be industrious in order to survive. As an orphan, there was nobody to feed, clothe, or shelter her. She had to make sure these things were taken care of. She sold bouquets of flowers and was quick to take on the job as the circus helper. All of Kit's friends thought of her as an "excellent worker". Ask your child if he/she is an "excellent worker". In what ways could your child be more industrious? You may choose to use Ecclesiastes 9:10 for copywork:
"Whatsoever thy hand findeth to do, do it with thy might;"
Geography: London, England
This story takes place in England. Have your child locate England on a world map, in the continent of Europe. England is part of the British Isles, which also includes Scotland, Ireland, and Wales. What body of water is to the west of England? What body of water is to the east of England? What channel separates England from France? Locate London, England's capital, and also the most populated city in Europe. England is very industrialized, with oil production and car manufacturing being important to England's economy. Famous English landmarks are the London Tower and the London Bridge, and Big Ben.
History: Mid-1800's
This story takes place during the mid-1800's, called the Victorian Period. The period is named after Victoria, who became the Queen of England in 1837 at the age of 18 when her uncle, William IV died. She married her first cousin, Albert. Queen Victoria was a very influential figure in history. During the Victorian age, there were basically two classes of people, the very wealthy and the very poor. This time period came right after the Industrial Revolution in England, when machines started doing the work of people, putting many out of work. Many men, women, and children had no option but to work in the factories for very little money and in extremely poor conditions. Poor children, especially, were treated very harshly, forced into workhouses or having no other option but to live on the streets. This, compounded with famines and wars, put a lot of stress on the English economy. The Victorian Age lasted until 1901.
You can grab a copy of the entire Little Kit: or, The Industrious Flea Circus Girl Unit Study and Lapbook in an easy-to-print file at the end of this post.
Little Kit Lapbook Printables
In addition to the unit study lessons, the file also includes these mini-books for your student's Little Kit lapbook:
Using Commas in a Series Simple Fold
Being Honest Copywork
Being Industrious Copywork
Little Kit vs. Esther Venn Diagram
Victorian England Hexagon Flap Book
Flea Circus T-book
Flea Layer Book
Life Cycle of a Flea Flap Book
Parts of a Flea Simple Fold
Bondage vs. Freedom Tab Book
Antagonist Flap Book
My List of Homophones Simple Fold
Flea Jokes
Industrious Shutterflap Book
Magnifying Glass Flap Book
The Little Princess Report Form
Oliver Twist Report Form
Speaker Tags Simple Fold
Vocabulary Words Word Search
How to Get Started with Your Little Kit Unit Study & Lapbook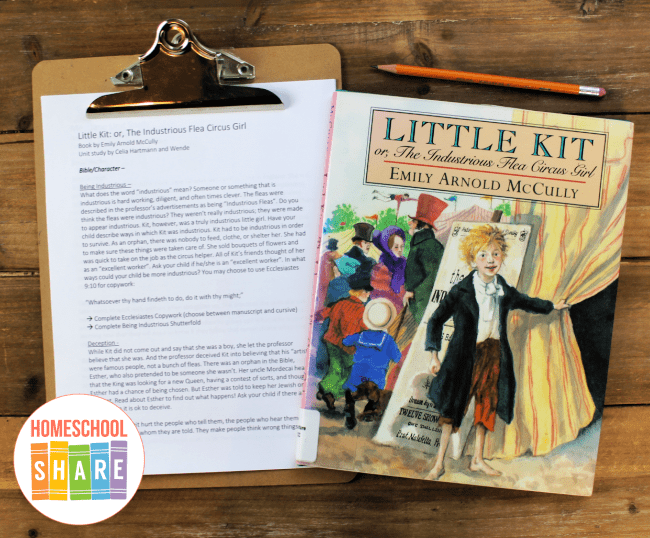 Follow these simple instructions to get started with the lessons and activities.
Buy a copy of the book, Little Kit: or, The Industrious Flea Circus Girl, or borrow one from your local library.
Print the Little Kit: or, The Industrious Flea Circus Girl unit study.
Choose the lessons you want to use with your student (a highlighter works great for this).
Choose and prepare the lapbook printables you want to use with your student.
Enjoy a week of learning with Little Kit.
Get Your Free Little Kit Unit Study & Lapbook
Simply click on the image below to access your free Little Kit Unit Study and Lapbook.
Resources to Enhance Your Little Kit Unit Study