Affiliate Disclaimer
We sometimes use affiliate links in our content. This won't cost you anything, but it helps us to keep the site running. Thanks for your support.
This unit study includes Just Plain Fancy lesson plan & activities based on the book by Patricia Polacco.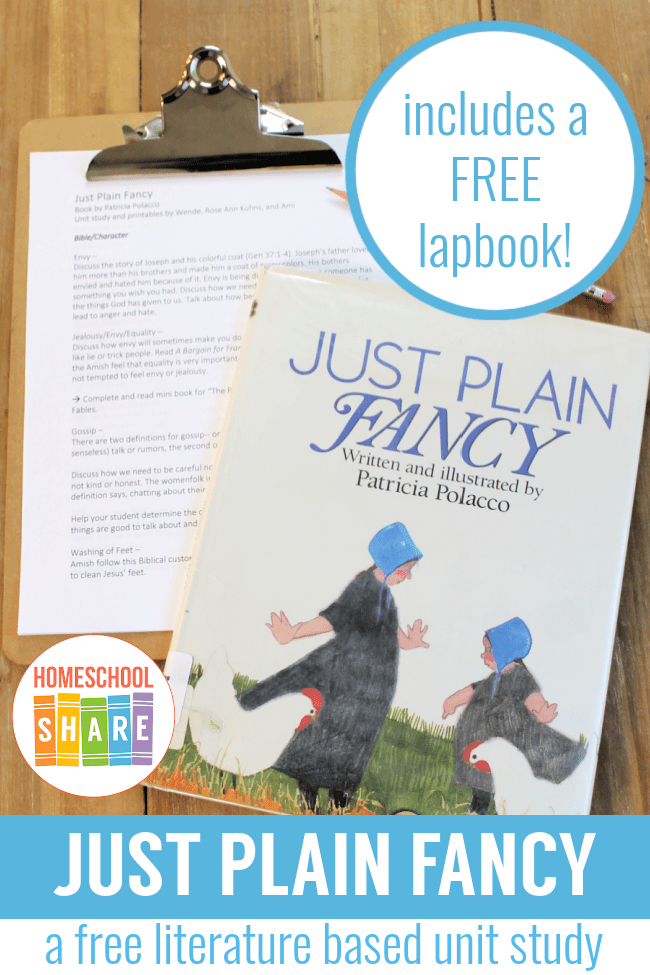 Just Plain Fancy by Patricia Polacco Book Summary
Naomi lives with her farming family in an Amish village in Pennsylvania. As part of her household chores, Naomi looks after the chickens with her little sister, Ruth.

One day Naomi and Ruth find an abandoned egg near the road. Naomi decides this special egg must be hatched. And when it is, it's plain to see that this is no ordinary chick!

The girls keep the chick, named Fancy, a secret . . . until the day of their family's community working bee. On this day, Naomi is to receive a white organdy cap, an Amish tradition, as a reward for her hard work and responsibility. But on this day, too, Fancy the chick decides to introduce himself to the community!
Thanks to Wende and Rose Ann Kuhns for writing the lessons for this Just Plain Fancy unit study.
Just Plain Fancy Activities & Lesson Plan
Here are some sample lessons from the Just Plain Fancy unit study.
Social Studies: Amish Culture
The Amish believe in the simple life and being separate from the world. Electricity is viewed as being connected to or relying on the world for something and that goes against their rule for living a separate life. They can use batteries and generators to run some of their tools for their work. They use horse and mules to pull their farm equipment. They will not drive cars but will hire someone to take them to places they can't easily take their horse and buggy.
Science: Chickens
Like Naomi, most Amish raise chickens for both meat and eggs. It is usually the children of the family who are responsible for taking care of them. The male chicken is called a rooster, the female is called a hen, and the babies are called chicks. A group of chickens is called a flock. Chickens eat plants, seeds, insects, and small animals like frogs and snakes. Most hens lay an egg every 24 hours or so. If the eggs aren't collected, the chicken will lay them until there is a clutch, or group of eggs, and then start to sit on them and incubate them. When a hen sits on eggs, she is said to have gone "broody." Hens aren't too picky about the eggs they incubate, and have been known to hatch other hens' eggs, duck eggs, or as in our story, peacock eggs.
Language Arts: Foreshadowing
Look at the picture adjacent to title page. What is happening? What do you think might happen in this story? What does exotic, written on the egg cartons, mean?
You can grab a copy of the entire Just Plain Fancy lessons and lapbook in an easy-to-print file at the end of this post.
Just Plain Fancy Lapbook Printables
In addition to the unit study lessons, the file also includes mini-books for your student to create a Just Plain Fancy Lapbook.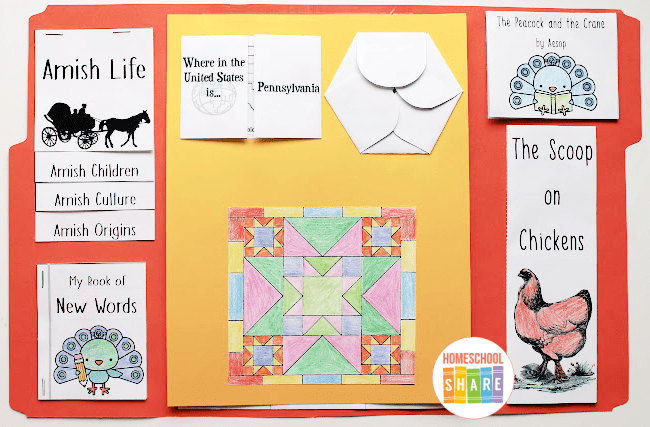 Amish Chores & My Chores Split Matchbook
Amish Life Layer Book
All About Birds Tab Book
My Book of New Words
The Ugly Duckling vs. Just Plain Fancy Venn Diagram Flap Book
The Scoop on Chickens Flap Book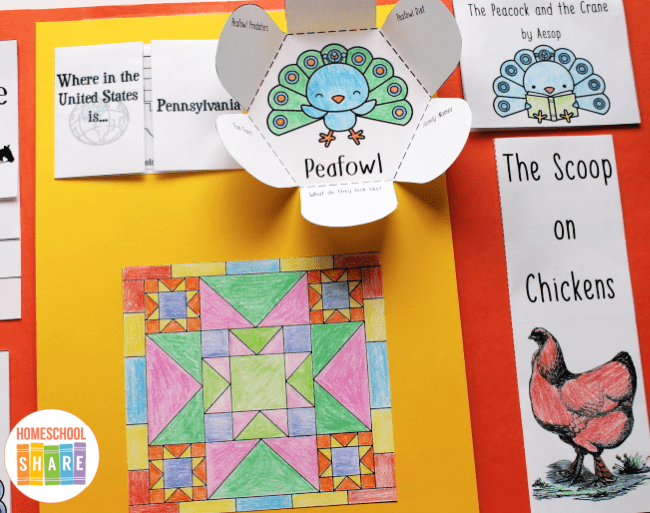 "The Peacock and the Crane" by Aesop Mini-book
Peafowl Petal Book
Birds Game
Pennsylvania Map Shutterfold Book
Quilt Coloring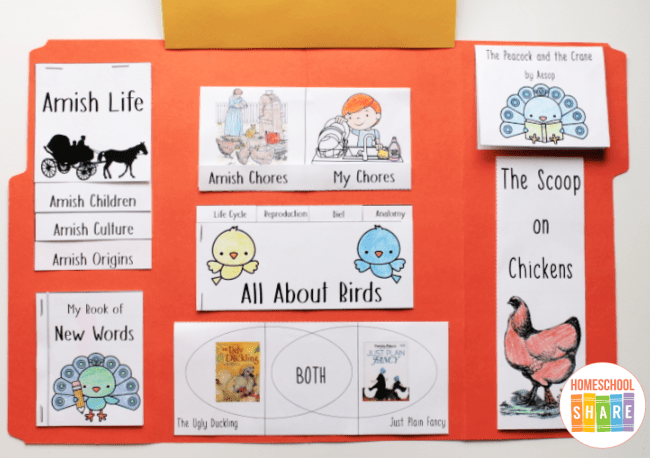 How to Get Started with Your Just Plain Fancy Unit Study & Lapbook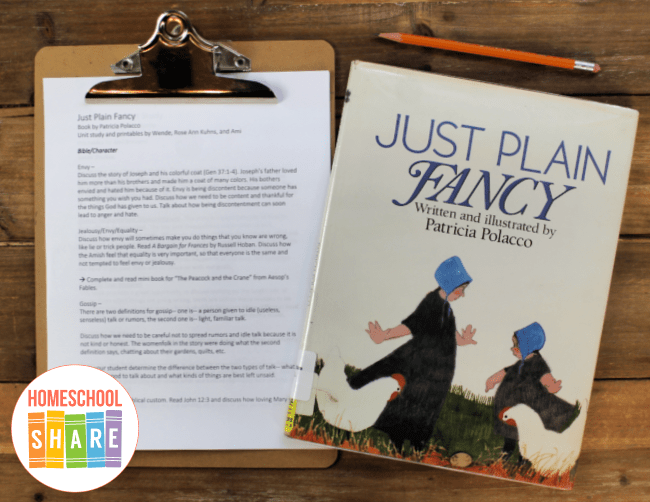 Follow these simple instructions to get started with the Just Plain Fancy Unit Study:
Buy a copy of the book, Just Plain Fancy by Patricia Polacco, or borrow one from your local library.
Print the Just Plain Fancy unit study.
Choose the lessons you want to use with your student (a highlighter works great for this).
Choose and prepare the lapbook printables you want to use with your student.
Enjoy a week of learning about Amish life, peacocks, and more!
Get Your Free Just Plain Fancy Lesson Plan & Activities
Simply click on the image below to access your free Just Plain Fancy lesson plan, activities, and printables.
Learn More About Birds