Affiliate Disclaimer
We sometimes use affiliate links in our content. This won't cost you anything, but it helps us to keep the site running. Thanks for your support.
Jump in to the wacky world of Dr. Seuss! Read the tongue-twisting book, then have fun learning with our Fox in Socks activities and printables.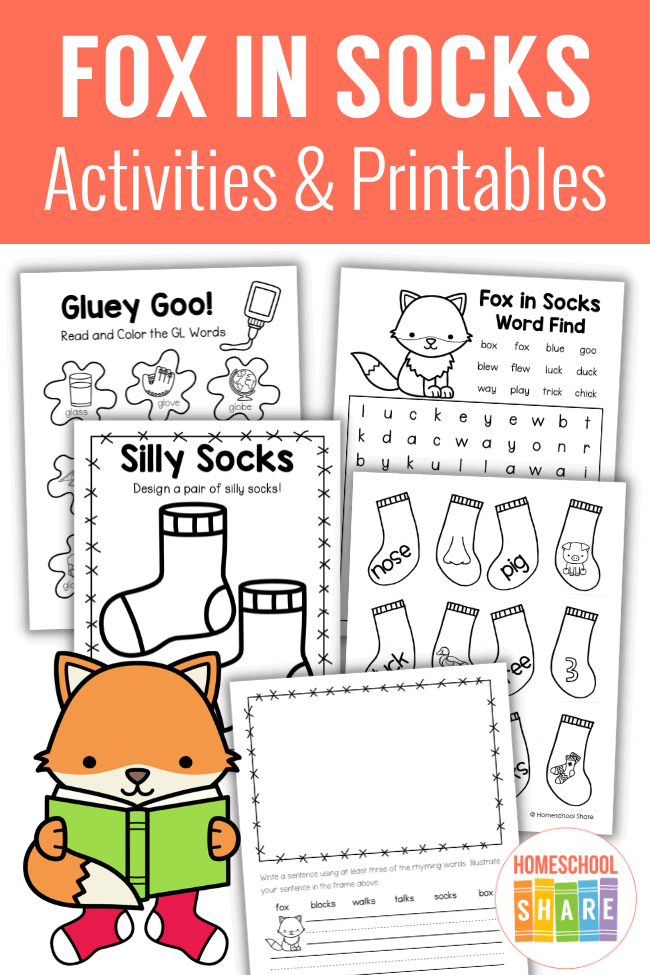 Fox in Socks Activities and Printables
The Fox in Socks printable pack includes a variety of activities for different ages and abilities. You can simply pick and choose the ones that will work best for your students.
Language Arts Activity: Alliteration
Alliteration is the repetition of a sound at the beginning of two or more neighboring words (as in wild and woolly or a babbling brook). Can your student find examples of alliteration in this book?
When you have an excessive amount of alliteration, you have a tongue twister. Encourage your older student to write some tongue twisters just for fun! Try reading them over and over as quick as you can.
Copywork: Tongue Twisters
Here are some tongue twisters for your student to copy:
Peter Piper picked a peck of pickled peppers
A peck of pickled peppers Peter Piper picked
If Peter Piper picked a peck of pickled peppers
Where's the peck of pickled peppers Peter Piper picked?
Betty Botter bought some butter
But she said the butter's bitter
If I put it in my batter, it will make my batter bitter
But a bit of better butter will make my batter better
So 'twas better Betty Botter bought a bit of better butter
Additionally, you could let your student copy her favorite tongue twister from Fox in Socks, or she could write an original tongue twister!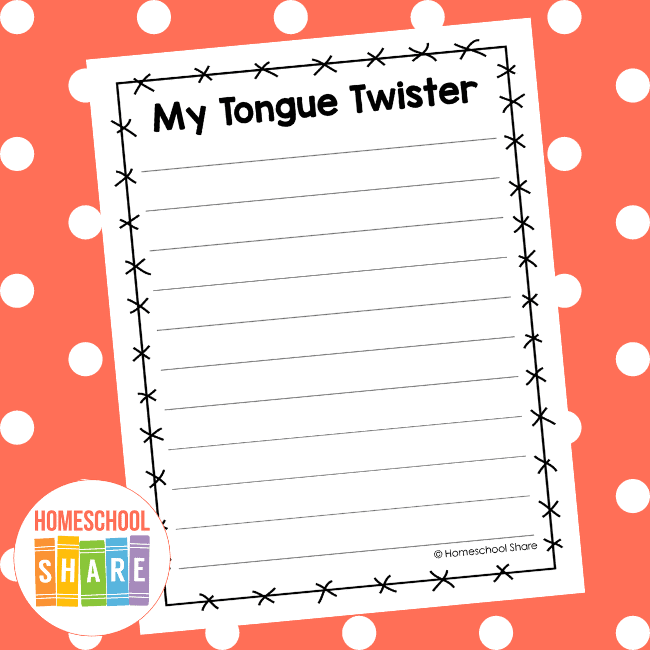 Read another tongue-twisting tale by Dr. Seuss, Oh Say Can You Say.
Reading Activity: Match the Socks Rhyming Game
Cut out the printable socks. Have your student match the words to the pictures. This is a great activity for beginning readers.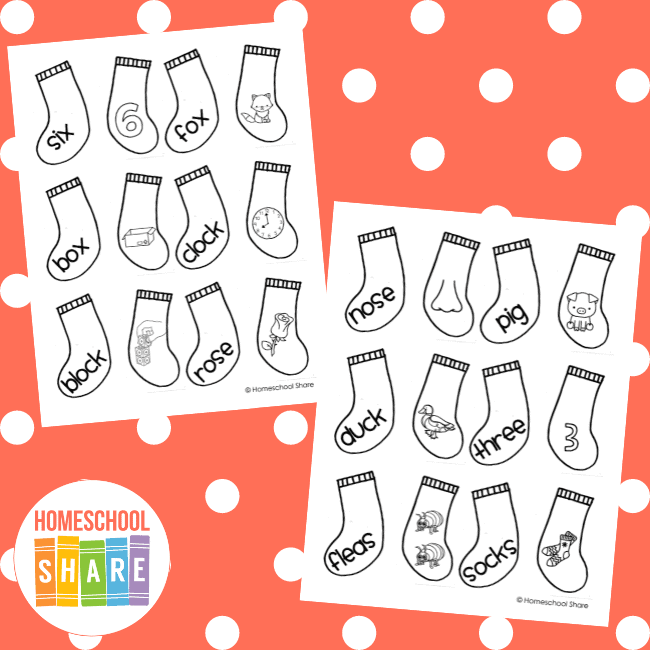 Writing: Rhyming Words Activity
This book also incorporates rhyme. Discuss rhyme with your student. Encourage her to complete one or more of the rhyming words sentences pages. Five different options are provided.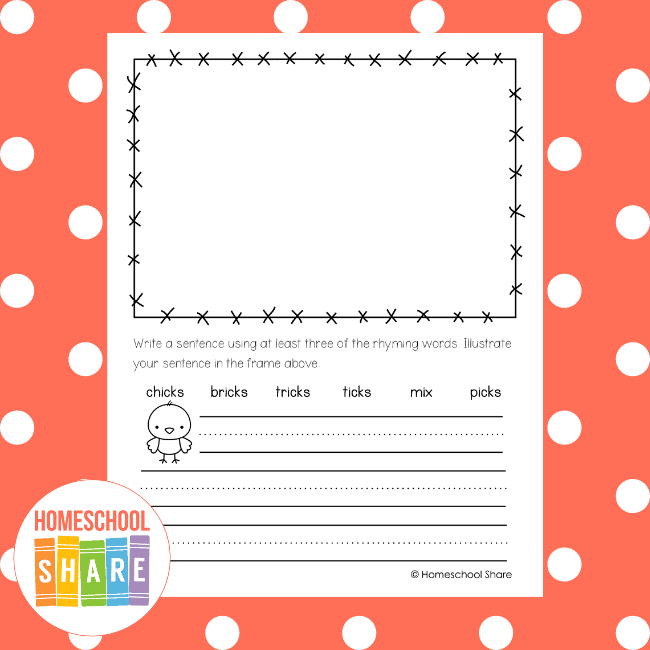 Reading Activity: Word Find
Encourage your student to find the words in the word find. This requires visual discrimination. You an also use this as a spelling activity—asking your student to find the words and then spell the words out loud.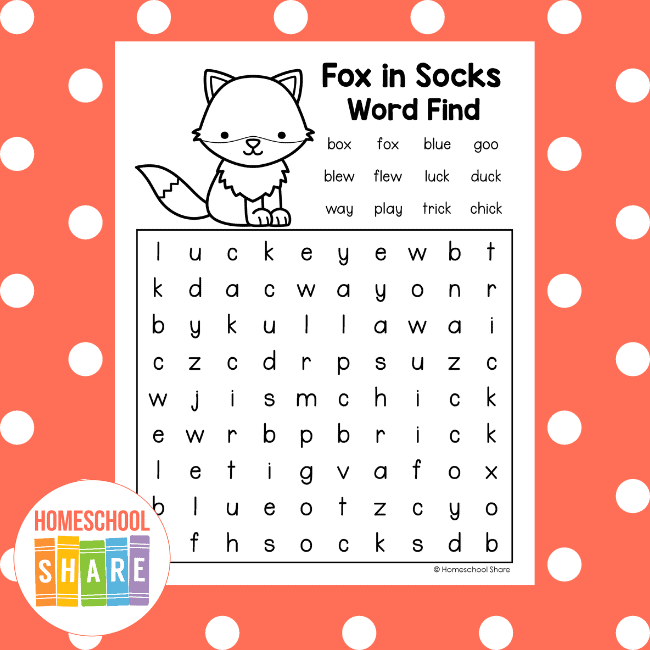 Reading Practice: Emergent Reader
Choose from two different readers:
Option #1 Colors for Fox
This option is great for beginning readers. It would also be good for younger students who haven't learned to read but are learning their colors.
Option #2 The Fox Counts
This option is also great for beginning readers, or you can use it with younger students who are learning to count.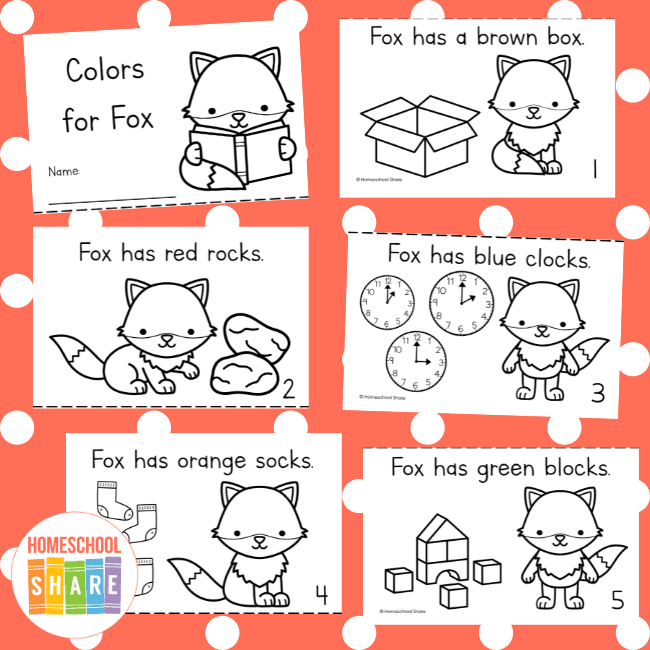 Phonics Activity: GL for Gluey Glue
Read and color the words that start with the GL blend.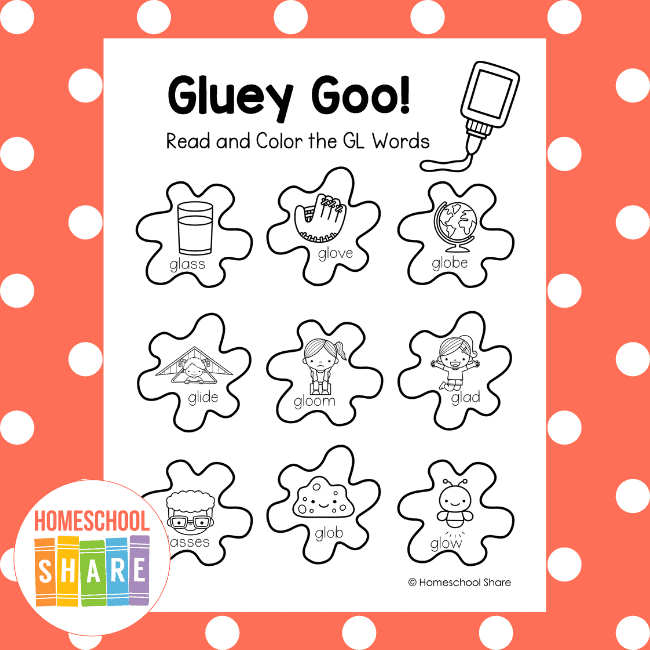 Fine Motor Activity: Fox Color & Cut
Grab the fox from our Forest Animal Cutting Pages to let your student practice scissor skills.
Art Activity: Design a Pair of Silly Socks
Use the sock templates provided to design a pair of silly socks. Use markers, crayons, and other art supplies. If desired, encourage your student to make patterns on the socks.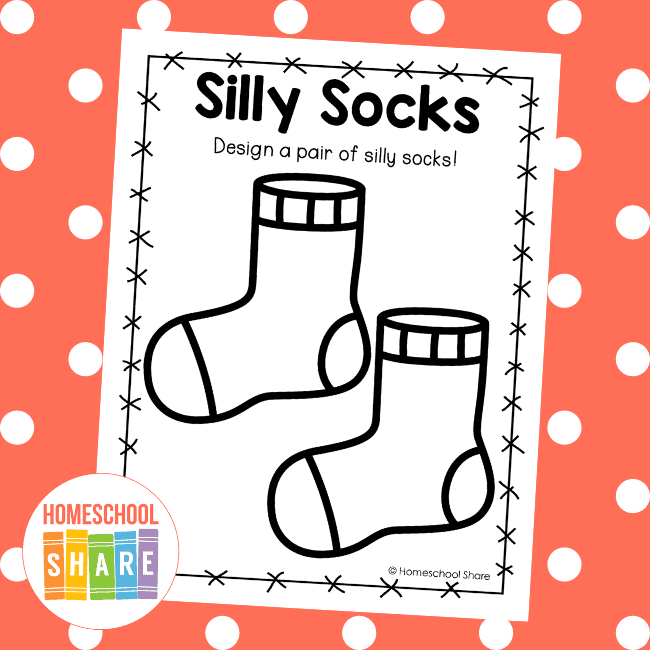 Life Skill: Matching Socks
Teach your child how to match and fold socks.
Life Skill: Sewing
Like Sue, sew socks (make a puppet)! You can also practice sewing with our free Alphabet Lacing Cards.
You could also take an old pair of socks and make some silly socks to wear. Try this Tie Dye Socks tutorial. After you make socks, have a silly socks day!
Science Activity: Make Gooey Blue Goo!
Use one of these slime recipes to make gooey blue goo! Have fun stretching, squishing, and playing with the goo.
Building Activity: Quick Trick Brick Stack
Give your student LEGO bricks or wooden blocks. Ask your student to make a "quick trick brick stack" or a "quick trick block stack." Let your students be creative as they determine what to build.
How to Get Started with Your Fox in Socks Printables
Follow these simple instructions to get started with the Fox in Socks printables.
Buy or borrow Fox in Socks.
Choose and prepare the Fox in Socks printables and activities you want to use with your student.
Enjoy a week of reading and learning with Fox in Socks!
Get Your Free Fox in Socks Printable Pack
Use the form below to subscribe to the newsletter. Once you confirm, you'll receive an email with the link to the file of free activities and printables. If you are already confirmed, simply enter your name and email address below, and you will receive an email with the link.
More Printables and Resources for a Dr. Seuss Theme