Affiliate Disclaimer
We sometimes use affiliate links in our content. This won't cost you anything, but it helps us to keep the site running. Thanks for your support.
When rain turns into a flood or thunderstorm, when storm turns into a blizzard, and when wind is in the form of a tornado, it's not just weather, it is extreme weather. Learn more about floods, tornados, hurricanes and more with our Extreme Weather Worksheets. You can use these activity pages to create a severe weather notebook.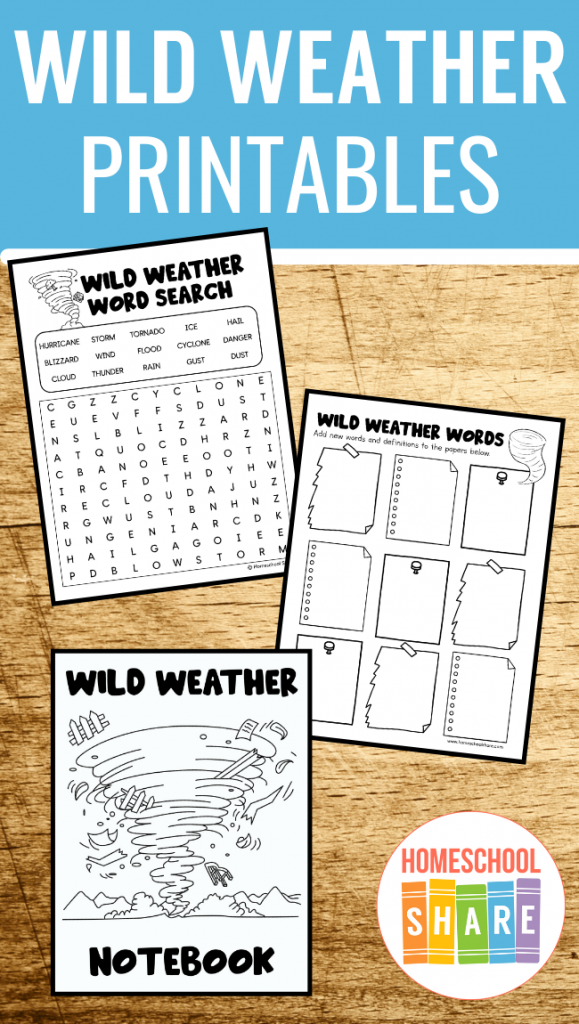 What's Included in the Extreme Weather Worksheets?
You'll find a variety of activity pages and worksheets in the Severe Weather Worksheets.
Wild Weather Notebook Cover
Be Prepared Activity Page
Severe Weather Report Page
Wild Weather Word Search
Weather Safety Worksheet
Wild Weather Words (record new vocabulary words and definitions)
Can, Have, Are Worksheets for Floods, Hurricanes, Tornadoes, Thunderstorms, Blizzards, and Dust Storms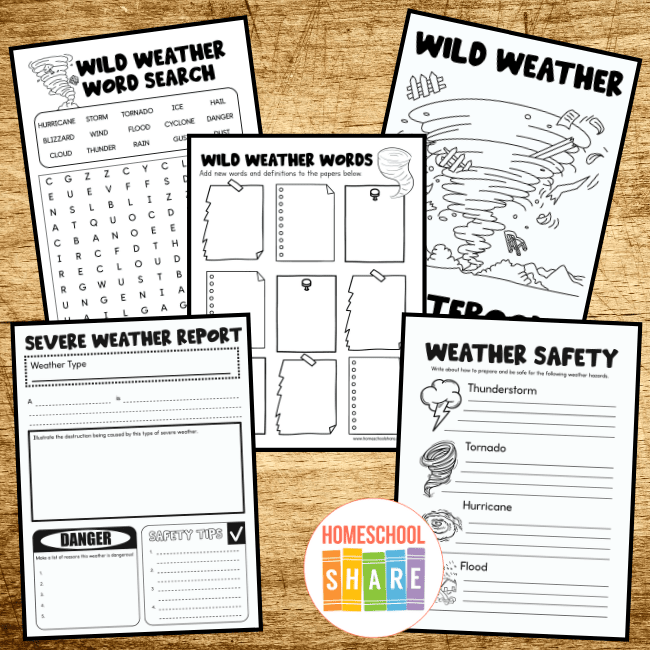 Types of Extreme Weather
The printable pack includes pages for your student to learn about the following types of severe weather:
A blizzard is a wintry storm that includes heavy snowfall, ice, and freezing temperatures. High winds are present in a blizzard that cause low visibility.
Dust storms happen in dry areas. When strong gusts of wind sweep across the land, they carry large amounts of dust with them.
Flooding happens when there is a huge amount of rainfall in a short amount of time. As a result, water overflows an area because it cannot be absorbed into the land.
Hurricanes (also known as cyclones) are a type of extreme weather. These giant tropical storms include strong winds (over 160 miles per hour!) and heavy rains which can drop over 2.4 trillion gallons of rain each day.
A thunderstorm includes heavy rainfall, thunder, lightning, and sometimes hail.
A tornado is a funnel of air that spins quickly. A tornado typically moves at about 10-20 miles per hour, but it can go rapidly (up to 250 miles per hour!). A tornado includes strong winds, rain, and sometimes even hail.
This video might help get your student interested in severe weather.
Extreme Weather Research
Your student will need to research in order to complete the notebook pages. You can check out a variety of books about severe weather at your local library, or you can use reliable websites. Consider reading books about climate, clouds, storms, hurricanes, and tornadoes.
Here are a few recommended websites for your severe weather research:
How to Get Started with the Severe Weather Worksheets
Print the pages you think will interest your student.
Grab some books from the library or show your student how to use reliable websites for research.
Let your student complete the pages.
Three-hole punch the pages and add them to a folder or binder to create a Wild Weather Notebook, a portfolio your student will be proud to display and show off!
Grab Your Free Set of Extreme Weather Worksheets
Simply click on the image below to grab your set of Severe Weather Notebook Pages.
Learn More About Weather
Learn more about weather with our Weather Words Lapbook.
Your student may also be interested in learning more about tornadoes with these literature based resources.