Affiliate Disclaimer
We sometimes use affiliate links in our content. This won't cost you anything, but it helps us to keep the site running. Thanks for your support.
Celebrate the beautiful world we live in with this fun and educational Earth Day Scavenger Hunt for kids. This printable activity is perfect for the entire family.
If you would like to browse all of our printable scavenger hunts, try our Scavenger Hunts for Kids page.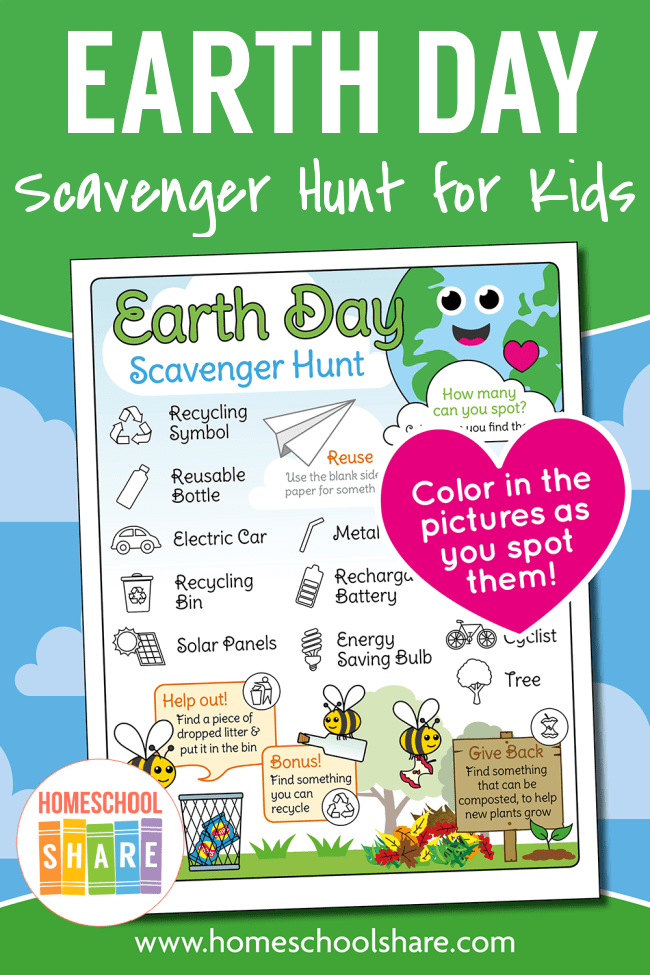 Items You Will Look for with the Earth Day Scavenger Hunt for Kids
As your student locates each item, have her color it on the printable page provided.
You could take a walk through your house and neighborhood or drive to a local park. As you go, your student will search inside and outside for these items:
Recycling Symbol
Reusable Bottle
Electric Car
Recycling Bin
Solar Panels
Metal Straw
Rechargeable Battery
Energy Saving Bulb
Rain Barrel
Bee
Canvas Bag
Cyclist
Tree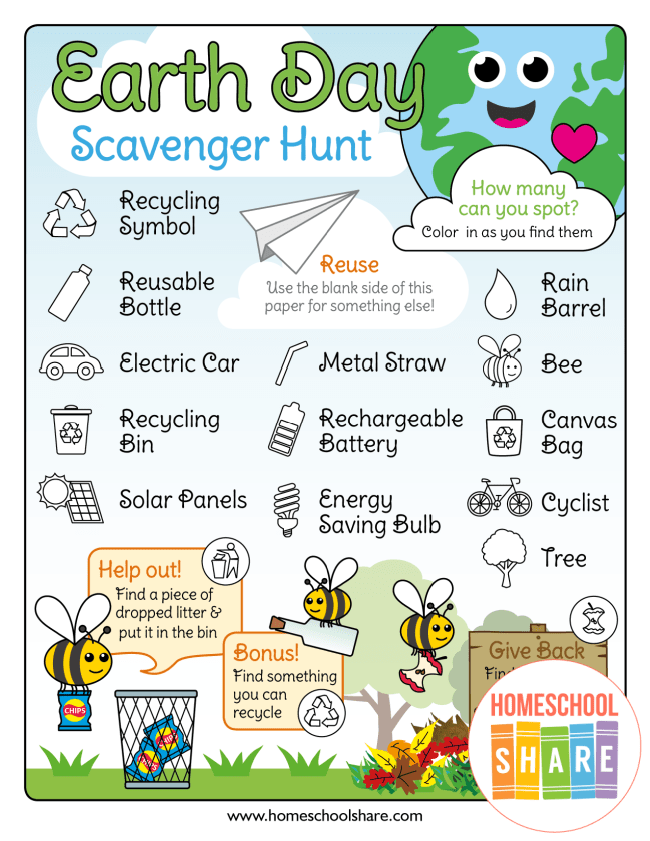 This scavenger hunt includes these other activities and things to do:
Help Out! Find a piece of dropped litter and put it in the trash can.
Bonus! Find something you can recycle.
Give Back! Find something that can be composted to help new plants grow.
Reuse! Use the back of the scavenger hunt for something else. You could also put it in a page protector so that it can be used again and again (with a dry erase marker).
For extra fun, give your student a magnifying glass and allow him to carefully examine the smaller items as he finds them.
Benefits of the Earth Day Scavenger Hunt
This scavenger hunt is great way to celebrate Earth Day and to spark discussions about being good stewards of our planet. It provides many benefits for your student.
Scavenger hunts boost observation skills. As your child looks for objects, he will develop better observation skills.
Scavenger hunts require movements; this promotes gross motor development.
If you work on the scavenger hunt as a team, it will promote cooperation and social skills development.
Additionally, the bonus items will increase creative and critical thinking skills as your child has to determine how to complete the extra tasks.
Grab Your Free Earth Day Scavenger Hunt
Grab the printable scavenger hunt by clicking on the image below.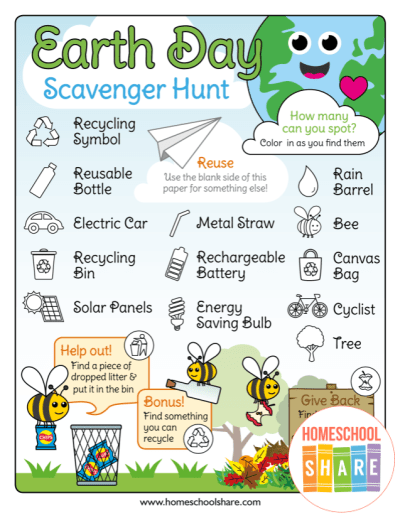 More Earth Day Resources for Your Students
Learn more about stewardship and conservation with these unit studies, lessons, and lapbook printables.