Affiliate Disclaimer
We sometimes use affiliate links in our content. This won't cost you anything, but it helps us to keep the site running. Thanks for your support.
Students roar for dinosaurs–such a fun topic to explore. Snag our free Dinosaur Dramatic Play Printables and help your students learn all about these giant reptiles from long ago.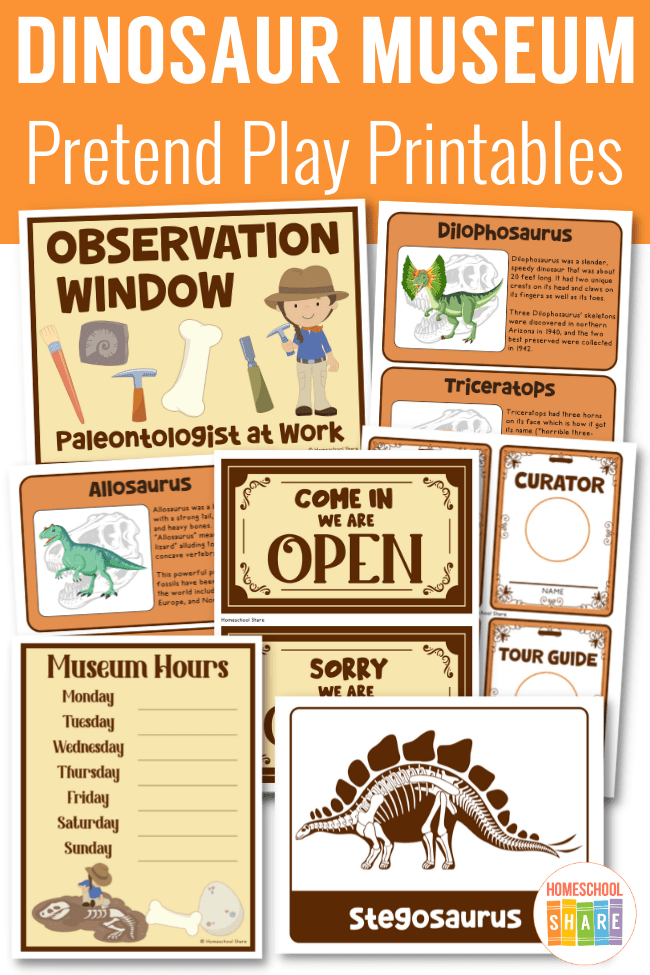 Dinosaur Dramatic Play Benefits
Why should you create a dinosaur dramatic play area for your preschool and kindergarten students? Because it is brain-building!
Pretend play is beneficial for your student because it promotes:
creativity and imagination
fine motor skills
gross motor skills
social development
language and communication skills
problem-solving abilities
teamwork and cooperative play
Dinosaur Museum Dramatic Play Signs and Badges
This set of free printables includes a variety of signs to help your turn your classroom or play room into a dinosaur museum.
Open Sign
Closed Sign
Museum Hours (if you laminate, students can determine hours and add them with a dry erase marker)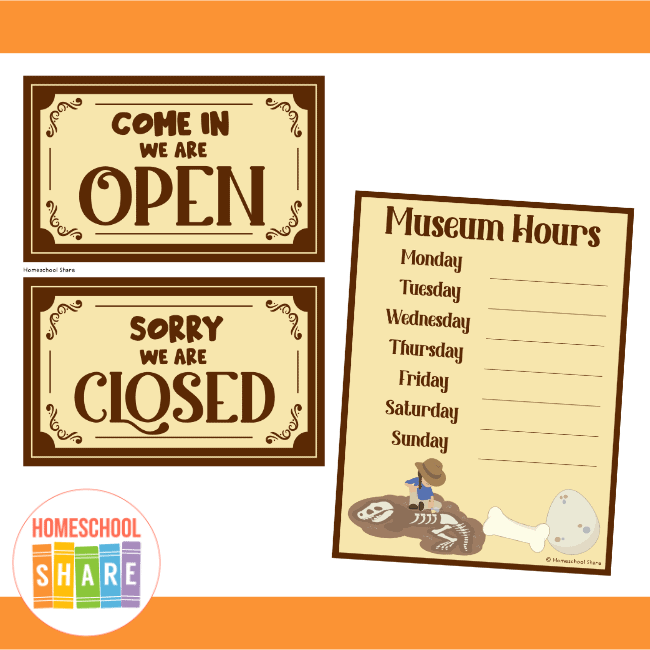 Badges include Curator, Archivist, and Tour Guide
Observation Window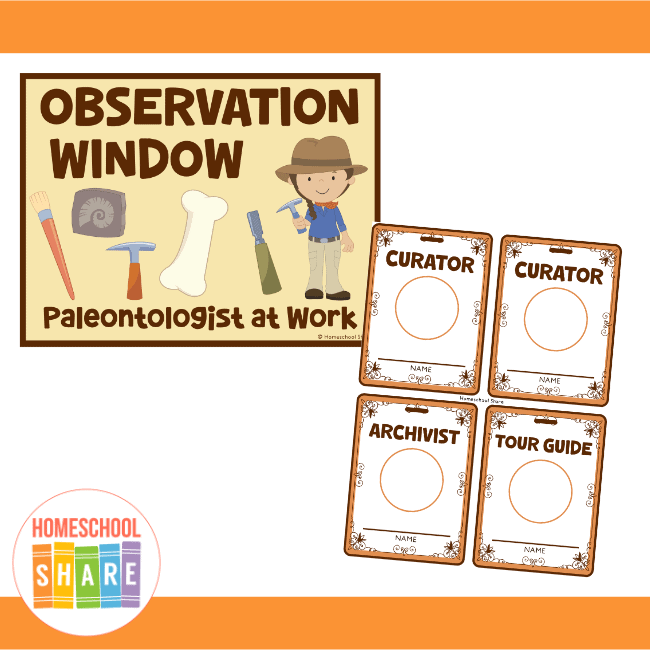 Souvenir Shop
Discovery Lab
Fossils Exhibit Sign
Dinosaurs Exhibit Sign
Please Do Not Touch the Dinosaur Exhibits Poster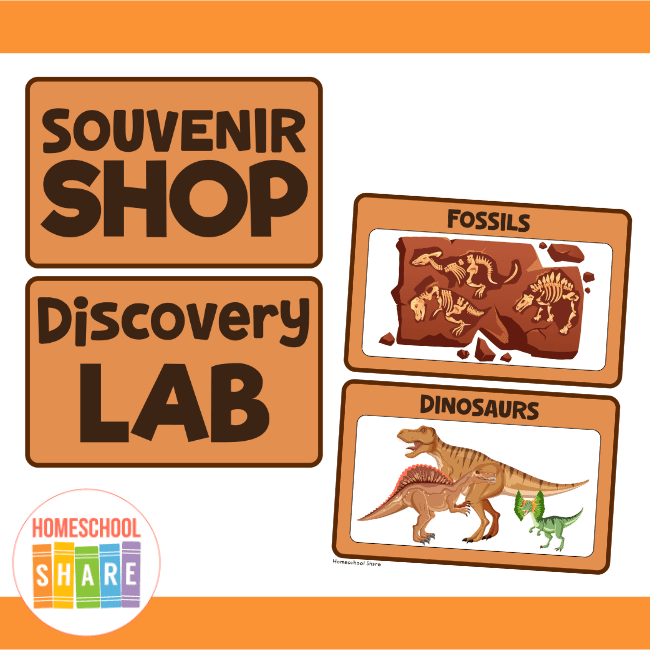 Dinosaur Posters for Dinosaur Exhibit
Use these posters (and possibly a set of plastic dinosaurs) to create a dinosaur exhibit for the dinosaur museum.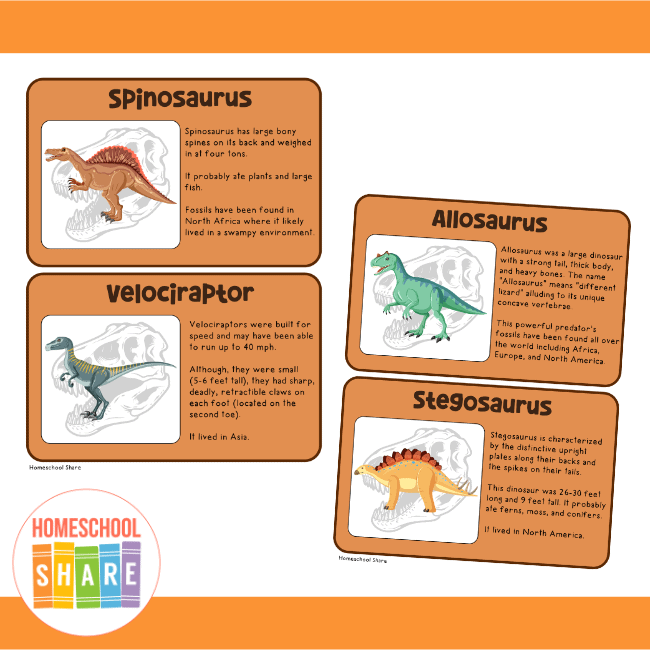 Tyrannosaurus Rex
Brachiosaurus
Spinosaurus
Velociraptor
Allosaurus
Stegosaurus
Dilophosaurus
Triceratops
Fossils Posters for Fossils Exhibit
Hang these posters together along with "fossil" samples for a fossils exhibit at the dinosaur museum.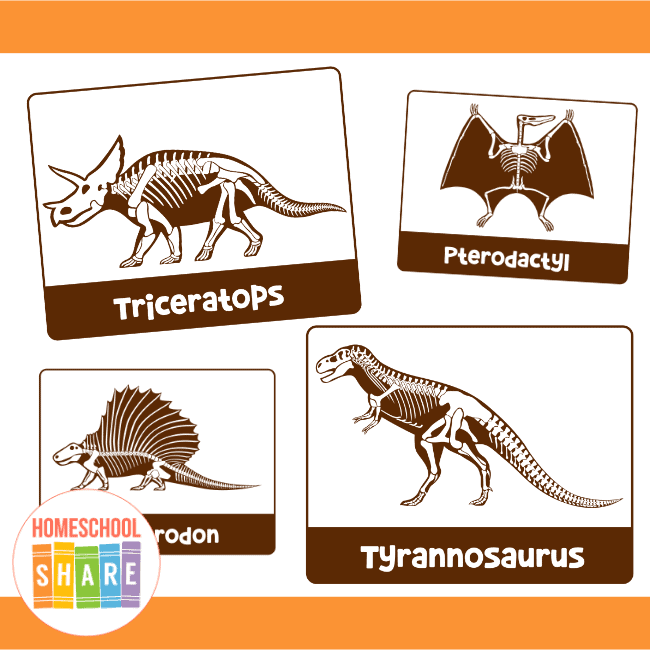 Stegosaurus
Pterodactyl
Parasaurolophus
Dimetrodon
Triceratops
Tyrannosaurus
Other Dinosaur Museum Pretend Play Printables
This set of printables includes a few more fun things for your students to use as they create a pretend play dinosaur museum.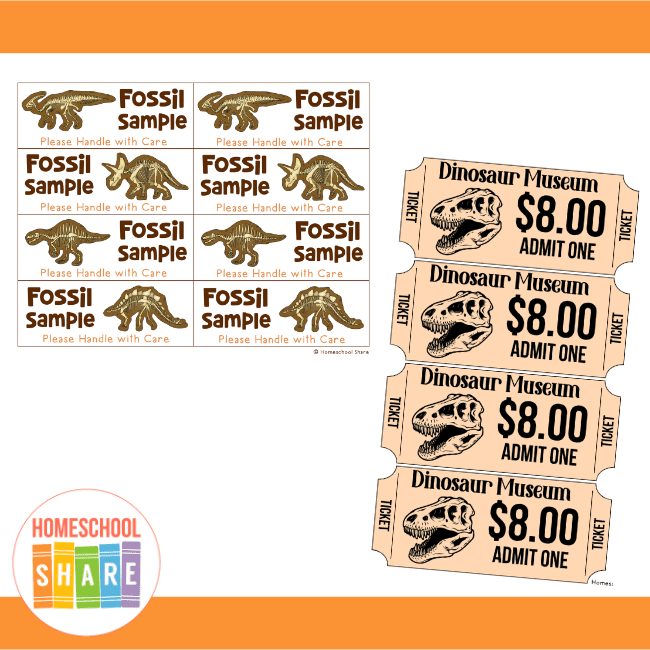 Dinosaur Museum Tickets
Fossil Sample Forms
Students can create fossils with Playdough or clay and add the forms for a display.
Props for Your Dinosaur Dramatic Play Museum
Here are a few props to consider adding to your dinosaur dramatic play area.
Tri-fold Boards for Displays
Sand and Shovels (use a baby pool to create a Dinosaur Dig or Discovery Lab area)
Magnifying Glass (for Discovery Lab)
Ruler or Measuring Tape (to measure the fossils or items in your dig area)
Paintbrushes (to dust off fossils)
Playdough and Clay (for students to create fossils)
Download Your Free Dinosaur Pretend Play Printables
Get your free set of dramatic play printables when you subscribe to the newsletter u sing the form below.
Buy the Pretend Play Printable Bundle
If you'd like a bunch of dramatic play sets, but you don't want to hunt and peck throughout the entire site, you can grab them easily and conveniently in one big bundle. Simply head to the shop or use the buy button below.
Sets included: fire station, post office, grocery, dentist, vet, zoo, library, pet shop, garden shop, ice cream shop, candy store, and dinosaur museum.
More Dinosaur Printables for Your Students
If your kids enjoy this set of pretend play printables, consider snagging some of our other dinosaur resources.