Affiliate Disclaimer
We sometimes use affiliate links in our content. This won't cost you anything, but it helps us to keep the site running. Thanks for your support.
Is your preschooler learning about shapes? Go on a shape hunt with this Circle Scavenger Hunt!
If you would like to browse all of our printable scavenger hunts, try our Scavenger Hunts for Kids page.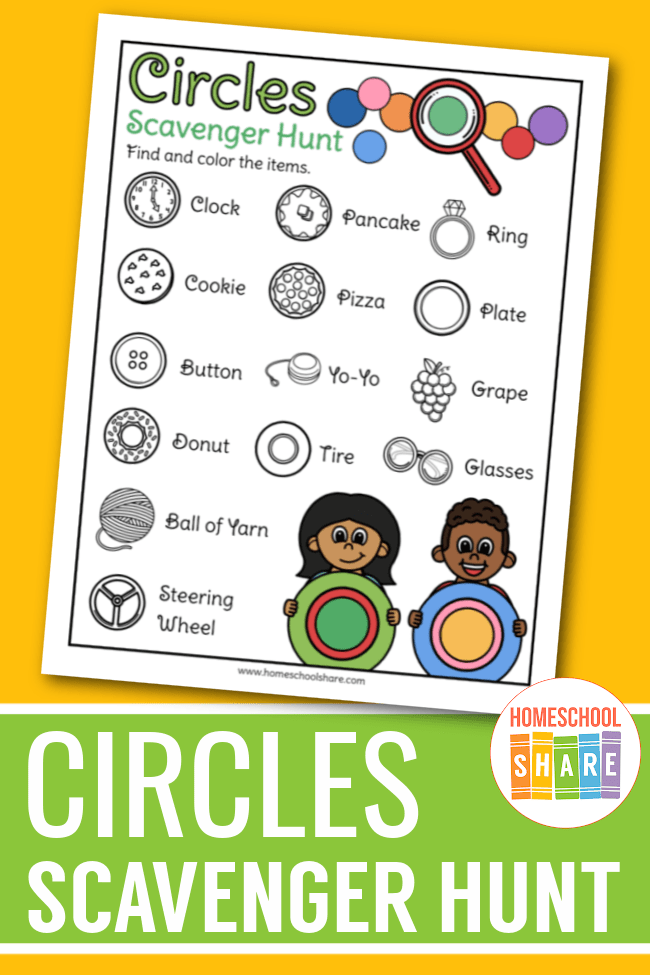 Items You Will Look for with the Circle Scavenger Hunt
Your student will search your house or classroom for these round or circular items:
clock
cookie (if you don't have cookies, consider a toy cookie; you could also buy a few special treats for this hunt)
button
donut
ball of yarn
steering wheel (consider encouraging your student to look for a toy car for this one)
pancake
pizza
yo-yo
tire (again, you can use a toy car)
ring
plate
grape
glasses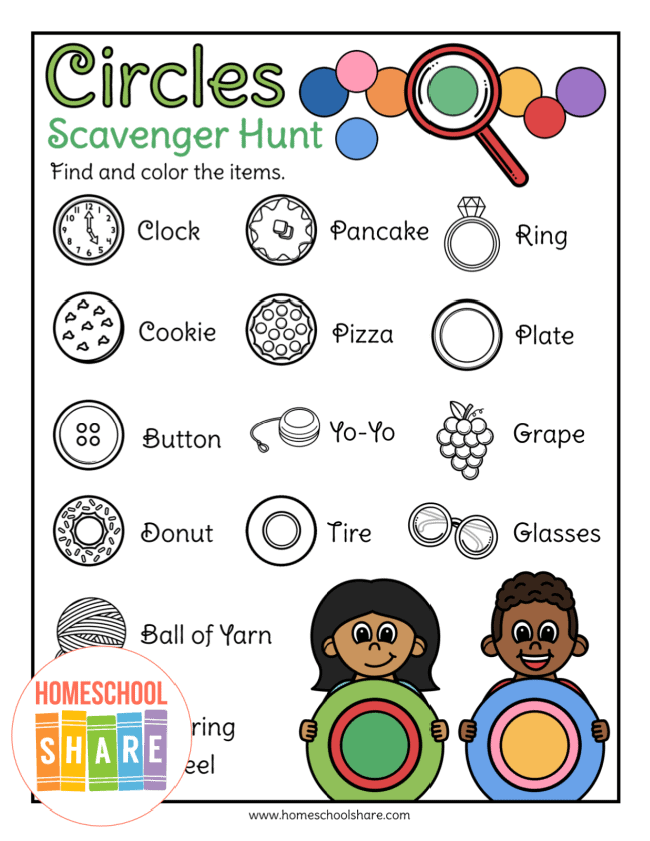 As your student locates each item, have her color it on the printable page provided.
For extra fun, give your student a magnifying glass and allow him to carefully examine the items as he finds them.
After you finish the circle scavenger hunt, look for more items that are circular. How many more can you find? Go outside to spot some. Are there more inside or outside?
Benefits of the Circle Scavenger Hunt
This circle scavenger hunt is great as a go-along with your shape theme. It provides many benefits for your student.
Scavenger hunts boost observation skills. As your child looks for objects, he will develop better observation skills.
Scavenger hunts require movements; this promotes gross motor development.
A scavenger hunt can provide safe sensory input for your student (feel the fuzzy ball of yarn, taste the yummy pizza or donut, smell the grapes, etc.)
If you work on the scavenger hunt as a team, it will promote cooperation and social skills development.
Grab Your Free Circle Scavenger Hunt
Grab the scavenger hunt by clicking on the image below.
More Shape Printables for Young Learners
Learn even more about shapes with our shape printables and resources.