Affiliate Disclaimer
We sometimes use affiliate links in our content. This won't cost you anything, but it helps us to keep the site running. Thanks for your support.
Introduce and review shapes with your preschool students with our free and fun Mouse Shapes activities and printables.
The mice have fun creating with an oval, two circles, and eight triangles in this concept book by Ellen Stoll Walsh.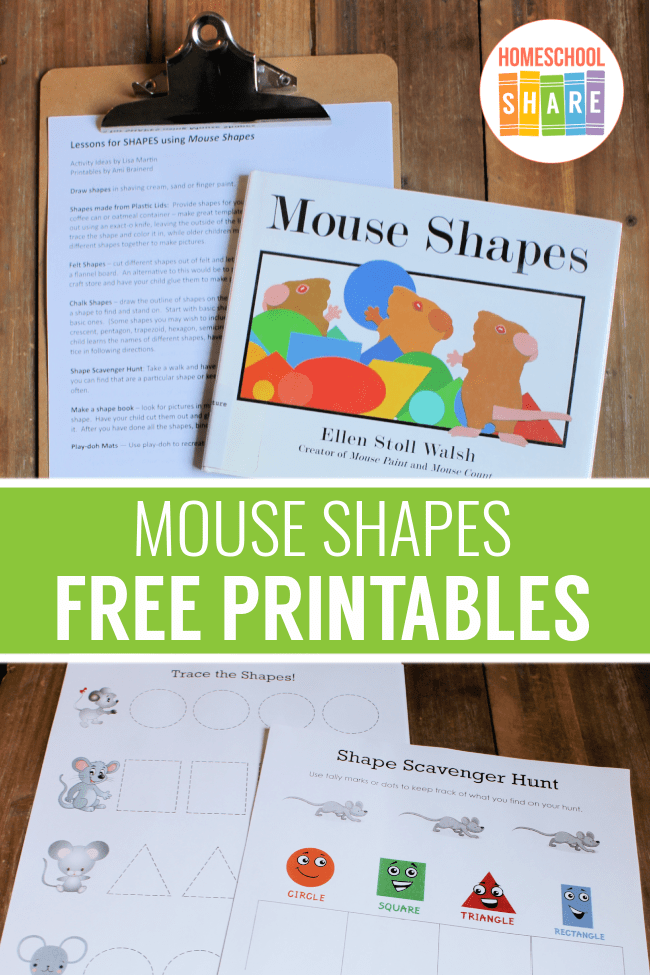 Thanks to Lisa Martin for submitting these Mouse Shapes unit study ideas.
Mouse Shapes Activities
Use these engaging activities and crafts to help your kids learn about shapes with the book, Mouse Shapes.
Drawing Shapes Activity
Use shaving cream, sand, or finger paint to draw various shapes! Try a triangle, circle, oval, square, rectangle, diamond, and more.
Tracing Shapes Activity
Provide shapes for your child to trace. (Plastic lids – from a coffee can or oatmeal container – make great templates. Draw a shape on the lid and cut it out using an exact-o knife, leaving the outside of the lid intact.) Younger children can simply trace the shape and color it in, while older children may wish to make shape patterns or put different shapes together to make pictures.
Felt Shapes Activity
Cut out different shapes from felt and let your child use them to make pictures on a flannel board. An alternative to this would be to purchase a bucket of foam shapes at a craft store and have your child glue them to make pictures, designs or patterns.
Chalk Shapes Activity
Draw the outline of shapes on the driveway or sidewalk.  Then give your child a shape to find and stand on. 
Start with basic shapes, then add new ones as they learn the basic ones. (Some shapes you may wish to include: circle, square, rectangle, oval, triangle, crescent, pentagon, trapezoid, hexagon, semicircle, diamond, and octagon.)
As your child learns the names of different shapes, have him jump from one to another; this is good exercise and good practice in following directions.
Make a Shape Book
Look for pictures in magazines or online that are a particular shape.  Have your child cut them out and glue them onto a page with that shape drawn on it.  After you have done all the shapes, bind them together into "My Shape Book."
Mouse Shapes Printables
A variety of Mouse Shapes printables have been added to this unit study. You will find the following in the Mouse Shapes unit study file:
My Shape Book Cover Page
Your student will love making a book about shapes!
Shape Scavenger Hunt Page
Take a walk through your house or outside in your neighborhood and look for shapes. See how many things you can find that are a particular shape or keep a tally and see which shape you spot the most often.
Shape Playdough Mats
Use playdough to recreate the shapes on the cards. Many shapes are provided. If you laminate the cards, your student can use them again and again.
What Do You See in the Shapes?
Use this page to spark creativity and promote fine motor learning.
Trace the Shapes
Use the shape tracing page to practice holding a crayon or pencil.
How to Get Started with the Mouse Shapes Activities
Follow these simple instructions to get started with the Mouse Shapes unit study and printables.
Buy a copy of the book, Mouse Shapes, or grab one from your local library.
Print the Mouse Shapes unit study.
Choose the lessons you want to use with your students (a highlighter works great for this).
Choose and prepare the Mouse Shapes printables you want to use with your student.
Enjoy a week of book-based learning with your preschool student.
Download Free Your Mouse Shapes Activities
Simply click on the image below to grab your free lessons and activities.
More Preschool Activities and Printables
If your preschool student enjoys Mouse Shapes, you may want to try these other unit studies.
More Shape Activities for Preschool
If your preschooler is learning about shapes, try some of our free shape printables.