Affiliate Disclaimer
We sometimes use affiliate links in our content. This won't cost you anything, but it helps us to keep the site running. Thanks for your support.
These Mouse Paint printables provide the perfect opportunity to explore colors with your preschool student.
The three mice in the book find red, yellow, and blue paint. What will happen when they splash and dance and mix the colors?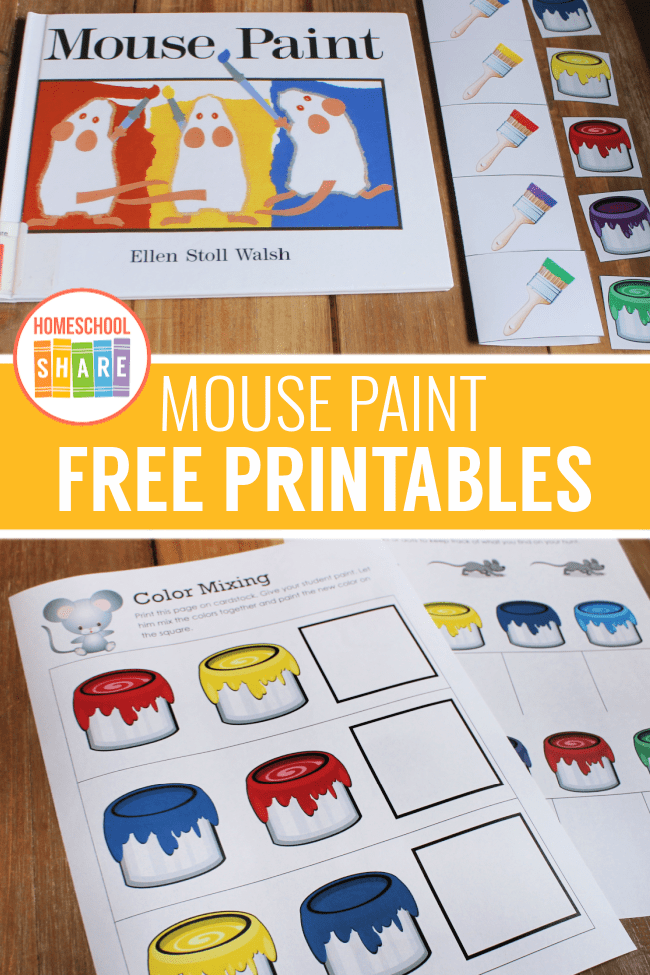 Thanks to Lisa Martin for submitting these unit study ideas.
Mouse Paint Activities for Preschool
The downloadable file includes gobs of activities based on this fun book by Ellen Stoll Walsh.
Make "Mouse Paint"
You will need small Ziploc bags and washable tempera paint (primary colors). Put a small amount of two primary colors in separate spots of a Ziploc bag and seal it.
Let your child decide the colors that will go in the bag and let him discover what happens when they mix. As he discovers new paint colors, it will be exciting for him! Use the Color Mixing printable provided to extend this activity.

After the paint is made, let your child use his fingers as "mouse feet" to mix the colors together–on the outside of the bag, of course. When he is finished blending his colors, open the bag and use a watercolor paintbrush to make his own "mouse paint" painting. Repeat with other combinations of colors.
Note: You can use a muffin tin instead of a bag–just put two primary colors in a single muffin cup and use a popsicle stick to mix the colors together.

Make a Color Matching Game
Use sample color chips from a home improvement store. With younger children, use primary and secondary colors along with black, brown and white if desired. With older preschoolers, you can introduce shades of colors by picking various shades of a single color, or you could do warm colors or cool colors.

Make Color Collages
Give your child a piece of colored construction paper and have him look for pictures in magazines that are that color. You can help him cut the pictures out and glue them on the construction paper. When you have done all the colors, you can bind them together and make "My Color Book." Cover page is included in the printables section of the downloadable file.

Mouse Tracks
On a warm, sunny day, go outside with bare feet. Walk in a tray of cool squishy paint, and then on paper, making your own version of mouse tracks. Walk through previously made footprints so colors will mix and create new colors.

Color Words: For an addition to a Word Wall or sight words, write the different color words on flashcards using that color marker. Color cards are provided in the printables section.

Color Songs
Teach your child a song, poem or nursery rhyme with a color in it. You can find some suggestions at Enchanted Learning.
Color of the Day
Have a designated color of the day – make a craft with the color, read a book that goes with the color, eat foods that are the color, wear the color, etc.

Color Scavenger Hunt
Take a walk and have a color scavenger hunt; see how many things you can find that are the color of the day or keep a tally and see which color you spot the most often.
Mouse Paint Free Printables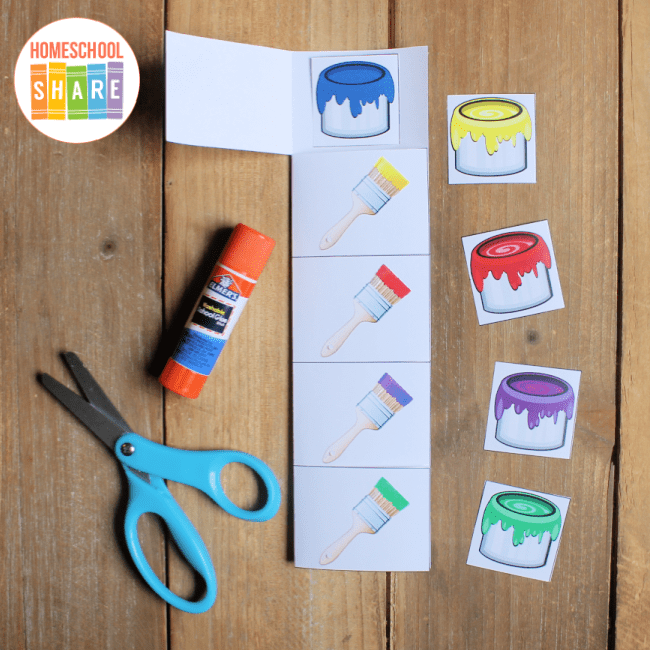 Mouse Paint printables and worksheets have been added to this unit study. You will find the following in the Mouse Paint unit study file:
Cover Page for My Color Book
Your student will love making his or her own book of colors!

Color Mixing Page
This page can be used with the Making Mouse Paint activity in the unit study.

Color Matching Flap Book
Review colors and color names with the color flap book.

Mouse Paint Maze
Put your student's fine motor skills to work and help Matisse the Mouse find his masterpiece.

Mouse Sizes
Use visual discrimination skills to match the mice to the paintbrushes. This game can be played again and again.

Color Scavenger Hunt
Look through your house or get outside and enjoy (and tally) the colors of your world. When you finish, help your student count the totals of each color.
How to Get Started with the Mouse Paint Activities and Printables
Follow these simple instructions to get started with the Mouse Paint unit study and printables.
Buy a copy of the book, Mouse Paint, or grab one from your local library.
Print the Mouse Paint unit study.
Choose the lessons you want to use with your student (a highlighter works great for this).
Choose and prepare the Mouse Paint printables you want to use with your student.
Read the book multiple times together and enjoy a week of book-based learning with your preschool student.
Download Your Free Activities and Printables
Use the form below to subscribe to the Homeschool Share newsletter in order to snag your free Mouse Paint Preschool Activities and Printables.
More Preschool Resources
Kids love Ellen Stoll Walsh books!
If your preschool student enjoys Mouse Paint, you may want to try these other book based activities.