Affiliate Disclaimer
We sometimes use affiliate links in our content. This won't cost you anything, but it helps us to keep the site running. Thanks for your support.
This set of Caps for Sale unit study and lapbook printables will provide a fun learning experience for your preschool student.
Caps for Sale is an easy choice for a book based unit study. It is one of the most beloved, most popular picture books ever published. If you aren't familiar with this funny, engaging story, it is an old folk tale about a peddler who must outsmart a group of mischievous monkeys.
Children will ask you to read this one again and again. You can easily spend a week reading the book and completing the activities provided in the Caps for Sale printables file.
Thanks to Beth Mohr and Ami for the Caps for Sale ideas, lessons, and printables found in the downloadable file.
Caps for Sale Printable Activities
The Caps for Sale printables includes these various lessons and activities:
Wearing All These Hats!
Your student will enjoy trying different hats on the monkey. You can make this a counting activity by asking your student to put a certain number of hats on the monkey. "Add four hats to the monkey's head." Take turns. Let your student tell you how many hats to put on the monkey's head. Have fun with this.
Monkey See, Monkey Do
In Caps for Sale, the monkeys do what the peddler does!
Read the "Monkey See, Monkey Do" poem to your student and work through the motions. This activity provides a fun way to hear rhyme while grabbing some exercise! Review the poem each day that you read the story.
Count the Caps
Count the caps and write the number on the line provided.
Monkeys in a Tree Song
This is another fun way to practice counting with your preschool student. Sing the song together and move the monkeys as Mr. Crocodile gobbles them.
How Much Is It Worth?
This mini-book provides a simple introduction to coins. Your student can cut and paste the coins to the correct spots on the printable book.
Design a Cap
Grab your crayons and markers and let your student practice his fine motor skills while designing a cap.
Piggy Bank
This is another simple introduction to money. The peddler in Caps for Sale sells his caps for "fifty cents a cap!" Your student can use this pull-tab book to practice putting fifty cents in and out of the bank.
Other Ideas
This set of Caps for Sale lapbook printables includes extra lesson ideas, too. There are recipes, songs, a game, and more! Grab the file to download your free copy.
How to Get Started
Follow these simple instructions to get started with the Caps for Sale lapbook printables:
Buy a copy of the book, Caps for Sale by Esphyr Slobodkina, or grab one from your local library.
Print the Caps for Sale lapbook printables.
Choose and prepare the printables you want to use with your student. Make note of other lessons and activities you want to include.
Enjoy a week of fun-filled learning with your preschool student.
Download Your Unit Study and Printables
Simply click the image below to receive your free Caps for Sale lapbook.
More Resources to Explore
If you are looking for another monkey themed unit study, try Hand, Hand, Fingers, Thumb.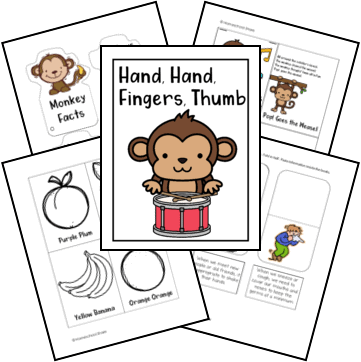 If your student loves primates, check out this Goodnight Gorilla unit study, too.