Affiliate Disclaimer
We sometimes use affiliate links in our content. This won't cost you anything, but it helps us to keep the site running. Thanks for your support.
This set of free Caps for Sale activities for preschool will provide a fun learning experience for your preschool student.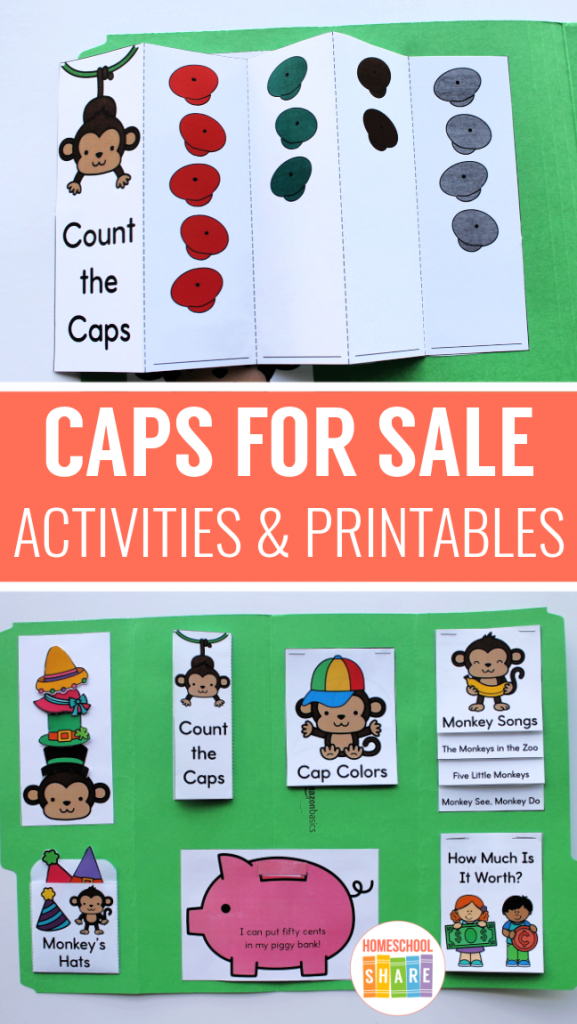 Caps for Sale is an easy choice for a book based unit study. It is one of the most beloved, most popular picture books ever published. If you aren't familiar with this funny, engaging story, it is an old folk tale about a peddler who must outsmart a group of mischievous monkeys.
Thanks to Beth Mohr and Ami for the Caps for Sale ideas, lessons, and printables found in the downloadable file.
Caps for Sale Activities for Preschool
Our download includes numerous options for Caps for Sale printables, activities, and lessons for your little learners. You can scan the list below to see the ideas included for literacy, math, art, and even cooking.
Caps for Sale Literacy Activities
The set of printables includes a variety of literacy activities for your preschool (or kindergarten!) student.
"Monkey See, Monkey Do" Poem
In Caps for Sale, the monkeys do what the peddler does!
Read the "Monkey See, Monkey Do" poem to your student and work through the motions. Rhyme is important for young children. It helps preschool and kindergarten students hear the sounds of language.
This activity provides a fun way to hear rhyme while grabbing some exercise! Review the poem each day that you read the story to reinforce rhyme and work out gross motor skills at the same time.
Monkey's Hats Activity
Your student will enjoy trying different hats on the monkey. You can make this a language activity by asking your student to describe the hats or asking the student to put specific hats on the monkey's head. Can you find the hat the monkey would wear in the rain? Can you find the green hat? Which hat would the monkey wear for Halloween? Can you put the black pirate hat on the monkey?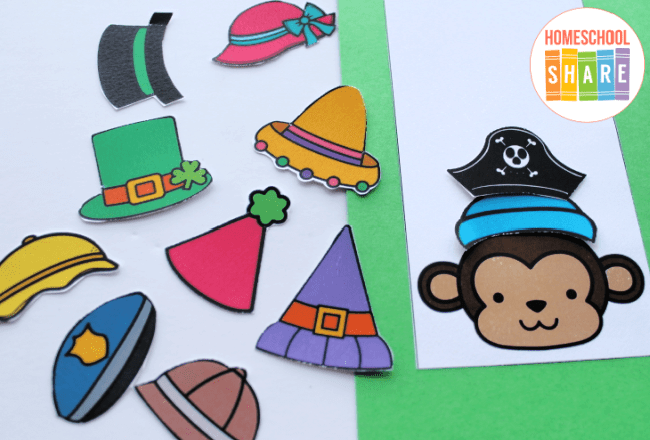 Alternatively, you can make this a counting activity by asking your student to put a certain number of hats on the monkey. "Add four hats to the monkey's head." Take turns. Let your student tell you how many hats to put on the monkey's head. Have fun with this!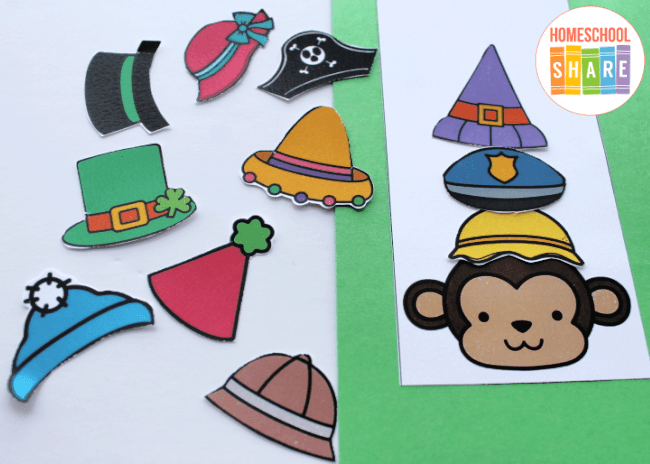 Cap Colors Mini-book
This little reader is a great way to get your preschool student excited about reading.
Read through the pages of the book with your student and let her color the caps the corresponding colors. Cut out the pages, put the book together, and let your student read (or "read") the simple sentences.
Phonics: Letter M and Letter C
If you want, use this book as the opportunity to introduce or review the Letter M (M is for Monkey) or the letter C (C is for Cap). You can use our lapbooks for Letter M or Letter C to reinforce the phonics concepts.
Caps for Sale Math Activities
The Caps for Sale printables also includes a variety of math activities.
Count the Caps Mini-book
The Caps for Sale printable set includes a mini-book to teach your preschool student counting. Count the caps and write the numbers on the lines provided.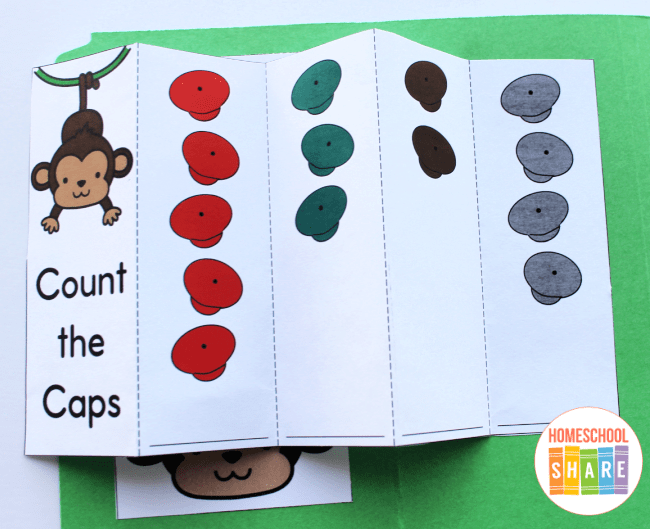 Five Little Monkeys Swinging in a Tree Song
This is another fun way to practice counting with your preschool student. Teach your student the "Five Little Monkeys Swinging in a Tree" song. Use the free Five Little Monkeys Swinging in a Tree printables to practice counting. This math activity teaches counting while exposing your student to more rhyming! Win-win.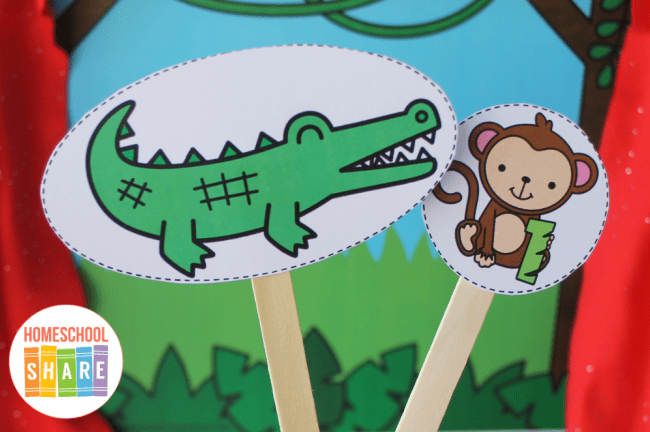 Introduction to Coins Math Activity
This mini-book provides a simple introduction to coins. Your student can color the coins and trace the number values before you assemble the book. After you put it together, read through the book with your student. Using real coins, and ask your student to find each one.
Piggy Bank Pull-tab Book
This is another simple introduction to money. The peddler in Caps for Sale sells his caps for "fifty cents a cap!" Your student can use this pull-tab book to practice putting fifty cents in and out of the bank. You can even use the peddlers phrase, "fifty cents a cap!" as you move the money into the piggy bank.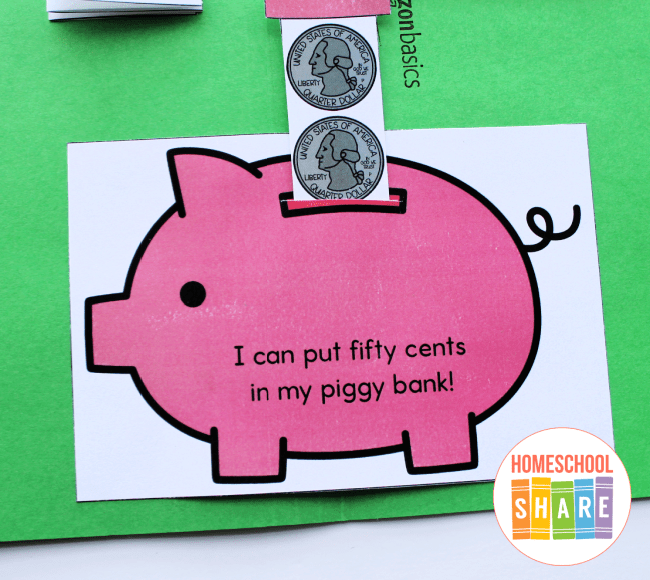 Caps for Sale Art Activities
Design a Cap
Grab your crayons and markers and let your student practice his fine motor skills while designing a cap. If you want to add a math challenge to this activity, encourage your student to make patterns.
Monkey in a Tree Picture
Draw a tree outline. Stamp your child's thumb on an ink pad. Let him make prints on a tree (two thumbprints per monkey– one for the head, one for the body). Let your child add faces, arms, legs, and tails with a fine marker (crayon or colored pencil).
Caps for Sale Cooking Activities
Banana Butter Recipe
Mash 3 small ripe bananas with a fork. Mix in ¾ Cup peanut butter. Add ¼ tsp cinnamon, 1 tsp. shredded coconut and ½ cup raisins. Blend well. Serve the banana butter on bread, crackers, or fruit.
Frozen Banana Treat
Your little monkeys will love this healthy dessert!
4 ripe bananas
1/2 cup heavy cream
1 TB sugar
1 12-oz bag semi-sweet chocolate chips
1 cup walnuts, finely chopped
8 popsicle sticks
Peel and remove the strings from the bananas. Cut them horizontally to make two banana pops from one full banana. Insert the popsicle sticks in the thick end of the banana pieces and place on a baking sheet lined with wax paper. Freeze for two hours.
In a small saucepan, heat the heavy cream and sugar to a low simmer and stir until the sugar has dissolved, about one minute. Remove from the heat. Melt the chocolate in a bowl over a saucepan of simmering water. Add the heavy cream and stir until smooth. Remove from the heat. Place the chopped walnuts in a shallow dish or pie pan.
One at a time, dip the frozen bananas in the chocolate. You may have to spoon some of the chocolate over the banana and smooth it out. Sprinkle the nuts all over the banana, transfer to the lined baking sheet and freeze until ready to eat.
How to Get Started with Your Free Caps for Sale Printables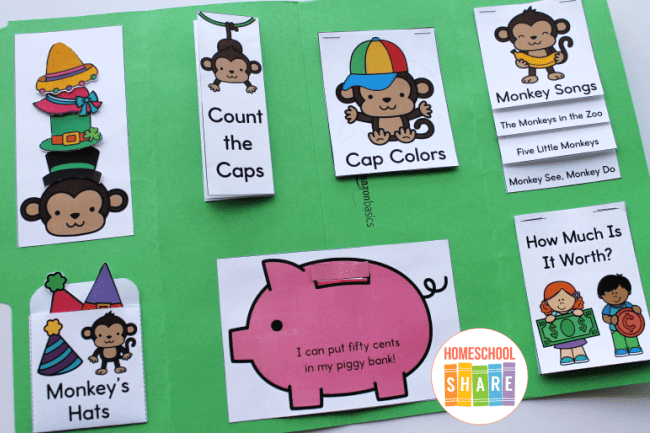 Follow these simple instructions to get started with the Caps for Sale activities and printables:
Buy a copy of the book, Caps for Sale by Esphyr Slobodkina, or grab one from your local library.
Print the Caps for Sale activities and printables. Choose from the black and white version or the full color version.
Choose and prepare the activities you want to use with your student. Make a note of other lessons and activities you want to include.
Enjoy a week of fun-filled learning with your preschool student.
Download Your Free Caps for Sale Activities & Printables
Simply click the image below to receive your free Caps for Sale activities for preschool.
More Resources to Explore
If you are looking for another monkey themed unit study, try Hand, Hand, Fingers, Thumb.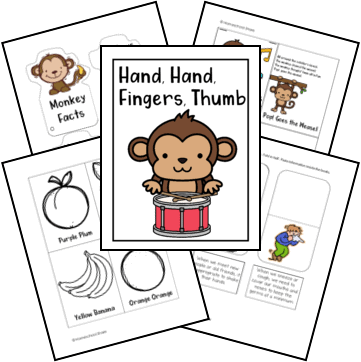 If your student loves primates, check out this Goodnight Gorilla unit study, too.