Affiliate Disclaimer
We sometimes use affiliate links in our content. This won't cost you anything, but it helps us to keep the site running. Thanks for your support.
An aquarium is an amazing place to visit any time of year! My boys always loved wandering through and looking at the gigantic and tiny ocean creatures. You can use this free Aquarium Scavenger Hunt printable to keep your students engaged throughout your field trip.
If you would like to browse all of our printable scavenger hunts, try our Scavenger Hunts for Kids page.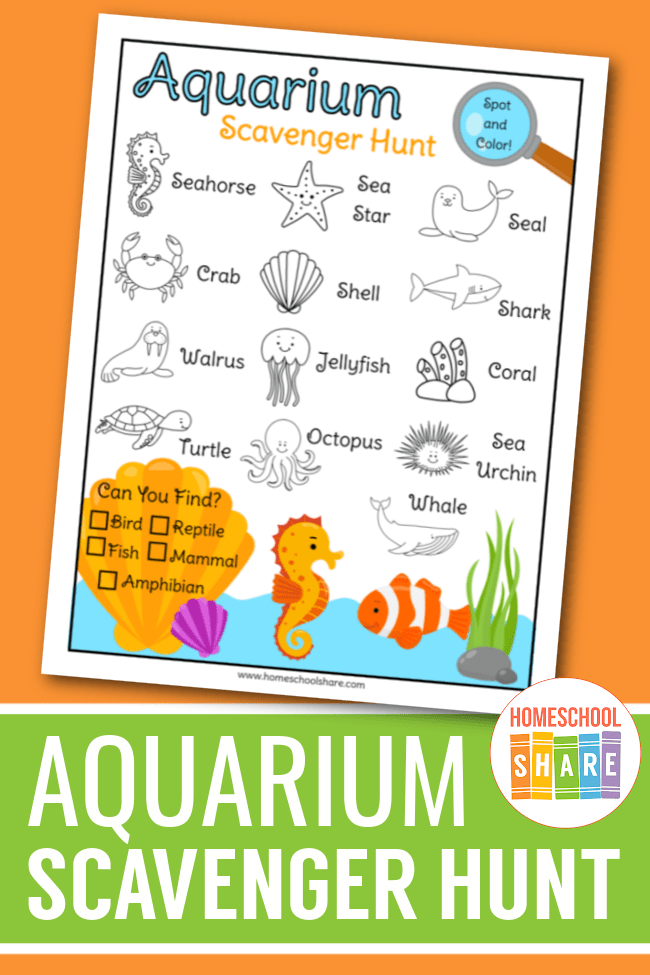 Items You Will Look for with the Aquarium Scavenger Hunt
Your student will search the aquarium for these items:
seahorse
crab
walrus
turtle
sea star (starfish)
shell
jellyfish
octopus
seal
shark
coral
sea urchin
whale
Your student also has a bonus items to look for on this scavenger hunt. Can your student find all the types of vertebrates: a bird, a fish, a reptile, a mammal, and an amphibian?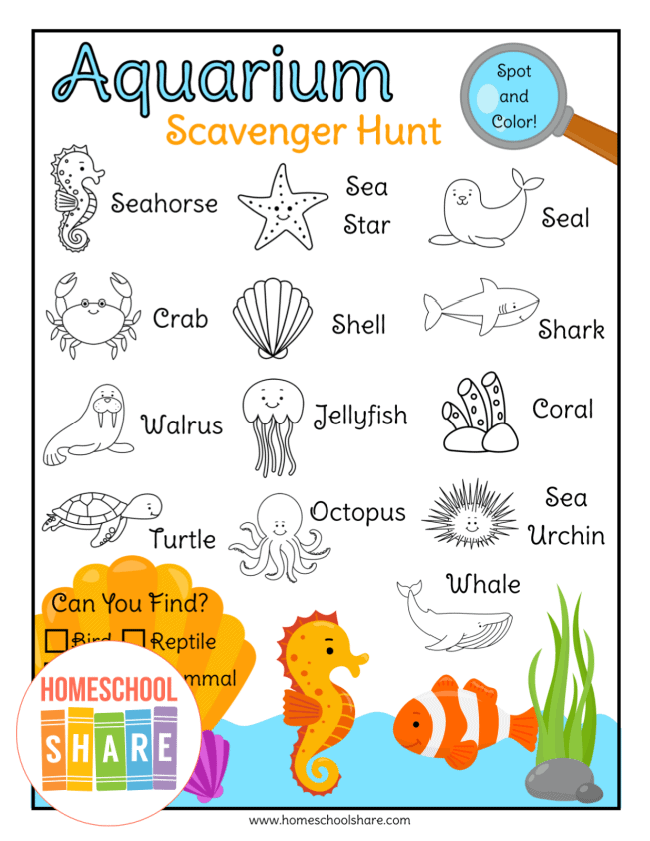 As your student locates each item, have her color it on the printable page provided.
For extra fun and if there are things your student can handle at the aquarium, give your student a magnifying glass and allow her to carefully examine the items as she finds them.
Benefits of the Aquarium Scavenger Hunt
This aquarium scavenger hunt is great as a go-along with your ocean theme. It provides many benefits for your student.
Scavenger hunts boost observation skills. As your child looks for objects, he will develop better observation skills.
Scavenger hunts require movements; this promotes gross motor development.
A scavenger hunt at the aquarium can boost interest about ocean animals, and it may spur on your student to go learn more about the fascinating creatures she sees while at the aquarium. Your student could even choose to learn more about one of the animals on the scavenger hunt printable.
If you work on the scavenger hunt as a team, it will promote cooperation and social skills development.
Additionally, the bonus items will increase creative and critical thinking skills as your child has to determine which animals meet the correct classifications.
Grab Your Free Aquarium Scavenger Hunt Printable
Grab the scavenger hunt by clicking on the image below.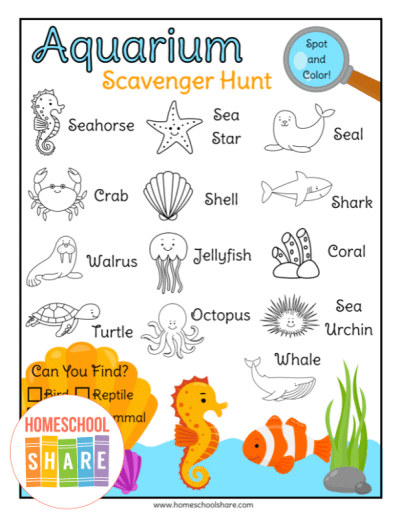 More Ocean Themed Printables and Resources
You can find gobs of ocean animal lapbooks on this Animal Lapbooks page. You could also try one of these unit studies: