Affiliate Disclaimer
We sometimes use affiliate links in our content. This won't cost you anything, but it helps us to keep the site running. Thanks for your support.
Cars, boats, and planes–oh my! This transportation game for preschool is packed with things on the move. Grab your copy and play a round or two with your preschool student.
Benefits of Playing the Transportation Game
Lotto is a simple matching game with these benefits for your preschool student:
Build relationship with your preschooler as you play together
Review colors as you help your preschooler find the matches. "Do you have the taxi? It's yellow. Do you see the yellow taxi on your board?"
Teach your preschool student how to take turns. This seems like a simple skill, but it is important.
Help your preschooler develop visual discrimination skills that are foundational to reading and writing.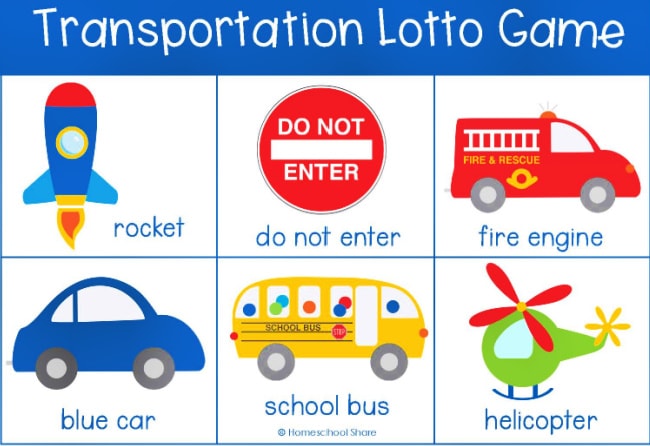 How to Play the Transportation Lotto Game
Transportation Lotto Game Assembly
Print the four game boards and picture tiles on cardstock. If desired, laminate for durability. Cut out each game board as ONE PIECE. Cut apart each picture tile. You should have four game boards and 24 picture tiles when you finish.
Transportation Lotto Game Instructions
This game can be played with 2-4 players. Each player should choose a board and find the tiles that match his or her board. Turn those tiles over and mix them up.
The first player should draw a picture tile from the pile. If the picture matches the player's board, the player keeps the tile and puts it on his board. If it does not match, the player puts it back into the pile. The next player gets a turn.
The game is continued in this way until one player has found all six of his or her tiles and wins the game.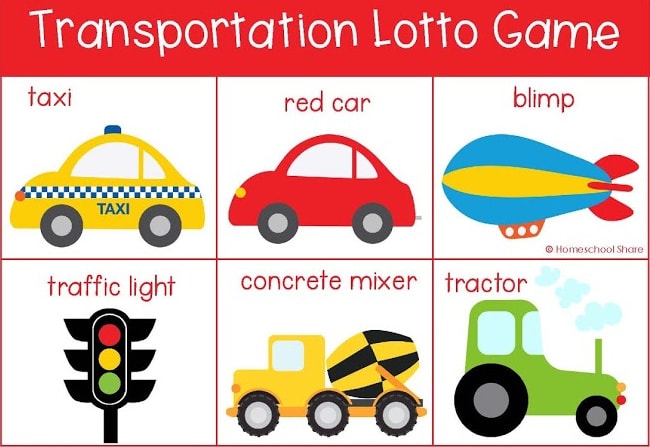 Transportation Lotto Game Variation
This can also be played as a single player game. Sometimes when I needed time to work with my older son, I would give my younger son a lotto game. I would choose a few boards with corresponding pieces and let him match the game tiles to the boards.
This single player version gave my preschool student something constructive to do while I was teaching my older son. My preschooler felt included in our school time, and I knew he was building important visual discrimination skills.
Download Your Free Transportation Game for Preschool
Simply click on the image below to grab your free transportation lotto game.
More Transportation Themed Resources for Preschool and Kindergarten
If your preschool student enjoys this transportation lotto game, check out these other transportation themed resources: