Affiliate Disclaimer
We sometimes use affiliate links in our content. This won't cost you anything, but it helps us to keep the site running. Thanks for your support.
This story of hope is perfect for your Christmastime lessons. Grab our Silver Packages activities and lessons and learn about the Appalachian Mountains, trains, steam, coal, and more!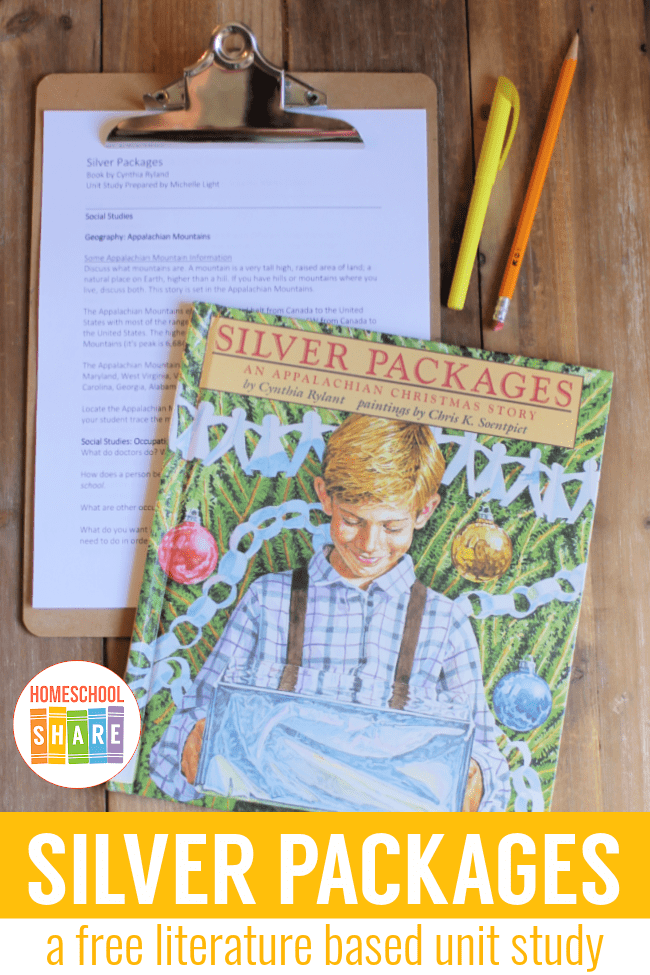 Thanks to Michelle Light for preparing this Silver Packages unit study.
Silver Packages Summary
This unit study includes lessons and activities based on the book Silver Packages by Cynthia Rylant.
In Appalachia each Christmas, a boy named Frankie waits beside the tracks for the Christmas Train, which will bring presents to the children who live in coal towns and hollows. Year after year, Frankie hopes that one particular gift – one very special gift – will be tossed to him from that train.

from Silver Packages summary at amazon.com
Silver Packages Activities and Lessons
Here is a sample of the lessons found in this Silver Packages unit study:
Geography: Appalachian Mountains
Discuss what mountains are. A mountain is a very tall high, raised area of land; a natural place on Earth, higher than a hill. If you have hills or mountains where you live, discuss both. This story is set in the Appalachian Mountains.
The Appalachian Mountains extend in a broad belt from Canada to the United States with most of the range located in the U.S.: 1,600 miles SW from Canada to the United States. The highest point is Mt. Mitchell in North Carolina's Black Mountains (it's peak is 6,684 ft.).
The Appalachian Mountains can be found in New York, Pennsylvania, Ohio, Maryland, West Virginia, Virginia, Kentucky, Tennessee, North Carolina, South Carolina, Georgia, Alabama, Mississippi.
Locate the Appalachian Mountains on a map. Using a piece of tracing paper, let your student trace the mountain range from one end to the other.
Social Studies: The Santa Train
The "Santa Train" been making its annual run in 1943. (For a bonus math lesson, figure out how many years the train has been running.)
Each year it runs from Pikeville, Kentucky to Kingsport, Tennessee and takes 15 tons of gifts, candy, and toys and distributes them to children along a 110-mile trip through Tennessee, Virginia, and Kentucky. Thousands of people come out for the train.
Science: Steam
During the 19th century, nearly all trains were powered by steam locomotives. A steam engine requires that water be boiled (often by heating it with coal or wood) to produce steam.
The steam is then used to power the train, to make it go. It was the job of the fireman to keep the fire burning. Today's firemen put out fires, but the firemen of the past, on the steam locomotives, had to keep the fire burning at just the right heat by shoveling coal or wood into the firebox.

Steam engines were noisy and produced a thick black smoke. You may wish to discuss pollution. One reason steam locomotives are rarely used now, it because they started powering them with diesel, which is cleaner.
To access all of the lessons in this unit study, grab an easy-to-print file at the end of this post.
How to Get Started with the Silver Packages Unit Study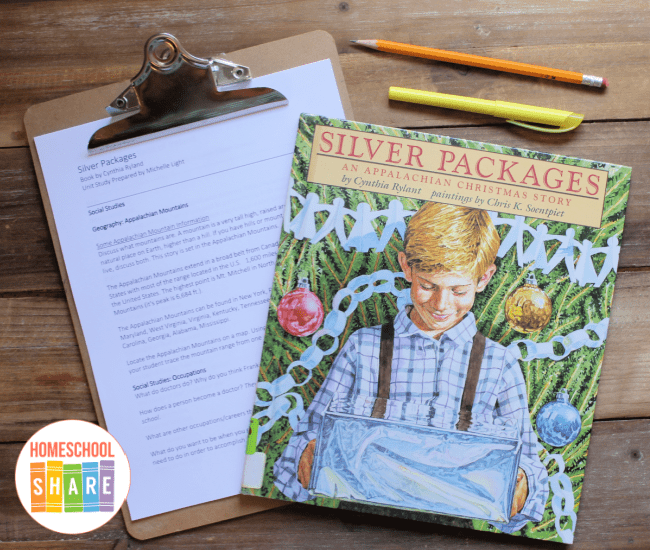 Follow these simple instructions to get started with the Silver Packages activities and lessons.
Buy a copy of the book, Silver Packages, or grab one from your local library.
Print the Silver Packages unit study.
Choose the lessons you want to use with your student (a highlighter works great for this).
Enjoy a week of book-based learning with your student.
Download Your Free Silver Packages Unit Study
Simply click on the image below to grab your free Silver Packages unit study.
Additional Christmas Themed Unit Studies
We have oodles of unit studies to get you ready for the Christmas season. Here are a few: