Affiliate Disclaimer
We sometimes use affiliate links in our content. This won't cost you anything, but it helps us to keep the site running. Thanks for your support.
This unit study includes lessons and activities based on the book Christmas Tapestry by Patricia Polacco.
When a leak ruins the sacristy wall in his father's church, Jonathan Jefferson Weeks thinks Christmas Eve service will be ruined. Luckily he and his father find a beautiful tapestry, perfect for covering the damaged wall and giving the church a festive look! But then, an old Jewish woman recognizes the beautiful cloth. Her discovery leads to a real miracle on Christmas Eve.
Thanks to Ginger A. and Cate Proudfoot for preparing this Christmas Tapestry Unit Study.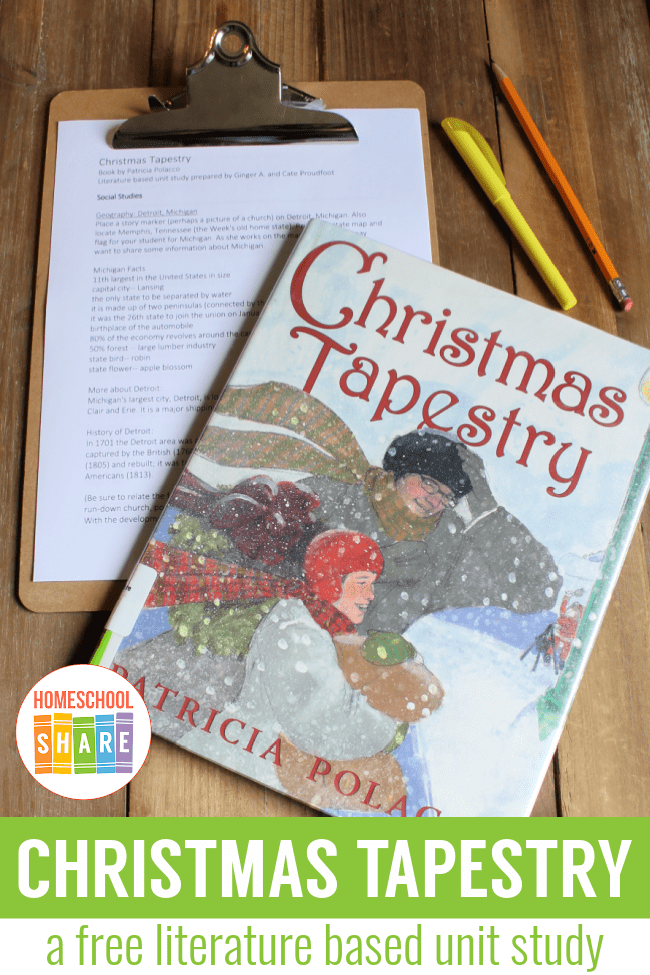 Christmas Tapestry Unit Study Lessons
Here is a sample of the lessons found in this Christmas Tapestry unit study:
Human Relationships: Loving Families
In this story there are two loving, family relationships.

The Weeks family works together for a common goal. They all want to make the church building a beautiful, welcoming place of worship. The children do have some negative thoughts, but because of their love and respect for their parents, they are willing workers. Talk with your child about the importance of family members being on the same team. Notice how content the children are to be working with their parents. Take time to work alongside your children and enjoy their company as you complete a project together.

The other family, the Zukors, have been separated by tragedy, miles, and years. However, the bond of love has kept them together. This may be a bit difficult for your student to grasp, but discuss the special bond of love that exists between a husband and a wife.

Social Studies: Hard Work
Physical labor and jobs associated with physical labor are often looked down on in our society, but it shouldn't be this way. Society is built up the working class." Many types of jobs and work are in this story. Talk with your student about the importance of shop-keepers, bus drivers, and plasterers. Also, point out the work that Jonathan and his sister did is good practice for future occupations. Help your child view chores as practice for future painters, landscapers, gardeners, chefs, etc. I want my children to know the joy and satisfaction that comes from physical work.

Social Studies: Random Acts of Kindness
A random act of kindness is a kind deed done without a desire to be reimbursed or even recognized. People that do kind deeds are always appreciated, but that is not their reason for being kind. It is so nice to be with a person who is willing to put himself last. Talk with your child about being unselfish and thinking of others first. After reading Christmas Tapestry a few times, have your student identify the acts of kindness in the story. Was the lady at the bus stop offering to sell warm tea to the cold strangers? Did the Reverend offer to drive the lady home for a price? Do you think Rev. Weeks wanted payment for reunited the Zukors? Encourage your student to make kindness a habit and to look for ways to be kind to others.
You can grab a copy of the entire Christmas Tapestry unit study in an easy-to-print file at the end of this post.
How to Get Started with the Christmas Tapestry Unit Study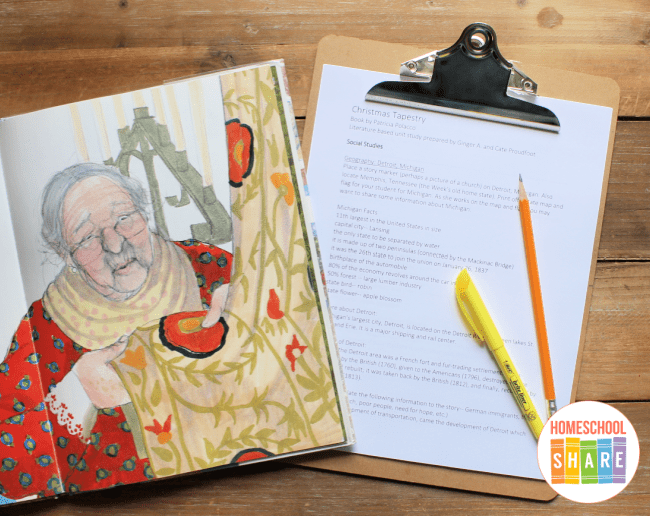 Follow these simple instructions to get started with the Christmas Tapestry Unit Study:
Buy a copy of the book, Christmas Tapestry by Patricia Polacco, or grab one from your local library.
Print the Christmas Tapestry unit study.
Choose the lessons you want to use with your student (a highlighter works great for this).
Enjoy a week of book-based learning with your student.
Download Your Free Christmas Tapestry Unit Study
Simply click on the image below to grab the free Christmas Tapestry unit study.