Affiliate Disclaimer
We sometimes use affiliate links in our content. This won't cost you anything, but it helps us to keep the site running. Thanks for your support.
They call him "White Trash" because he wears hand-me-down overalls and lives on the wrong side of the tracks over near Shake Rag, but when his mama gets him a second-hand guitar, his life is forever changed and his music becomes inspired by gospel and sweet jazz.

from Shake Rag at amazon.com
Learn all about the life and times of Elvis Presley with our Shake Rag Unit Study.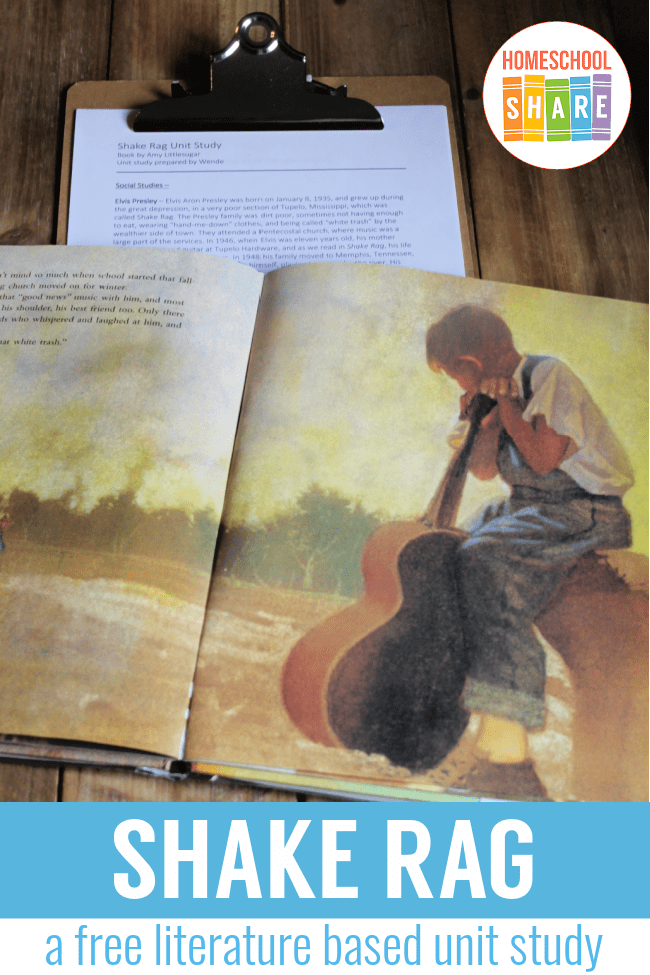 Thanks to Wende for preparing this Shake Rag unit study.
Shake Rag Unit Study Lessons
This unit study includes lessons and activities based on the book Shake Rag: From the Life of Elvis Presley by Amy Littlesugar.
Here is a sample of the lessons found in this Shake Rag unit study:
History: Elvis Presley
Elvis Aron Presley was born on January 8, 1935, and grew up during the great depression, in a very poor section of Tupelo, Mississippi, which was called Shake Rag. The Presley family was dirt poor, sometimes not having enough to eat, wearing "hand-me-down" clothes, and being called "white trash" by the wealthier side of town. They attended a Pentecostal church, where music was a large part of the services. In 1946, when Elvis was eleven years old, his mother bought him a used guitar at Tupelo Hardware, and as we read in Shake Rag, his life was all about dreams and music. In 1948 his family moved to Memphis, Tennessee, where shy Elvis spent a lot of time by himself, playing his guitar by the river. His very first job was as an usher at a theater, and he used his earnings to help his family pay bills and buy snazzy clothing.
Elvis graduated from high school in 1953, took a job as a truck driver, and planned on going to school to become an electrician. He would travel by a recording studio on his deliveries, and one day decided to go in and make a record for a birthday present for his mother, who he adored very much. The owner of the studio, Sam Phillips, was impressed enough to call him back, and Elvis cut his first vinyl for Sun Records in 1954. By 1956 he was an international rock and roll sensation, earning the name "King of Rock n' Roll."
His popularity soared as he expanded his audience by making TV appearances, movies, tours, and concerts. In spite of his newfound fame and fortune, Elvis never forget his roots, and is said to have been very generous with his money and belongings. He is quoted as saying "Money is meant to be spread around, the more happiness it helps create, the more it's worth." Elvis died in 1977 at his Memphis home "Graceland", which is still open for tours. Have child fill out the Elvis Presley Timeline using this information. Obtain a few videos and recordings of Elvis.

Geography: Mississippi
Up until he was thirteen years old, Elvis grew up in Mississippi, a state in the southern United States. Have your child find Mississippi on a map of the United States. Have your child name the states that border Mississippi on the west (Louisiana and Arkansas), on the north (Tennessee), and on the east (Alabama), as well as the body of water to the south (Gulf of Mexico). Looking at a map of Mississippi, have your child locate the capital, Jackson, as well as Tupelo, where Elvis grew up, and Greenville, where the annual Delta Blues Festival is held.
Looking at the map of Mississippi, can your child figure out what determines the state border on the west? It is the Mississippi River. The name Mississippi means father of waters, and was given to the state by the Native Americans because of the mighty river that forms most of the state's western border. Have your child research the state capital, flag, and symbols, using any of the following links.
You can grab a copy of the entire Shake Rag unit study in an easy-to-print file at the end of this post.
Shake Rag Printables
This unit study includes a few printables for your student to use for a Shake Rag notebook or lapbook:
Elvis Presley Timeline Page
Mississippi Map Shutterfold
Kinds of Stories Twice Folded Book (includes biography and autobiography)
Segregation Mini-book
Instruments Flap Book
"The Green Grass Grows" All Around Mini-book
How to Get Started with the Shake Rag Unit Study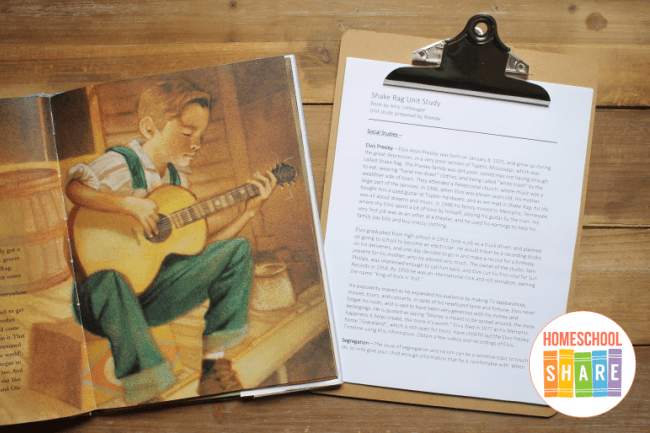 Follow these simple instructions to get started with the Shake Rag unit study:
Buy a copy of the book, Shake Rag: From the Life of Elvis Presley, or grab one from your local library.
Print the Shake Rag unit study.
Choose the lessons you want to use with your student (a highlighter works great for this).
Enjoy a week of book-based learning with your student.
Download Your Free Shake Rag Unit Study
Simply click on the image below to grab the free Shake Rag unit study.
Learn About Other Famous People
Grab one of these unit studies or lapbooks and learn about other famous people.