Affiliate Disclaimer
We sometimes use affiliate links in our content. This won't cost you anything, but it helps us to keep the site running. Thanks for your support.
This unit study includes lessons and activities based on the book Wilma Unlimited: How Wilma Rudolph Became the World's Fastest Woman.
Before Wilma Rudolph was five years old, polio had paralyzed her left leg. Everyone said she would never walk again. But Wilma refused to believe it. Not only would she walk again, she vowed, she'd run. And she did run—all the way to the Olympics, where she became the first American woman to earn three gold medals in a single Olympiad.

summary from Wilma Unlimited at amazon.com
This book will challenge and inspire you. It is the foundation for the lessons provided in our Wilma Unlimited unit study.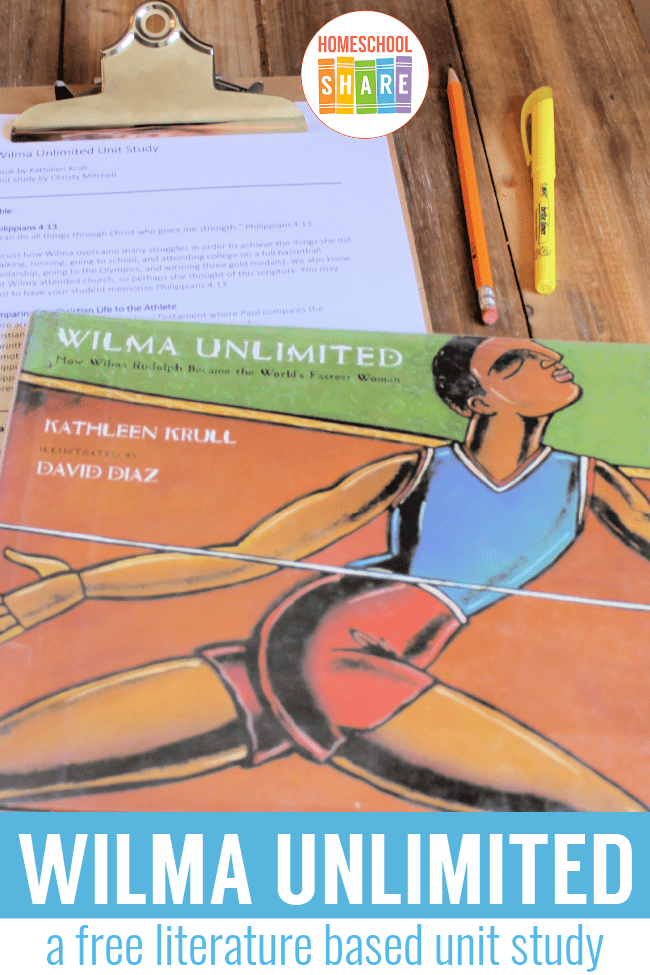 Thanks to Christy Mitchell for preparing this Wilma Unlimited unit study.
Wilma Unlimited Unit Study Lessons
Here is a sample of the lessons found in this Wilma Unlimited unit study:
Social Studies: Setting Goals
You may want to use this story as a springboard for discussion on setting goals. A few quotable quotes: "Shoot for the moon, even if you miss, you will still land among the stars" and "If you aim at nothing, you will be sure to hit it."
The Bible reminds us, "Where there is no vision, the people perish."

What goals does your student have for his life? For this school year? If you want, take some time together and set some goals (this could be for anything: chores, school, friends, Bible reading, relationships with siblings). Help your student create a plan of tangible ways to reach his goals (small steps that will get him closer to the big step). For instance, if your student's goal is to get along better with his sister, think of things he could (and should) be doing each day to foster that relationship. Make a chart if you want and map his journey giving him a sticker or a stamp every time he gets a little closer to his goal.
Language Arts: Biography
Explain what a biography is (the true story of someone's life written by another person). You may also want to include a discussion of autobiography (the true story of someone's life written by him/herself). Wilma Unlimited is a biography. Have your older child write a brief biography about anyone she chooses. You could also read a longer biography (or autobiography) together as a read aloud (or assign it as independent reading for your older student). One other option would be to have your student write her own autobiography. Some ideas to include could be:
birth facts (hospital, weight, height, eye/hair color, length, parents' names, etc.)
hobbies/interests
family (sisters, brothers, mom, dad, grandparents, pets, etc.)
favorites (favorite color, favorite food, favorite anything!)
school life/church life
friends
Science: Strengthening Our Bodies
Talk about how Wilma fought through pain and worked hard to regain the use of her leg, even when the doctors has said that she would never walk again. Also, when she was at the Olympics she hurt her ankle just after she arrived in Rome (where the Olympics were at that year), but she didn't let that stop her. Even though it was still swollen and painful she didn't let her hurt ankle keep her from fulfilling her dream. She went on to win all three races she ran that day! Use this to talk about keeping our bodies healthy and exercising to get stronger. You may even want to add a small exercise routine (even a 15 minute walk) as part of your school day.

Discuss how Olympic athletes work and train almost daily to get into the best shape they can and to do the best they can possibly do at their specific sport.
You can grab a copy of the entire Wilma Unlimited unit study in an easy-to-print file at the end of this post.
How to Get Started with the Wilma Unlimited Unit Study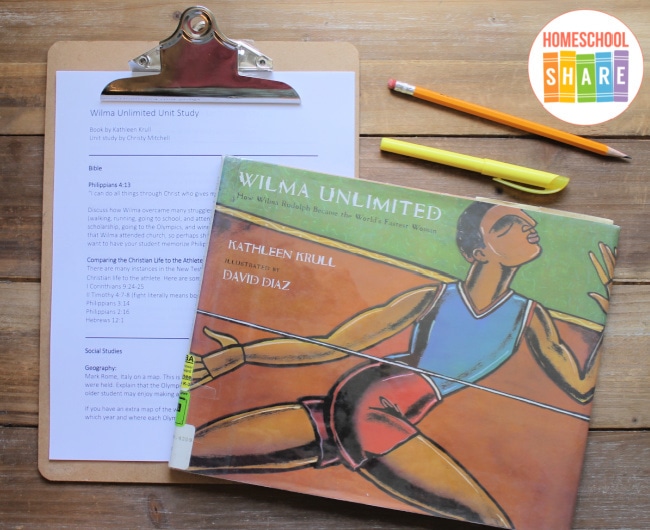 Follow these simple instructions to get started with the Wilma Unlimited:
Buy a copy of the book, Wilma Unlimited: How Wilma Rudolph Became the World's Fastest Woman, or grab one from your local library.
Print the Wilma Unlimited unit study.
Choose the lessons you want to use with your student (a highlighter works great for this).
Enjoy a week of book-based learning with your student.
Download Your Wilma Unlimited Unit Study
Simply click on the image below to access your free Wilma Unlimited unit study.
Check Out These Other Studies of Amazing Women