Affiliate Disclaimer
We sometimes use affiliate links in our content. This won't cost you anything, but it helps us to keep the site running. Thanks for your support.
Help your student learn to look for shapes with these free printable preschool mazes.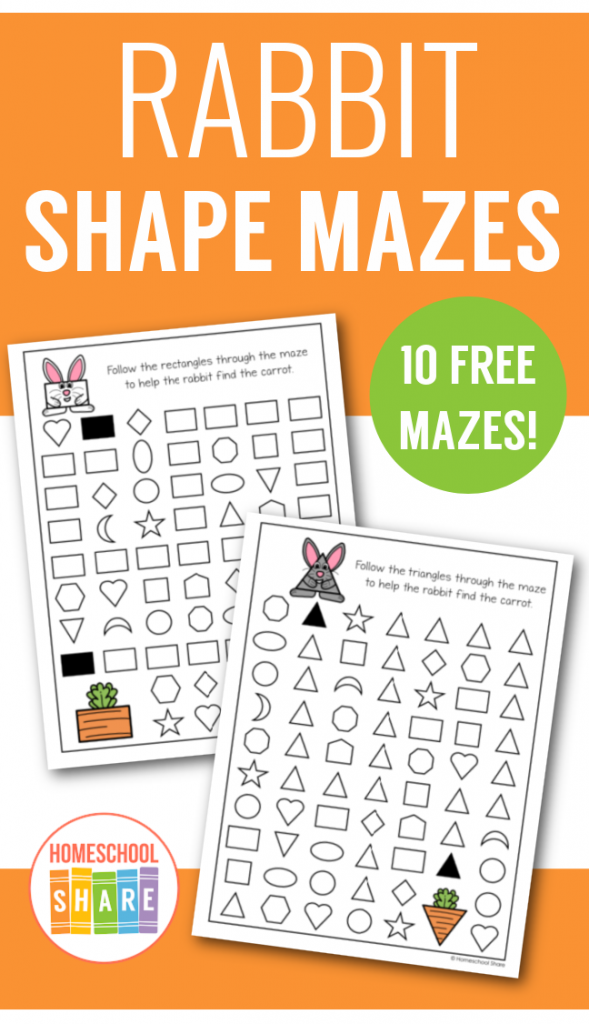 Your student will love helping the rabbits find the carrots as he works his way through the shape mazes.
Benefits of the Rabbit Shape Mazes
This set of mazes provides many benefits for your preschool or kindergarten student.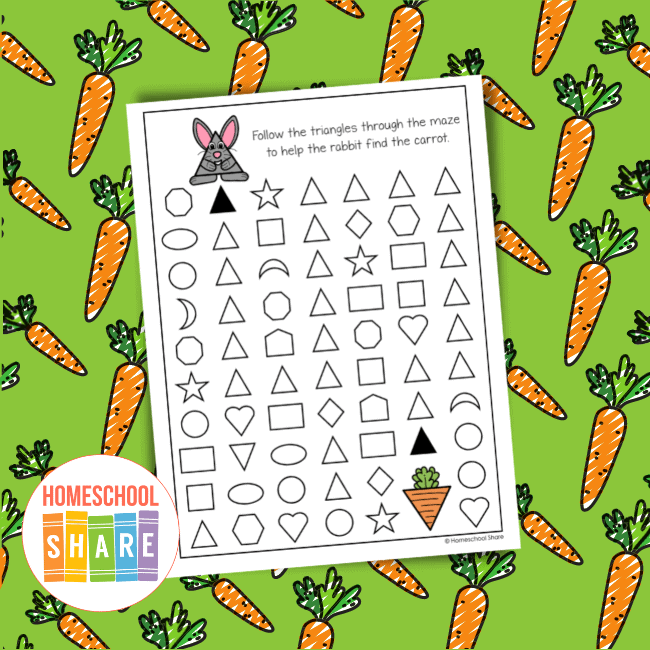 Mazes improve executive function skills such as planning and brainstorming as your student determines how to solve the maze.
The shape mazes will also boost fine motor skills as your student colors or traces through the path of the maze.
Additionally, mazes require your student to use his eyes to find possible solutions. This will help build the visual motor skill of scanning which your student will use in the future for reading and writing.
Mazes also boost student confidence. When a student completes the puzzle, he can take pride in a job well done.
What's Included in This Set of Printable Preschool Mazes?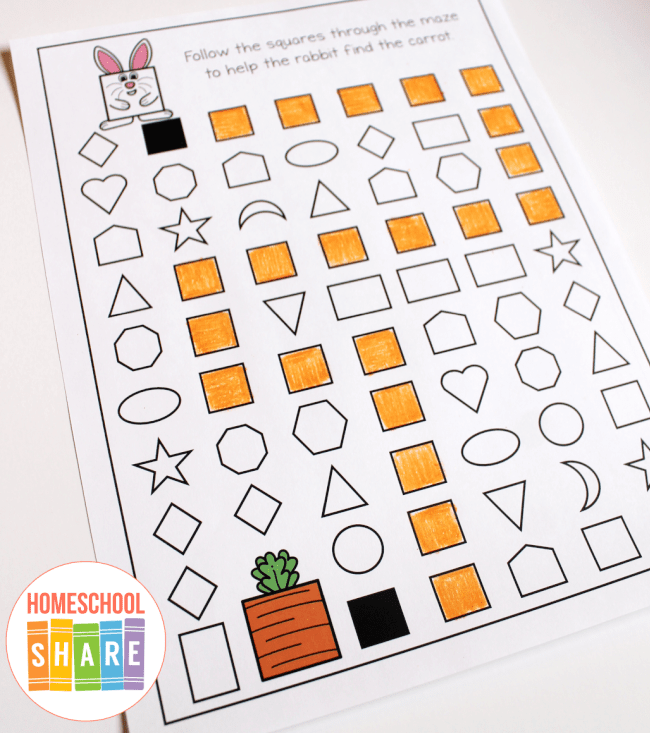 This set of shape mazes includes one maze for each of the following shapes:
Circle
Diamond
Square
Triangle
Heart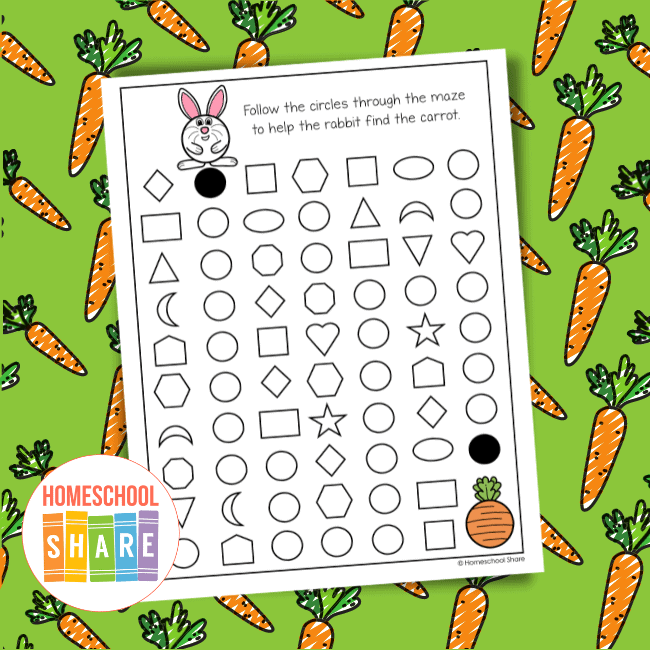 Hexagon
Rectangle
Star
Oval
Octagon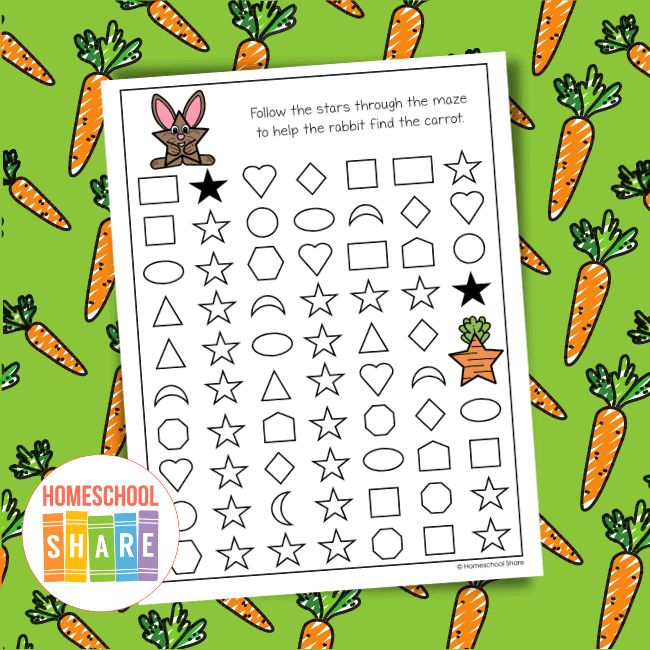 How to Use the Printable Preschool Mazes
This set of mazes is easy to use.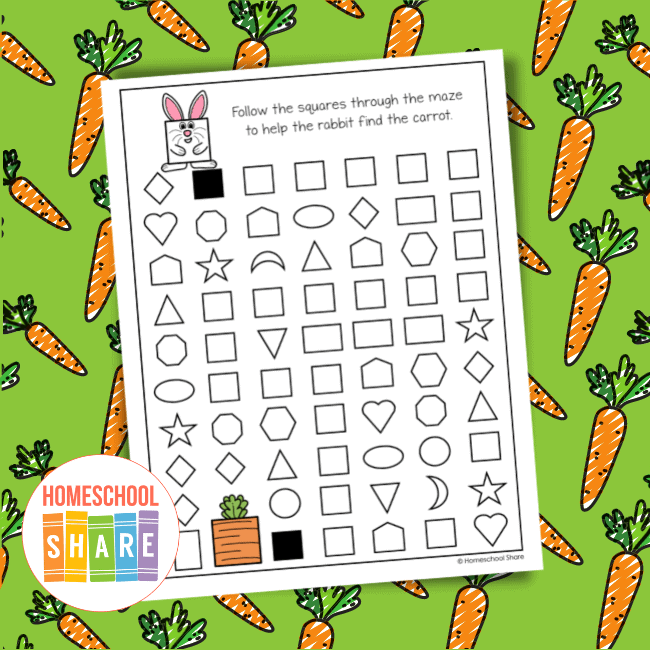 Print the mazes.
Give your student a crayon.
If desired, introduce or review the name of the shape on the maze printable.
Show your student how to color the shape through the maze to help the rabbit find the carrot. If your student is just learning the name of the shape, be sure to remind your student to say it each time.
If you want, laminate the mazes or put them in a dry erase pocket so that they can be used again and again. If you choose this option, give your student a dry erase marker to complete the shape mazes.
Get Your Set of Printable Rabbit Shape Mazes
Simply click on the image below to grab your free set of ten Rabbit Shape Mazes for your preschooler.
More Rabbit Printables for Your Preschool Student
If you are looking for more rabbit printables, you are in the right place. Try some of these resources with your preschool or kindergarten student.