Affiliate Disclaimer
We sometimes use affiliate links in our content. This won't cost you anything, but it helps us to keep the site running. Thanks for your support.
Are you hoping to set up a post office dramatic play area in your classroom or home? Your little learners can deliver mail, write letters, and buy stamps with this fun set of Preschool Post Office Printables.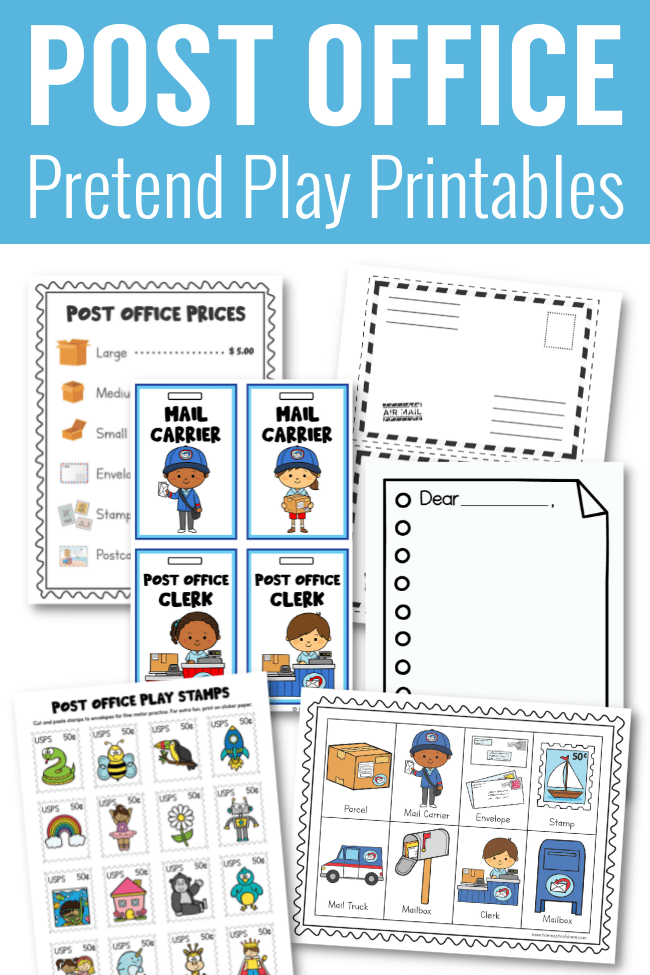 Benefits of Pretend Play
Why should your students play post office? You should encourage pretend play for your preschool and kindergarten students because it is brain-building!
Pretend play is beneficial for your student because it promotes:
creativity and imagination
fine motor skills
gross motor skills
social development
language and communication skills
problem-solving abilities
teamwork
What's Included in This Set of Preschool Post Office Printables?
This printable set of dramatic play printables includes gobs of fun for your preschool and kindergarten students.
Post Office Pretend Play Signs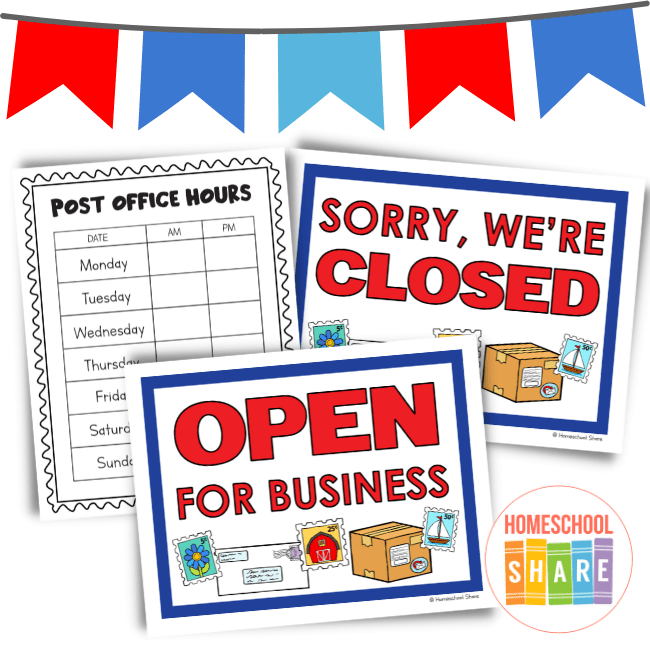 These signs are included in the post office printables:
Post Office Sign
Open for Business Sign
Sorry We're Closed Sign
Post Office Hours Sign (laminate and use with a dry erase marker)
Post Office Pretend Play Badges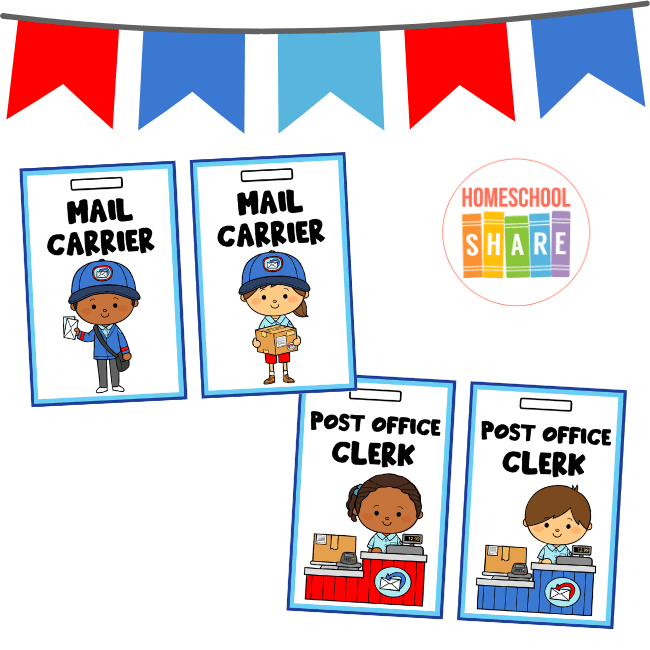 Your students can pretend to work at the post office and wear one of these badges:
Mail Carrier (two different badges are included)
Post Office Clerk (two different badges are included)
Pretend Stamps Printables and Shipping Labels
Students can pretend to mail letters and packages with the printable stamps and priority mail shipping labels that are included in the dramatic play set.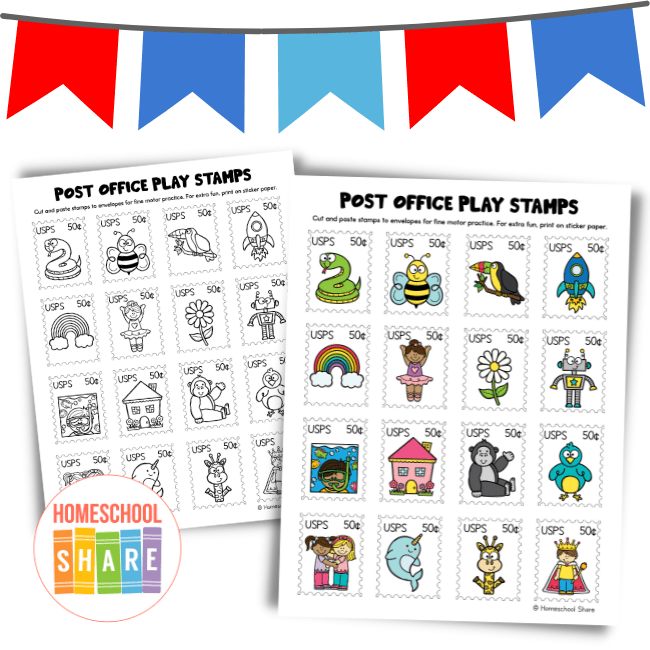 Pretend Play Stamps (in full color and in black and white so your student can color them)
Priority Mail Shipping Labels
Design Post Stamps
Students can use this page to design their own stamps. This would be a great center. Just add crayons!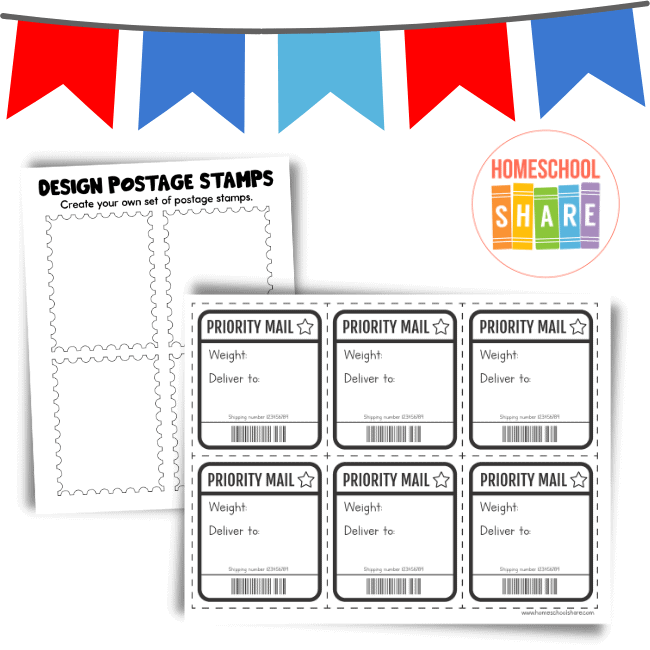 Post Office Math Practice
Your students can also practice math skills with these printables.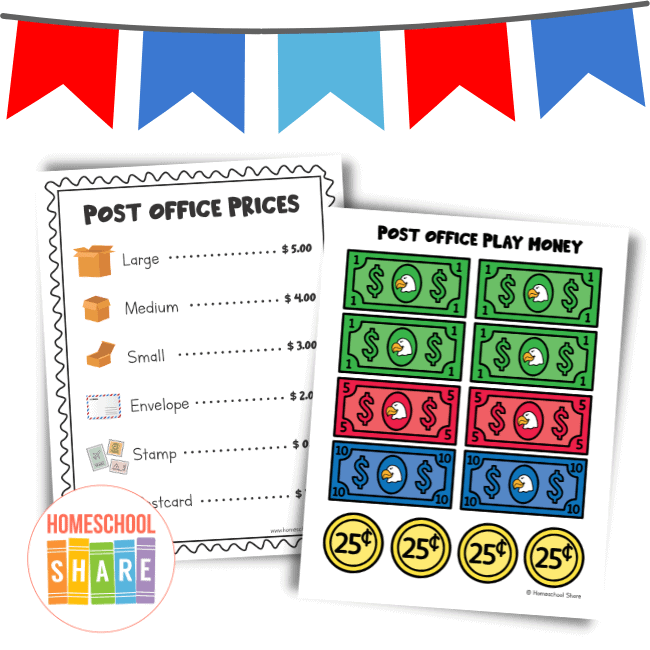 Post Office Price List
Postal Receipt
Tracking Card
Post Office Play Money
Other Post Office Printables
Additionally, this set includes these printables:
Post Office Words Poster (hang this in the post office)
Vocabulary Word Cards (mail truck, stamp, parcel, letter, mailbox, mail carrier, envelope, and post office)
How to Mail a Letter Instruction Page
Postcard Templates
Letter Writing Templates (two options!)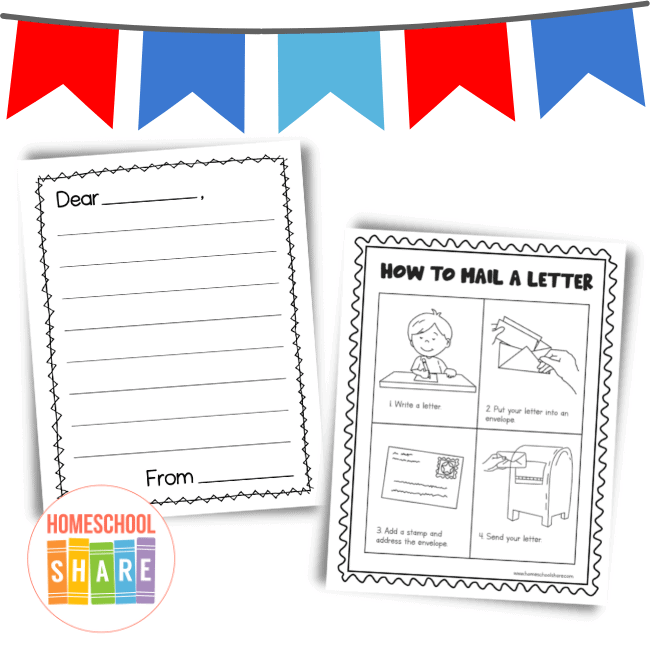 Props to Add to Your Post Office Dramatic Play Center
Adding these props to your Post Office Pretend Play Center to create a hands-on learning experience for your students.
Small Boxes
Large Boxes
Cereal Boxes (to make mail boxes or post office boxes)
Small Cloth Shopping Bags (for mail carrier bags)
Post Cards
Cancelled Stamps
Get Your Set of Free Post Office Printables
Subscribe to the newsletter using the form below in order to receive you set of free post office pretend play printables.
Buy the Pretend Play Printable Bundle
If you'd like a bunch of dramatic play sets, but you don't want to hunt and peck throughout the entire site, you can grab them easily and conveniently in one big bundle. Simply head to the shop or use the buy button below.
Sets included: fire station, post office, grocery, dentist, vet, zoo, library, pet shop, garden shop, ice cream shop, candy store, and dinosaur museum.
More Preschool Post Office Printables
If you'd like to add more post office themed centers to your home or classroom, try some of these printable activities. They are perfect for a community helpers theme.