Affiliate Disclaimer
We sometimes use affiliate links in our content. This won't cost you anything, but it helps us to keep the site running. Thanks for your support.
Are you looking for a Saint Patrick lesson plan? This Saint Patrick unit study includes lessons and activities based on the book Patrick: Patron Saint of Ireland.
Beloved children's book author-illustrator Tomie dePaola recounts the life of Saint Patrick—from his noble birth in Britain, to his captivity in Ireland, to the visions which led him to return and found the first Christian church in Ireland.

from Patrick: Patron Saint of Ireland at amazon.com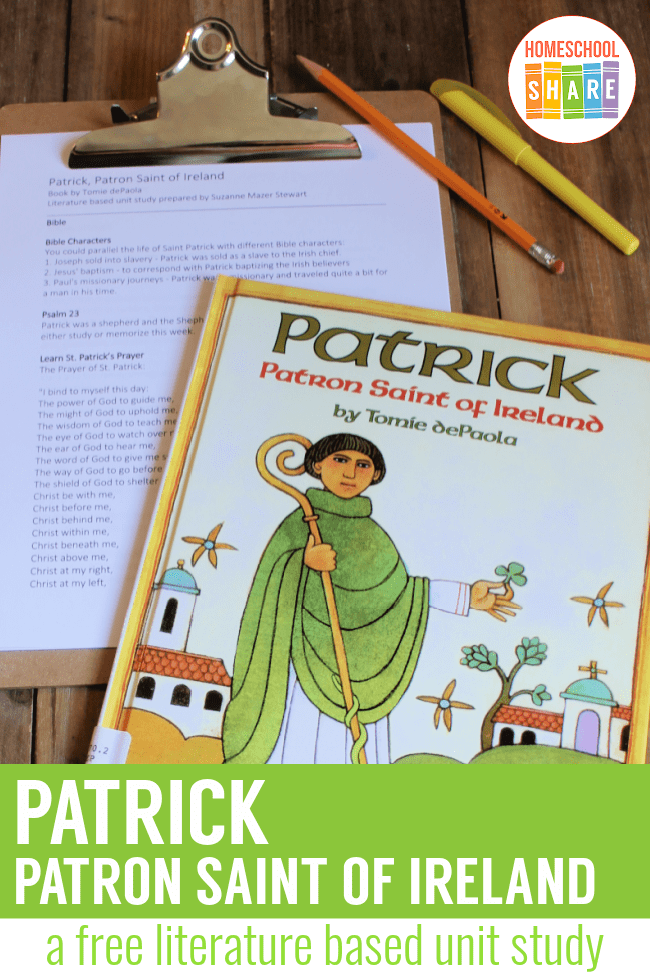 Thanks to Suzanne Mazer Stewart for preparing this Patrick: Patron Saint of Ireland unit study.
Saint Patrick Lessons and Activities
Here is a sample of the lessons found in this Patrick: Patron Saint of Ireland unit study:
Geography: Ireland
Find Ireland on a map. Locate France and England, as well. Ireland is an island of gently rolling rolls and wide, green valleys. It has an ancient and rich culture.
One area of interest for this particular study may be of the Book of Kells and other early Irish Christian art. (There are many books and websites that have examples of pages from the Books of Kells.)
Another area to explore might be the early church and monastery architecture, especially the towers and "beehive" cells of the early monasteries. For centuries, Ireland was a part of the United Kingdom. Then, in 1948, all but 6 counties in the north gained total independence from Britain and formed the Republic of Ireland. The six counties that remained under British rule became Northern Ireland.
An older student might enjoy studying the struggles and strife of the Irish people under British law. One reason why St. Patrick's Day is such a popular holiday in the US is because there are so many people of Irish ancestry. In 1847 and 1848, there was a terrible famine in Ireland brought on by a blight (disease) of the potato crops. Many people faced the choice of leaving Ireland or starving. Many immigrated to America. This paved the way for future waves of immigrants, peaking in the 1880's and 90's. We've even had a president with Irish ancestry, John F. Kennedy.
Holidays: St. Patrick's Day
St. Patrick's Day gives the perfect opportunity to introduce the practice of celebrating Saint's days and Holy Feast days, whether you are Roman Catholic or not. Many of our modern-day holidays and celebrations have their roots in church festivals and the church calendar. For example, Valentine's Day was a day to celebrate St. Valentine. Close to Christmas is the feast of the real St. Nicholas. You might like to explore and discover if your child shares his or her name or birthday with a saint or feast day.
For extra fun, grab this Saint Patrick's Day Scavenger Hunt for kids.
To access all of the lessons in this Patrick: Patron Saint of Ireland unit study, grab an easy-to-print file at the end of this post.
How to Get Started with the Saint Patrick Lesson Plan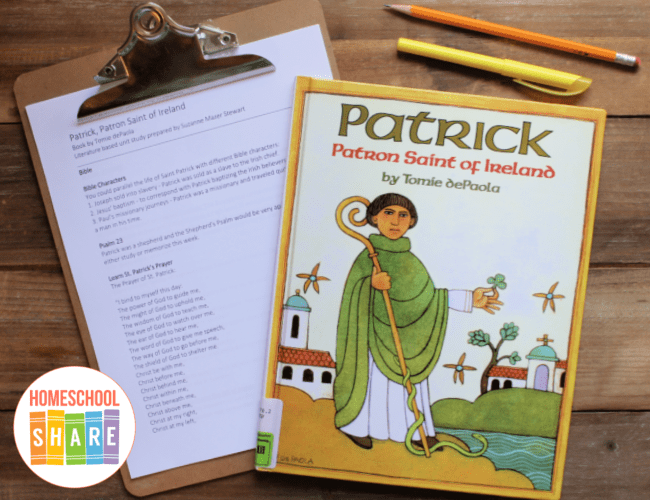 Follow these simple instructions to get started with the Patrick: Patron Saint of Ireland unit study:
Buy a copy of the book, Patrick: Patron Saint of Ireland, or grab one from your local library.
Print the Patrick: Patron Saint of Ireland unit study.
Choose the lessons you want to use with your student (a highlighter works great for this).
Enjoy a week of book-based learning with your student.
Download Your Patrick: Patron Saint of Ireland Unit Study
Simply click on the image below to grab the free Patrick: Patron Saint of Ireland unit study.
More Unit Studies Based on Tomie dePaola Books
Check out these other unit studies based on books written by Tomie dePaola:
More St. Patrick's Day Activities & Printables
Add some printable fun to your Saint Patrick's Day learning adventure with these free resources: