Affiliate Disclaimer
We sometimes use affiliate links in our content. This won't cost you anything, but it helps us to keep the site running. Thanks for your support.
This memorable holiday story teaches the lesson of giving. It is the basis for our free An Orange for Frankie activities and lessons. This unit study is jammed full of lessons for your student. You will have plenty to pick and choose from including: human relationships, geography, compassion, simile, steam engines, the nervous system, the five senses, skin, reasoning skills, details in illustrations, and many more!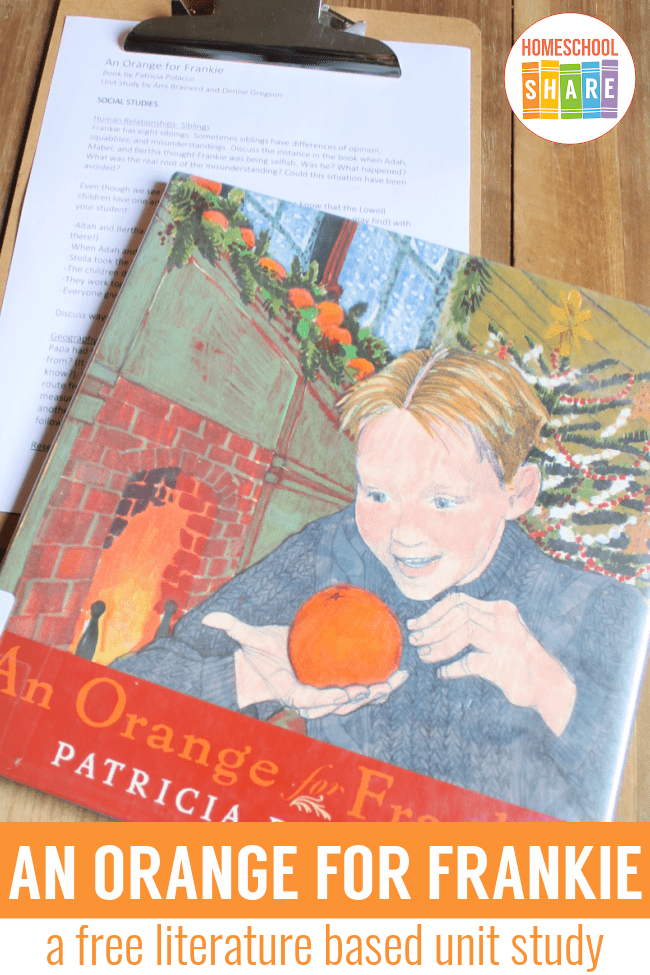 An Orange for Frankie Summary
The Stowell family is abuzz with holiday excitement, and Frankie, the youngest boy, is the most excited of all. But there's a cloud over the joyous season: Tomorrow is Christmas Eve, and Pa hasn't returned yet from his trip to Lansing. He promised to bring back the oranges for the mantelpiece. Every year there are nine of them nestled among the evergreens, one for each of the children. But this year, heavy snows might mean no oranges . . . and, worse, no Pa!

from An Orange for Frankie at amazon.com
An Orange for Frankie Activities and Lessons
Here is a sample of the lessons found in this An Orange for Frankie unit study:
Language Arts: Writing from Experience
Does your child think that maybe this story is based on a true story? Why or why not? The italicized introduction and conclusion give the impression that it is based on the author's own life and family. Turn to the dedication at the end of the book and see if that helps your child decide. Ask your child if he can think of an incident in your own (extended) family's life that would make a good story? He could write it down or dictate it to you.
Botany: Citrus Fruits
Oranges are citrus fruits. Other citrus fruits include lemons, limes and grapefruit. Citrus fruits contain vitamin C. Vitamin C helps our bodies to heal and to fight infections, and we should get a good source each day. Other good sources of Vitamin C include: strawberries, kiwi, papaya, melons, peppers, broccoli, cauliflower and cabbage.
It is recommended that we get at least five servings a day of fruits and vegetables for optimum health. Take this opportunity to encourage healthy food habits in your child.
Try making fruit kabobs by adding a variety of fruit chunks onto skewers. They are colorful, fun to eat, and nutritious!
Botany: Coniferous Trees
Deciduous trees are trees with leaves that fall off, usually in autumn. Coniferous trees, on the other hand, do not have leaves like a deciduous tree. They have needles and scales instead. Some produce a berry-like fruit. The leaves are sticky and have a scent. The leaves/needles are poisonous to eat. Pine, fir, spruce, cedar, hemlock and redwood trees are all examples of coniferous trees. These trees/shrubs are evergreens- meaning they stay green all year and is why conifers are used for Christmas trees and greens. The seeds of pine trees are hidden deep inside the pine cones, and you may have eaten them before–pine nuts! Because they are so difficult to harvest they are expensive. Pine nuts are used in pesto sauce or taste nice lightly roasted. Like most nuts and seeds pine nuts contain protein, healthy fat and vitamins and minerals. Find some to snack on this week!
To access all of the lessons in this An Orange for Frankie unit study, grab an easy-to-print file at the end of this post.
How to Get Started with the An Orange for Frankie Activities & Lessons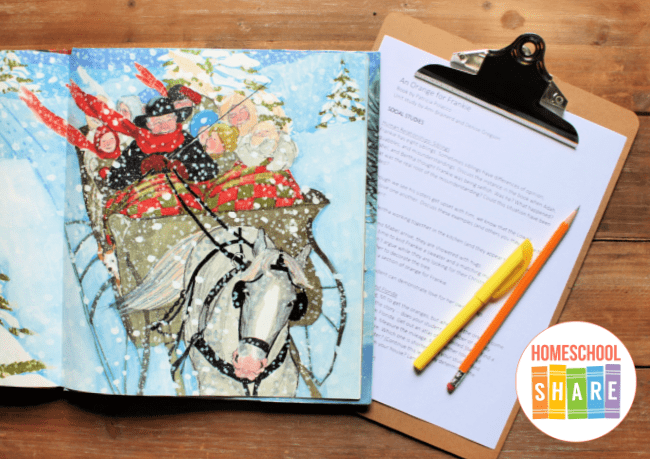 Follow these simple instructions to get started with the An Orange for Frankie unit study:
Buy a copy of the book, An Orange for Frankie, or borrow one from your local library.
Print the An Orange for Frankie unit study.
Choose the lessons you want to use with your student (a highlighter works great for this).
Enjoy a week of book-based learning with your student.
Download Your Free An Orange for Frankie Unit Study
Simply click on the image below to grab the free An Orange for Frankie unit study.
More Christmas Unit Studies Based on Patricia Polacco Books
Do you love stories told by Patricia Polacco? Check out some of these other free book activities and lessons.