Affiliate Disclaimer
We sometimes use affiliate links in our content. This won't cost you anything, but it helps us to keep the site running. Thanks for your support.
Leaves are a great way to sneak in some hands-on science through spring, summer, and autumn. Go outside, observe some trees, and use these free leaf worksheets and activities to dive into a simple botany study.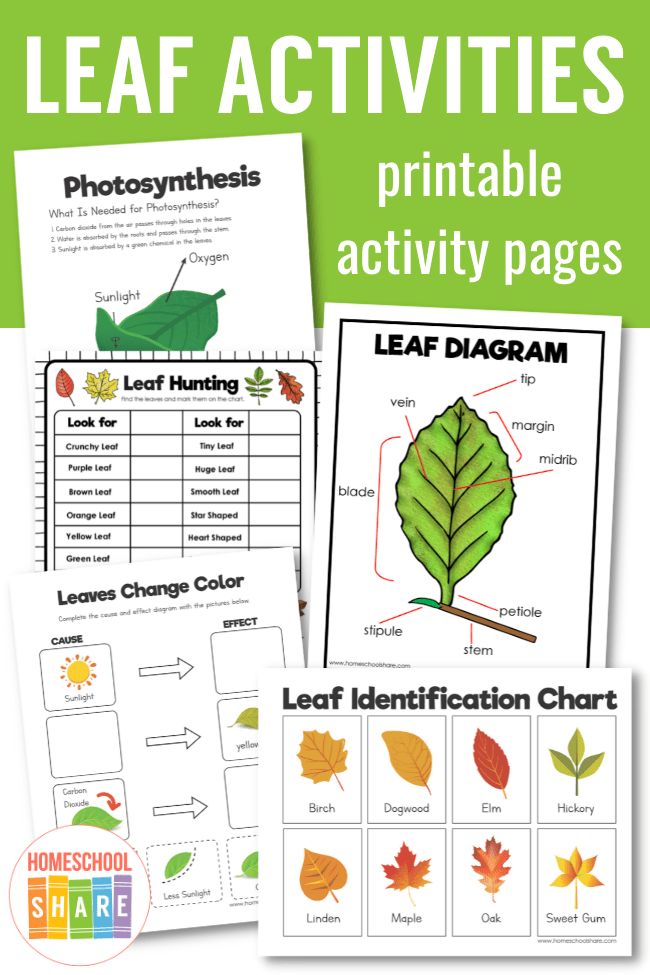 What's Included in the Leaf Printables?
You'll find a variety of activity pages and worksheets in this set of leaf printables.
Leaf Hunting Activity Page
Your student will head outside and look for various leaves–a crunch leaf, a purple leaf, a smooth leaf, and even a tiny leaf. This activity will boost observation skills and might even spark a love for nature. Additionally, your student can use the Leaf Identification Chart to find and identify leaves from various trees.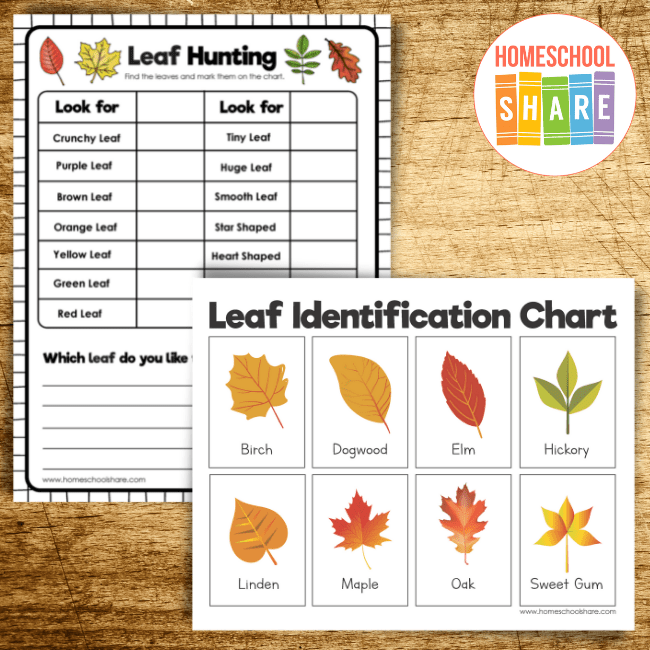 Can your student find a maple leaf, oak leaf, and birch leaf? You may want to buy a leaf identification guide to help your student find even more types of leaves.
All About My Leaf Activity Page & My Leaf Observation Worksheet
Your student will select one leaf and draw it and make notes about it on one of the pages provided.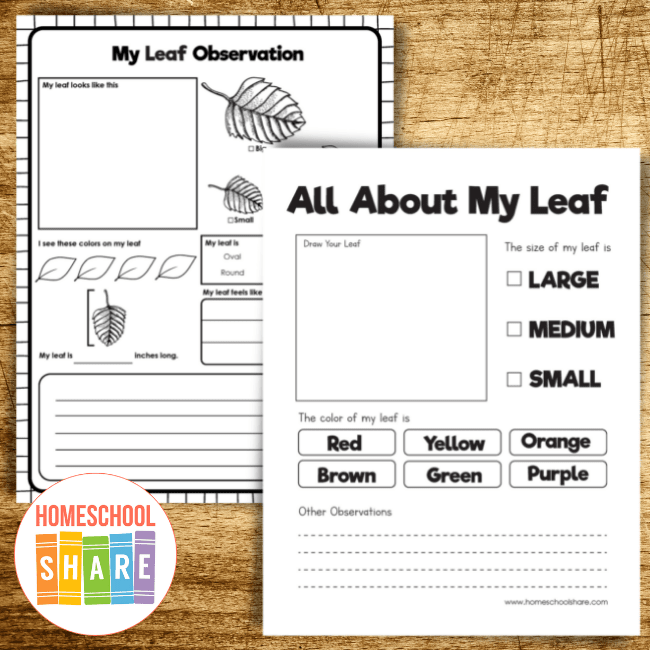 Leaf Investigation Page
This page gives your student various instructions and places to record observations.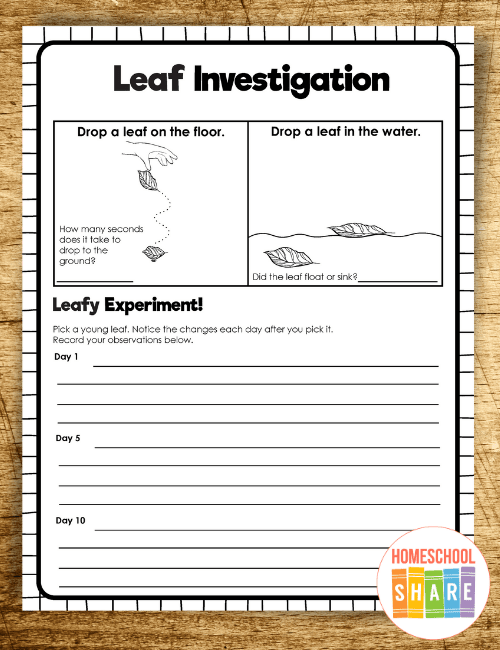 Leaf Diagram & Parts of a Leaf Labeling Activity
Your student will look at a leaf and label a leaf. After your student completes the worksheet, you could have her label a real leaf, too.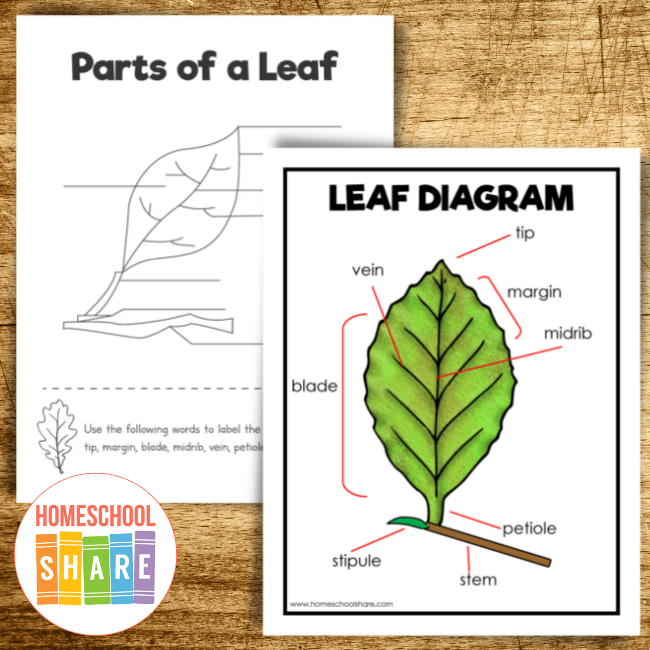 Leaf Pigments Worksheet
Student can color the leaves and write about each pigment found in leaves.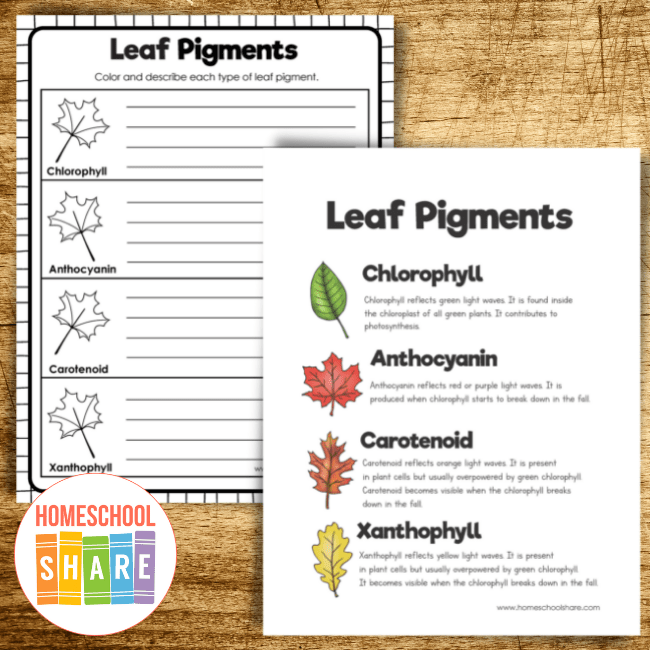 Photosynthesis Diagram and Activity Page
Give your student a brief overview of photosynthesis and allow him to complete the Leaves Change Color page.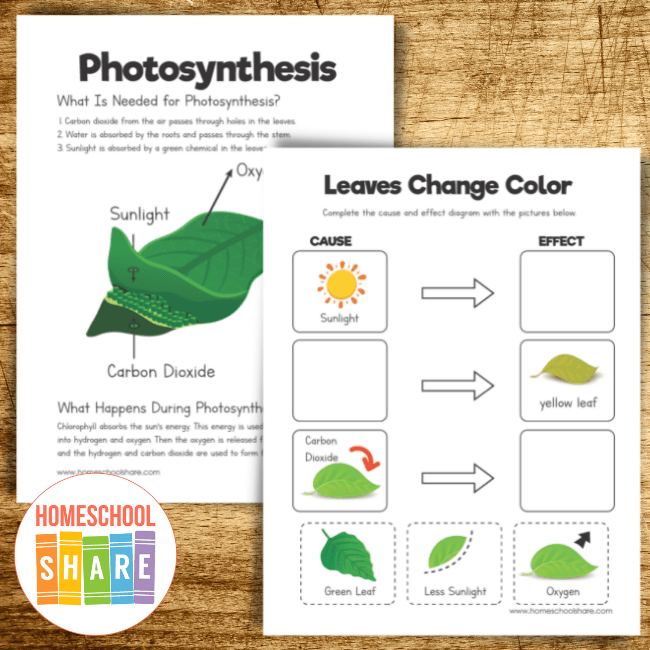 My Leaf Rubbings & Leaf Crafts
Let your student use some of her favorite leaves from your leaf hunt for this leaf rubbings activity page.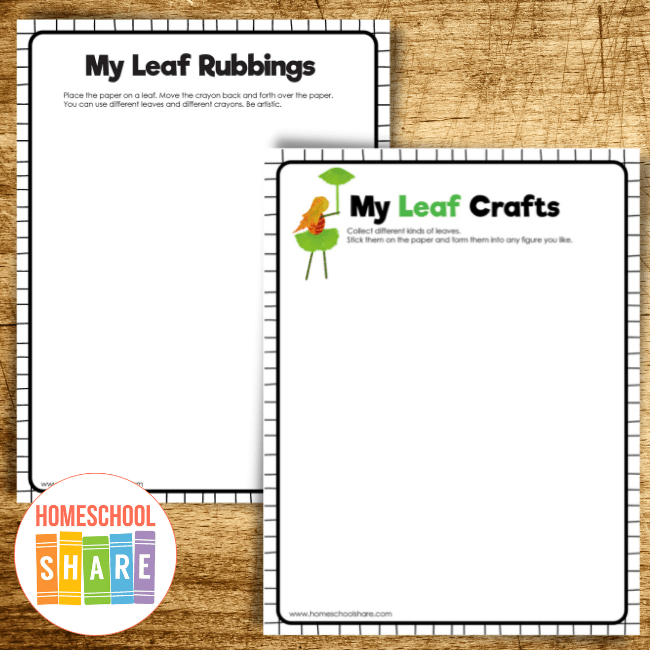 Your student can also have fun creating a person or animal with small leaves (using a variety of leaf shapes) and glue them to the leaf crafts page.
Leaf Research
Your student will need to research in order to complete the notebook pages. You can check out a variety of books about leaves, trees, and plants at your local library, or you can use reliable websites. You can also grab our free leaves unit study as a source of information.
Here are a few recommended websites for your leaf and tree research:
How to Get Started with the Leaf Worksheets
The leaf worksheets and activity pages are easy to use.
Print the pages you think will interest your student.
Grab some books from the library or show your student how to use reliable websites for research.
Let your student complete the pages.
Three-hole punch the pages and add them to a folder or binder to create a Leaf Notebook–a portfolio your student will be proud to display and show off!
Grab Your Free Set of Leaf Worksheets and Notebook Pages
Use the form below to subscribe to the newsletter. Once you confirm, you'll receive an email with the link to the leaf printables. If you are already confirmed, simply enter your name and email address below, and you will receive an email with the link.
Learn More About Plants
We have a huge variety of ways to learn about plants. Here are a few suggestions: