Affiliate Disclaimer
We sometimes use affiliate links in our content. This won't cost you anything, but it helps us to keep the site running. Thanks for your support.
They crawl, hum, fly, and buzz–and kids love learning about them! What are they? Insects! Grab our set of free Insects Worksheets, and help your student learn all about these interesting invertebrates.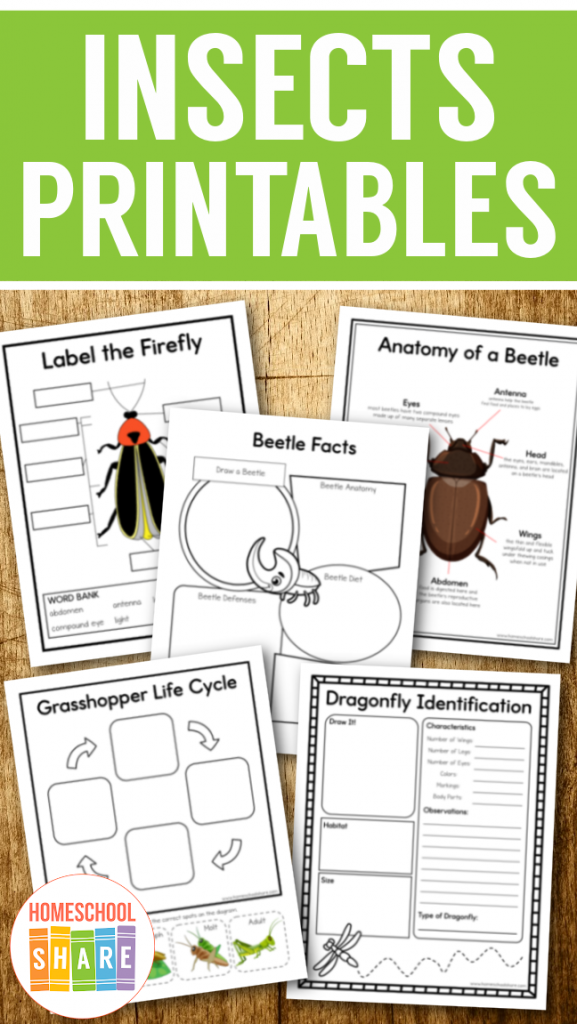 Insect Notebook Research
Your student will need to research in order to complete the notebook pages. You can check out a variety of books about beetles, dragonflies, fireflies, and grasshoppers at your local library, or you can use reliable websites.
Here are a few recommended websites for your beetle research:
Insects Worksheets: Beetle
Beetles, beetles, beetles! They are everywhere–from the cold north to hot deserts, and there are over 300,000 different kinds of beetles in the world. Grab our set of Beetle Notebook Pages and start learning about these interesting insects.
What's Included in the Beetle Printables?
You'll find a variety of activity pages and worksheets in the Beetle Notebook Pages.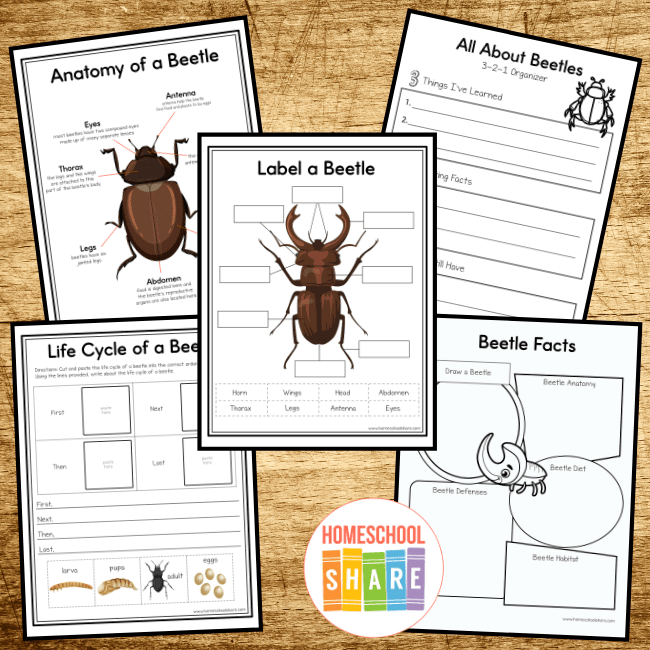 Beetle Notebook Cover
Beetle Word Find (learn and review words related to beetles)
Life Cycle of a Beetle Diagram Page
Life Cycle of a Beetle Activity Page
Anatomy of a Beetle Diagram
Label a Beetle Activity Page
Types of Beetles Chart
Beetle Matching
Beetle Facts Notebook Page (includes spaces to write about a beetle's anatomy, habitat, diet, defenses, and predators)
All About Beetles 3-2-1 Organizer
Here is a great video about beetles.
Insects Worksheets: Dragonflies
Dragonflies are fascinating insects. There are around 7,000 species of dragonflies all over the world and they can be found in almost every country.
Dragonflies can live up to 2 years and eat just about anything that they catch in their webs: bugs, spiders, bees, and other dragonflies.
What's Included in the Dragonfly Printables?
Learn all about the dragonfly's life cycle, anatomy, and more with the activity pages included in the set of insect printables.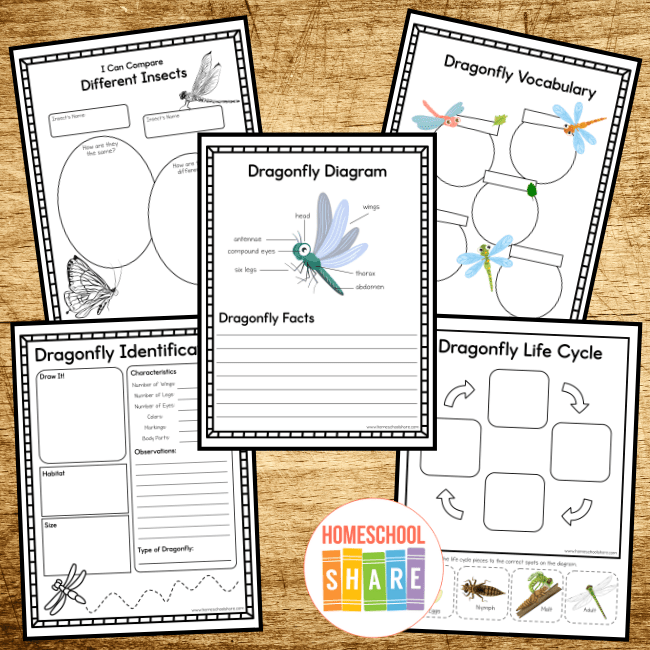 Dragonfly Notebook Cover
Dragonfly Life Cycle Diagram
Dragonfly Life Cycle Activity Page
Dragonfly Anatomy Diagram
Label a Dragonfly Activity Page
Dragonfly Vocabulary Pages (one with words and one without words, allowing your student to choose which words to include)
Comparing Insects Activity Page
Dragonfly Identification Page
Dragonflies Can, Have, Are . . . Worksheet
All About Dragonflies 3-2-1 Organizer
Learn even more about Dragonflies with our Dragonfly Lapbook.
Insects Worksheets: Fireflies
Fireflies flashing through the night sky is one of my favorite parts about summer. Fireflies are also known as lightning bugs.
They emit a light from within themselves to attract mates. The males will flash their lights while the females will wait for a male to find them.
What's Included in the Firefly Printables?
Fireflies are fun to learn about since they are a unique insect. The insect printable pack includes several different options for helping your student learn all about fireflies.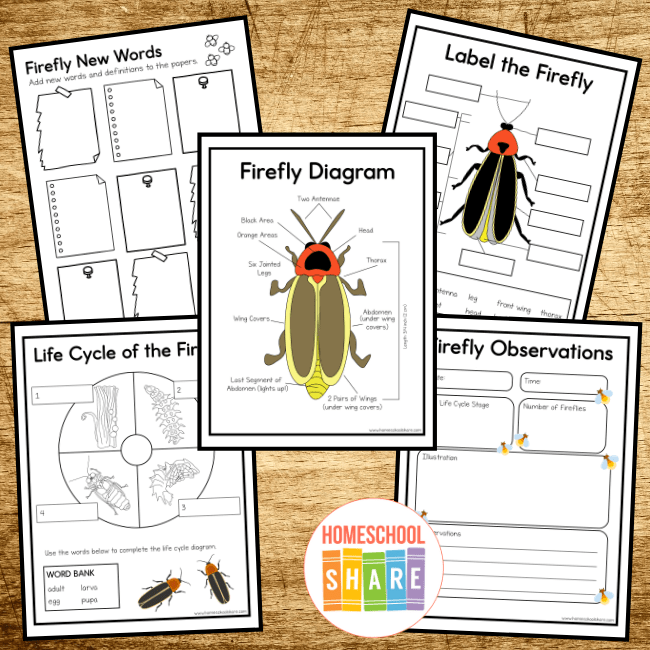 Fireflies Notebook Cover
Firefly Life Cycle Diagram
Life Cycle of the Firefly Activity Page
Firefly Anatomy Diagram
Label the Firefly Activity Page
Firefly Facts Notebook Page (includes spaces to write about a firefly's anatomy, habitat, diet, defenses, and predators)
Firefly Observations Page
Firefly New Words Page (record new words and definitions)
All About Fireflies 3-2-1 Organizer
Insects Worksheets: Grasshopper
Grasshoppers are insects that live primarily in grasslands or forests, but can also be found in gardens. While their brown or green coloring helps them blend into the ground & plants, they are easily spotted during a walk through a grassland–they will be hopping and leaping everywhere!
What's Included in the Grasshopper Printables?
The insect printables include a set of pages to learn all about grasshoppers.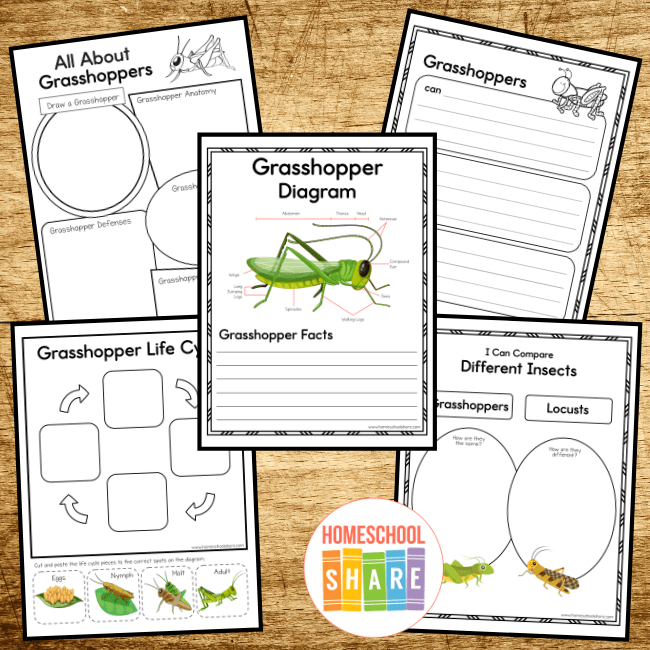 Grasshopper Notebook Cover
Grasshopper Life Cycle Diagram
Grasshopper Life Cycle Activity Page
Grasshopper Anatomy Diagram
Label a Grasshopper Activity Page
Grasshopper Life Cycle Stages Crack the Code
Grasshoppers Can, Have, Are Worksheet
I Can Compare Grasshoppers and Locusts Activity Page
All About Grasshoppers Notebook Page
How to Get Started with the Insect Activity Pages
Print the pages you think will interest your student. Your student can choose to learn about just one insect, or your student can make a super huge binder about all four insects.
Grab some books from the library or show your student how to use reliable websites for research.
Let your student complete the pages.
Three-hole punch the pages and add them to a folder or binder to create a portfolio your student will be proud to display and show off!
Grab Your Set of Free Insects Worksheets
Subscribe the the newsletter using the form below in order to snag your free set of insect printables.
Insects Lapbook
If you'd rather create a lapbook, or if you'd like to add more printables to an Insects Notebook, check out our Insects Lapbook.
Learn More About Insects
We have a huge variety of insect resources. Here are a few suggestions:
You will also find additional insect printables in the Arthropods Unit. The insects included in this unit are the praying mantis and moth. The activity pages are similar to the pages in the insect printable pack.