Affiliate Disclaimer
We sometimes use affiliate links in our content. This won't cost you anything, but it helps us to keep the site running. Thanks for your support.
Jump in to the wild, wonderful world of Dr. Seuss with these The Foot Book printables and activities.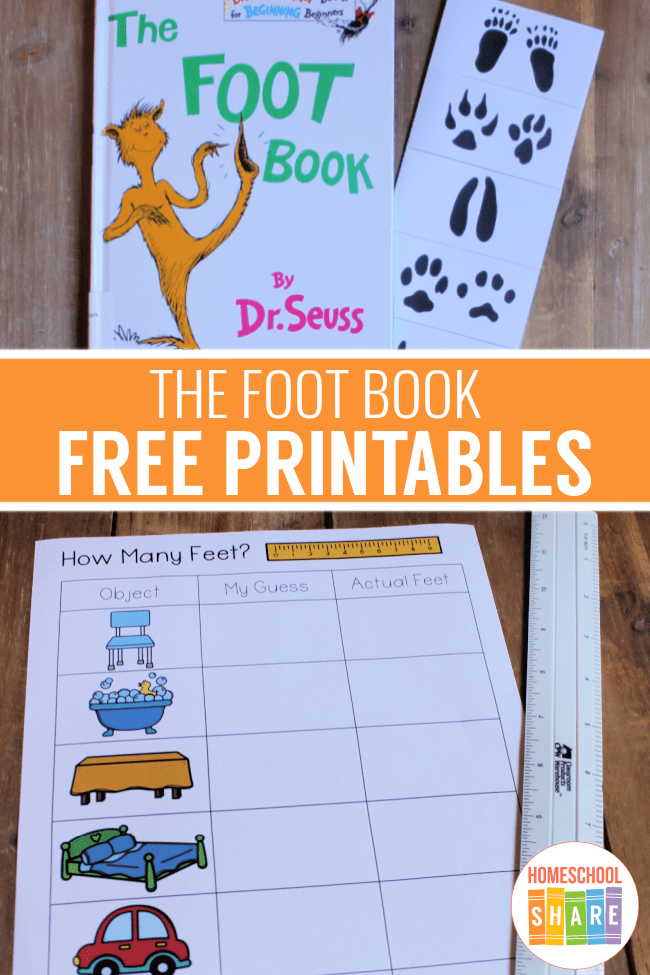 The Foot Book Printables and Activities
The Foot Book printable pack includes these activities:
PE: Play Musical Feet
Have your child trace his/her feet and cut out several copies form construction paper, place all around floor and put on music, when the music stops everyone must have their feet on two of the feet on the floor.

Math: Direction
Teach your child right and left. Put an R on your child's right foot and an L on his left.
Re-read the story. Every time you read the words right or left, have your kick the foot (or point to the foot) that coordinates with the reading.
An excellent game for teaching this is Left, Center, Right.

Math: Measurement
Let your student use his FEET to measure things around your house. Use the printable chart provided.

Language Arts: Opposites
This book is full of opposites! Point some of them out to your student up/down, high/low, near/far, etc. After you finish reading, call out some words and see if your student can give you the opposite. You may even want to make a written list.
Here are some words to get you started– up/down, high/low, near/far, left/right, light/dark, sun/moon, here/there, black/white, yes/no, man/woman, boy/girl, open/close, happy/sad, old/new, fat/thin, wet/dry.
Use the cards provided for matching. You can even play a memory matching game.
Science: Animal Feet
Learn more about different types of feet! Read books about animal tracks and complete the flap book together.
Go outside and see if you can find any tracks!
How to Get Started with Your The Foot Book Printables
Follow these simple instructions to get started with the The Foot Book printables.
Buy or borrow The Foot Book.
Choose and prepare the activities and printables you want to use with your student.
Enjoy a week of reading and learning with The Foot Book.
Get Your Free The Foot Book Printables
Simply click on the image below to grab your free set of The Foot Book printable activities.
More Seuss Themed Resources