Affiliate Disclaimer
We sometimes use affiliate links in our content. This won't cost you anything, but it helps us to keep the site running. Thanks for your support.
Once upon a time you wanted a fairy theme for your students.
You can grab it here with this set of free Fairy Printables (and you might live happily ever after!).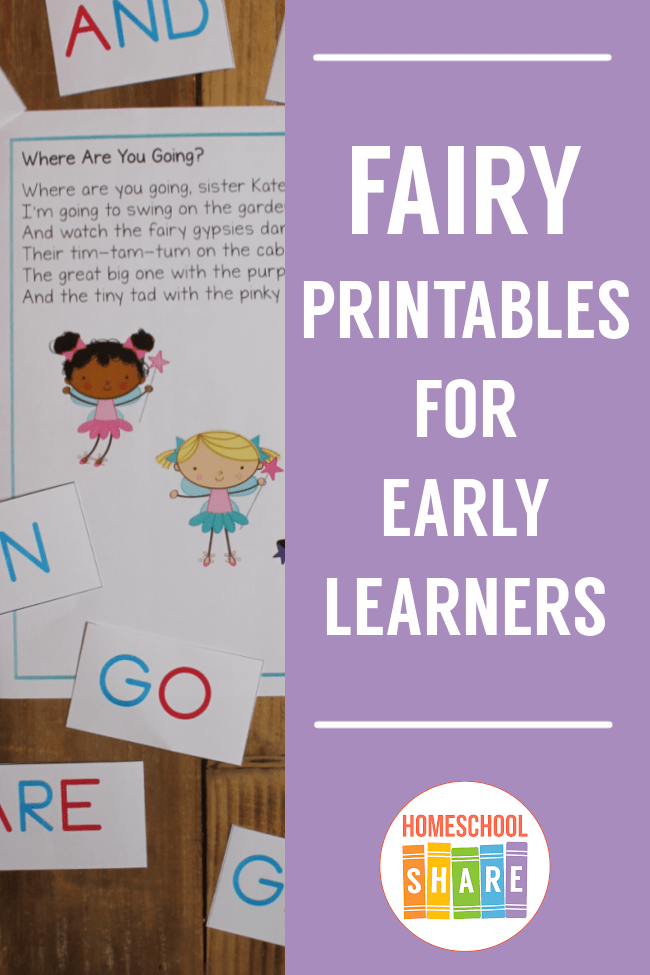 Fairy Tale Printable Activities
Which Two Are the Same? Activity Page
Your student will use visual discrimination and fine motor skills to choose the pairs of objects (butterflies, mushrooms, and fairies) that are the same.

Create Fairy Profiles
Let your student use her imagination to tell you all about these three fairies. Mom can type the student's words on to the pages. After you print the page, let your student practice handwriting by writing in invented fairy names.

Fairy Positional Words
Students will be asked to follow directions and to understand the positional words (on, under, around, and above).

Days of the Week Calendar
If you are using this unit for one week, use this calendar as an introduction to the days of the week for your student.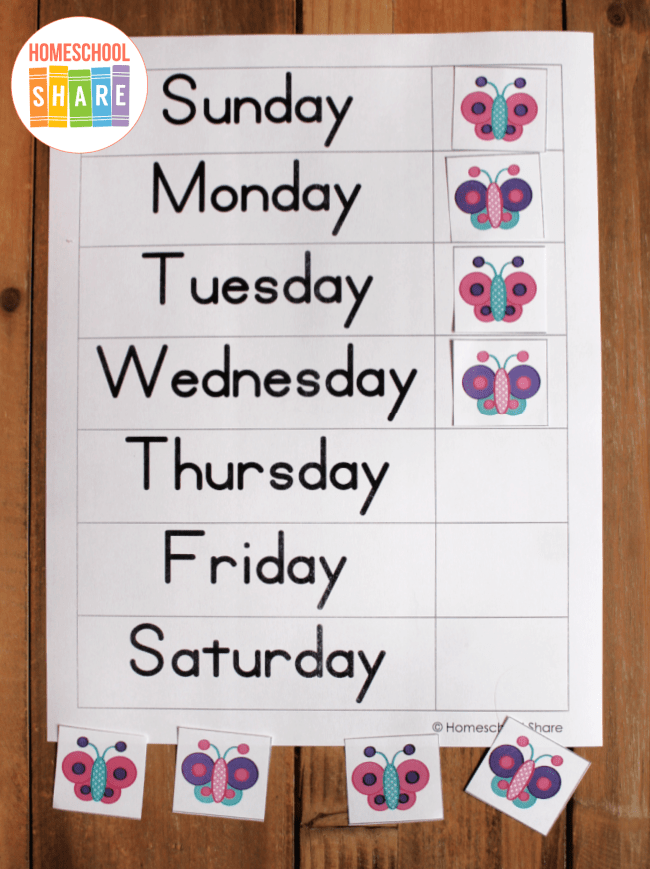 Each day, let your student stick one butterfly sticker on the calendar. At the end of the week, review the days of the week together.

Fairy Flies Through the Alphabet
Use the letter stickers to complete this page. Your student will use her fine motor skills and her knowledge of the alphabet to stick the letters in the right spots (and to help the fairy find her wand!).
When you are finished, sing the alphabet song together.
You can also use this page to review letter sounds. Point to a letter and ask your student what sound it makes.
After these activities are complete, you can laminate it, and your student can use a dry erase marker to trace over the letters.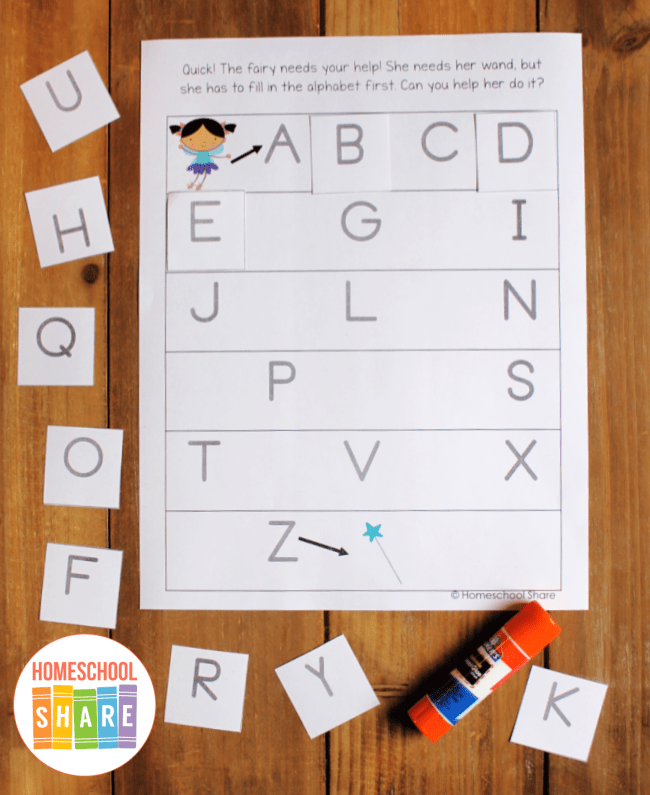 Which Fairy Is Hiding the Butterfly? Game
Use this fun game to review number recognition.
Cut apart the cards. Hide the extra butterfly sticker under one of the cards. Your student should guess which one it's under by calling out a number name.

Continue until your student has found it. Let your student hide the star from you. Play a few rounds, but try to stop before your student is bored. (You could also let your student hide the butterfly from you.)

Tracing Stars
Put your student's fine motor skills to work. Trace the stars. Cut out the stars.
Your student could also color the stars or add glitter glue to the stars.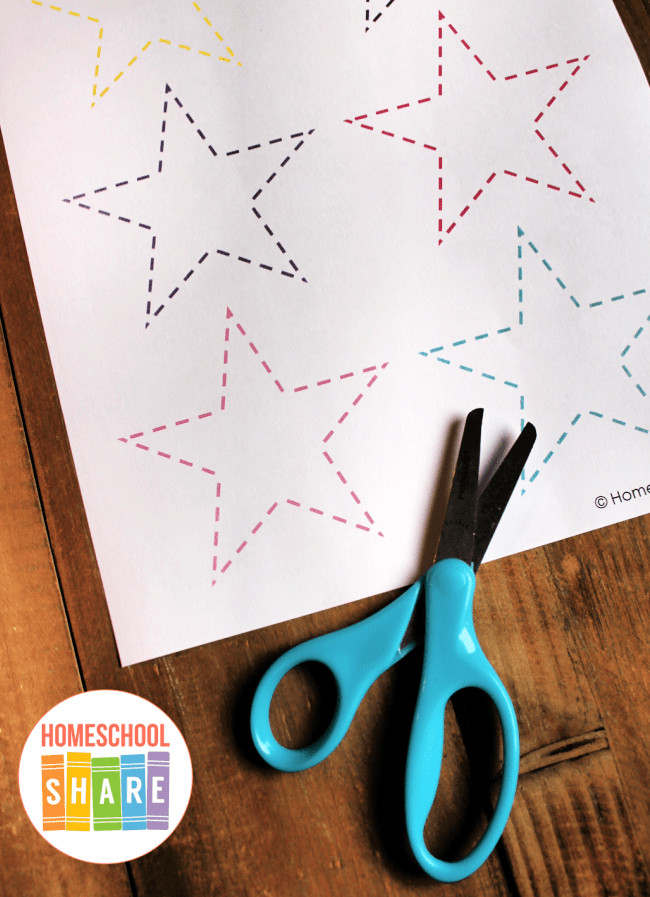 Pattern Play
Print on cardstock and laminate, if desired.
Using the pieces, start some patterns on your table; let your student
finish them. What patterns can she make on her own? Store pieces in an envelope. If you are making a notebook, you can glue the envelope to a page in your notebook.

Fairy Tally Marks
Using a scrap piece of paper, show your student what tally marks are. Grab some simple objects from around your house and show how your student how to count them with tally marks. Complete the page together.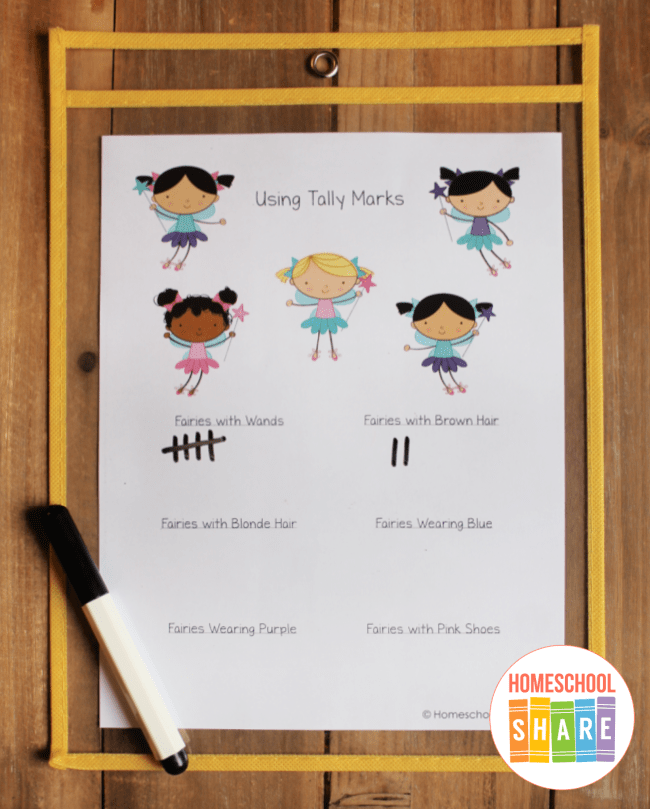 Fairy Poem
Read the poem, "Where Are You Going?" together and memorize it, if desired. Memorizing simple poems helps build vocabulary and speech skills.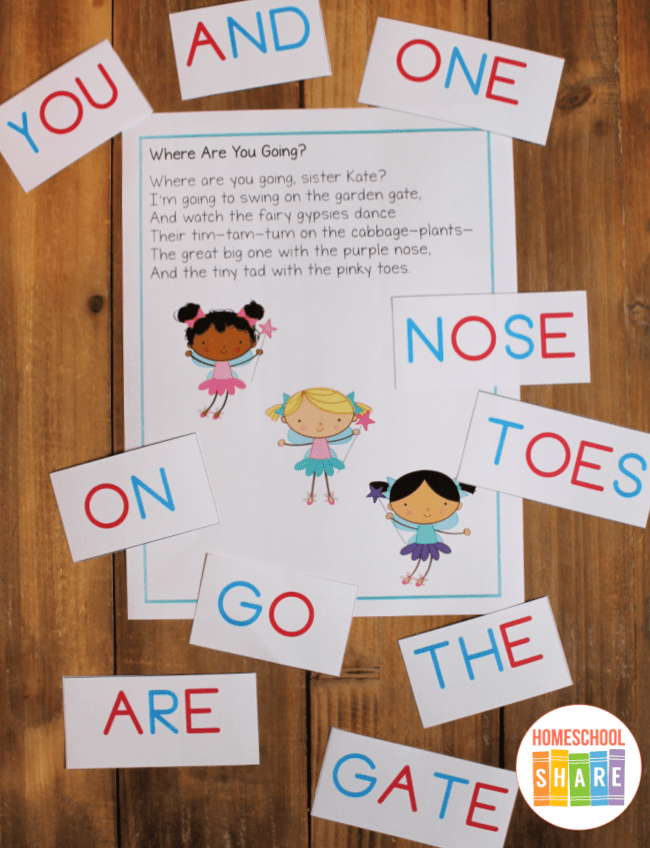 Build literacy and phonics skills by using letter magnets to build the words from the poem.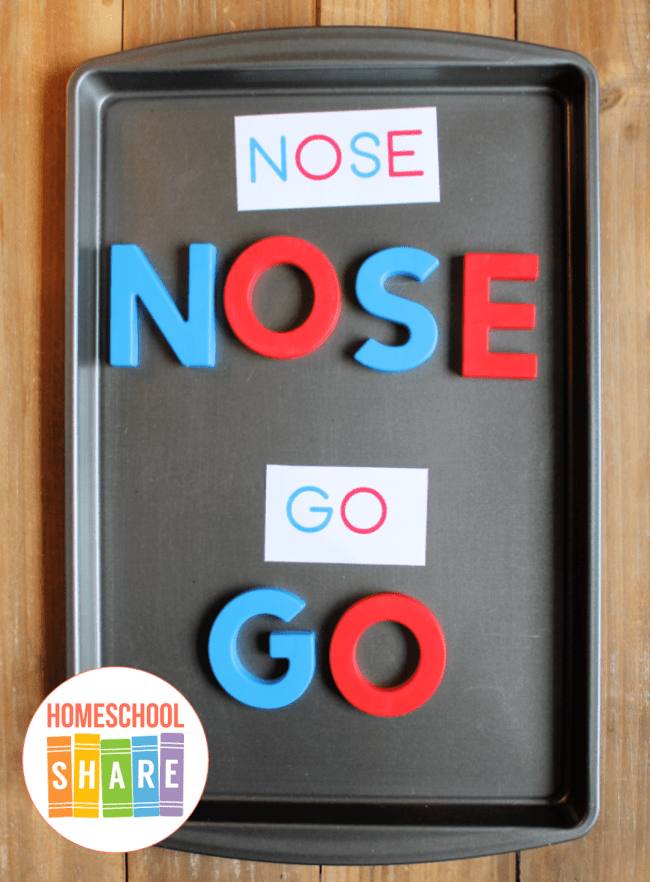 Fairy Tale Library List
You do not need these exact books for these Fairy Tale Printables.
Please use whatever fairy tale books your library has available and read, read, read to your child!
Reading is great for language development, literacy skills, and snuggling; it is the best thing you can do with your preschool or kindergarten student.
The Complete Book of the Flower Fairies
by Cicely Mary Barker

The Old Woman Who Lived in a Vinegar Bottle
by Margaret Read MacDonald

Good Night, Fairies by Kathleen Hague

Come to the Fairies' Ball by Jane Yolen

The Tiptoe Guide to Tracking Fairies by Ammi-Joan Paquette

Download Your Fairy Tale Printables
Simply click on the image below to grab your free set of fairy tale printables.
More Fairy Tale Resources
If you are looking for more Fairy Tale themed resources, check out this unit study:
Cinderella Unit Study & Lapbook