Affiliate Disclaimer
We sometimes use affiliate links in our content. This won't cost you anything, but it helps us to keep the site running. Thanks for your support.
Kids love animals! Let your little learners create a dramatic play vet clinic where they can x-ray, perform checkups, and more with their stuffed animals.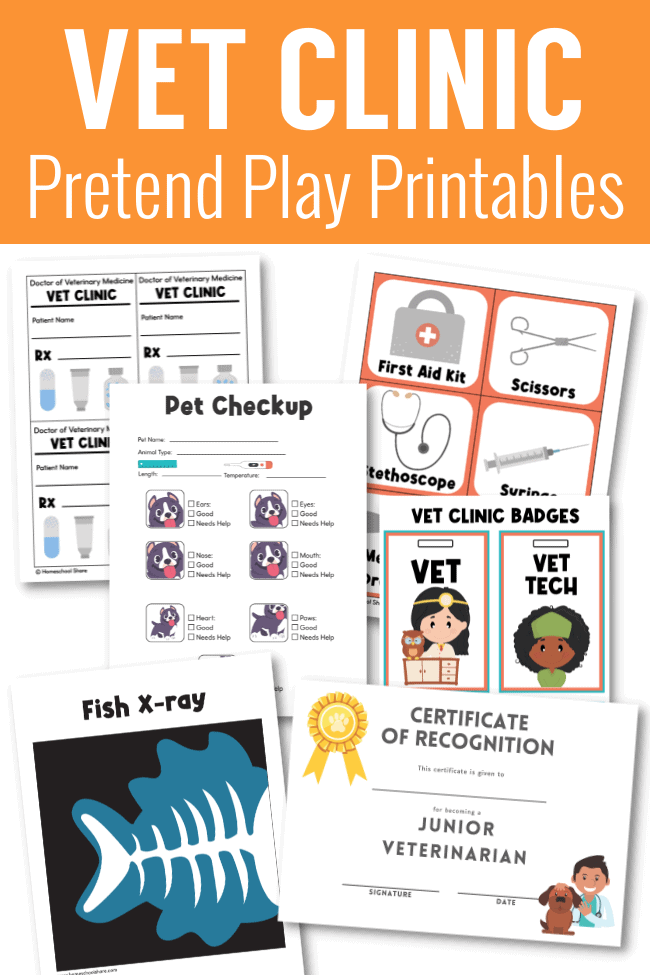 Why Is Pretend Play Important?
Pretend play is beneficial for your preschool or kindergarten student because it promotes:
creativity and imagination
fine motor skills
gross motor skills
social development
language and communication skills
problem-solving abilities teamwork
Use Printables to Create Your Dramatic Play Vet Clinic
Several pages of printables are included in the download so you can turn a corner of your classroom or schoolroom into a Vet Clinic.
Vet Job Badges
These badges allow your students to role play the various jobs at the pet vet clinic.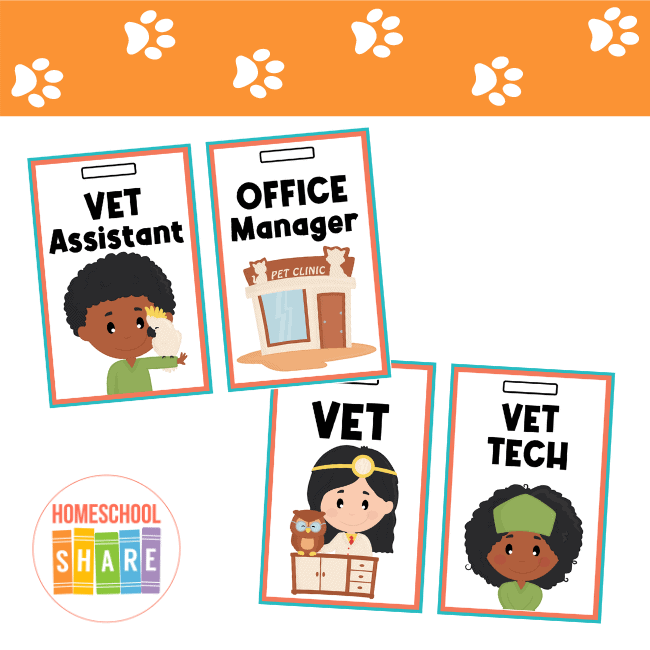 Vet Clinic Forms
Your student can use these forms to perform routine checkups on the animals.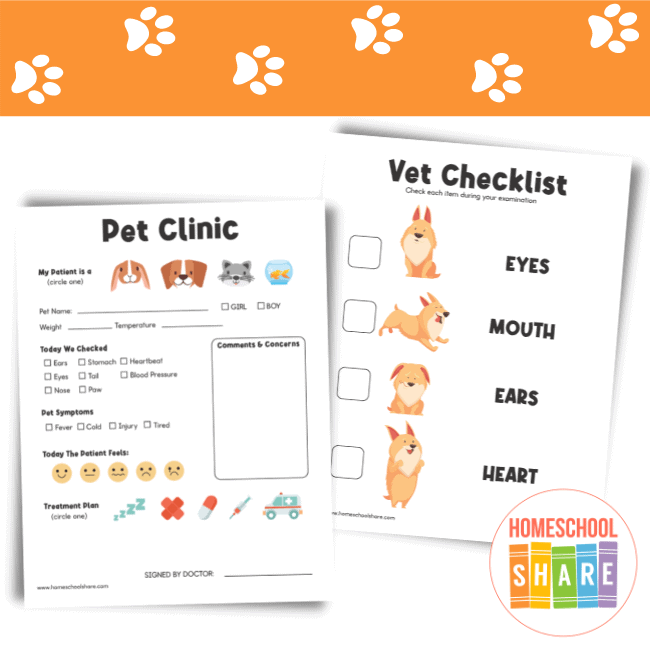 These forms are provided:
Pet Clinic Intake Form
Pet Checkup: Cat
Pet Checkup: Dog
Pet Checkup: Rabbit
Pet Checkup: Fish
Vet Checklist (can be used with any animal)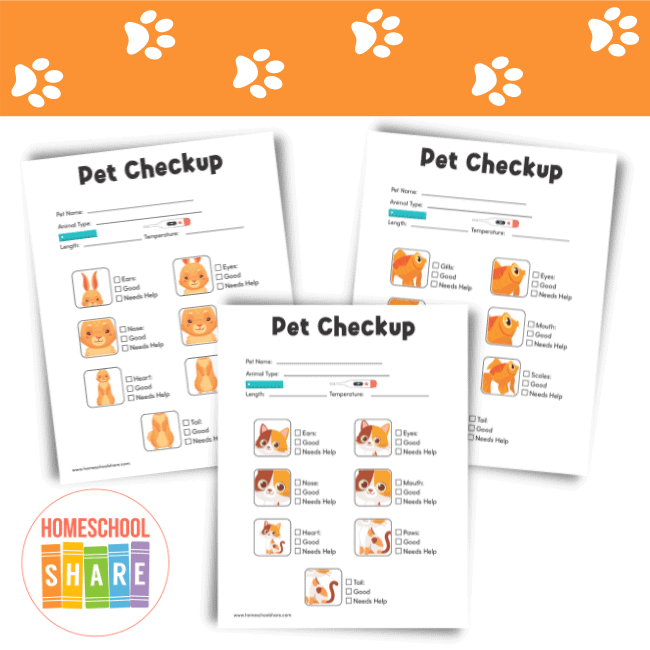 Animal X-rays
A variety of x-rays are also in the printable pack.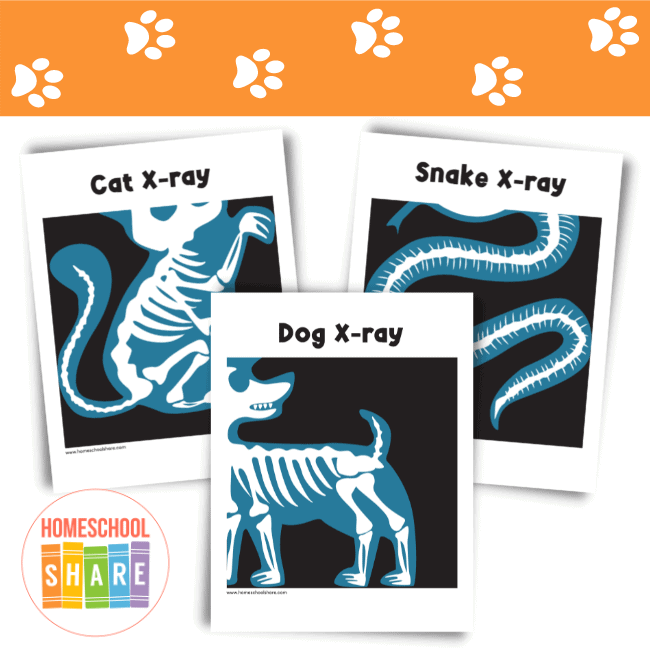 Fish X-ray
Dog X-ray
Cat X-ray
Frog X-ray
Snake X-ray
Chameleon X-ray
Vet Clinic Signs
To help turn your area into a veterinarian clinic, you can use some of the signs you'll find in the printable set.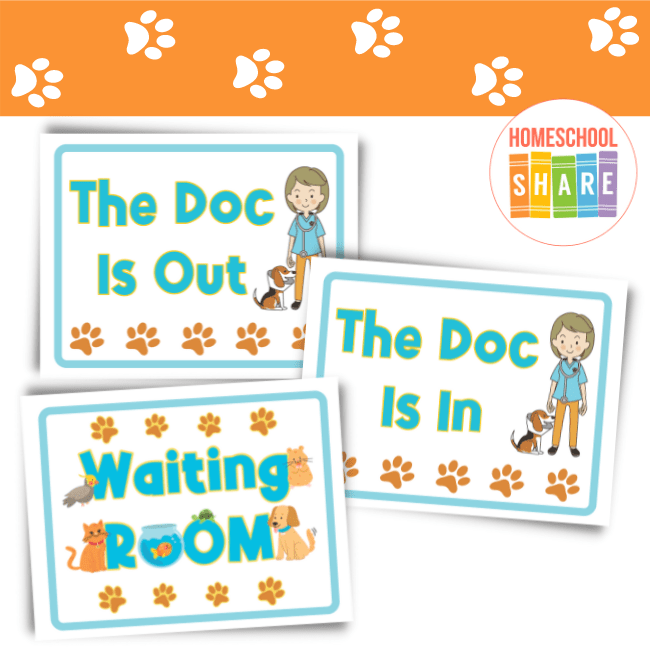 The Doc Is In Sign
The Doc Is Out Sign
Vet Clinic Waiting Room Sign
Other Printables Included in the Dramatic Play Vet Clinic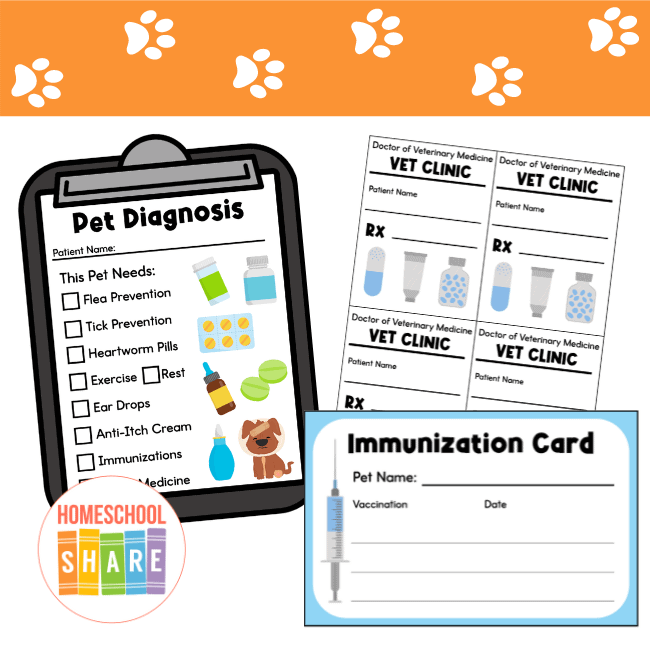 In addition to the printables listed above, this pretend play set also includes these items:
Doctor's Tool Cards
Students can use these cards to perform checkups on the animals. Tools include: first aid kit, scissors, stethoscope, syringe, medicine dropper, and thermometer.
Immunization Cards
Vet Clinic Badges
Vet Clinic Prescription Pad
Pet Diagnosis Clipboards
Junior Veterinarian Certificate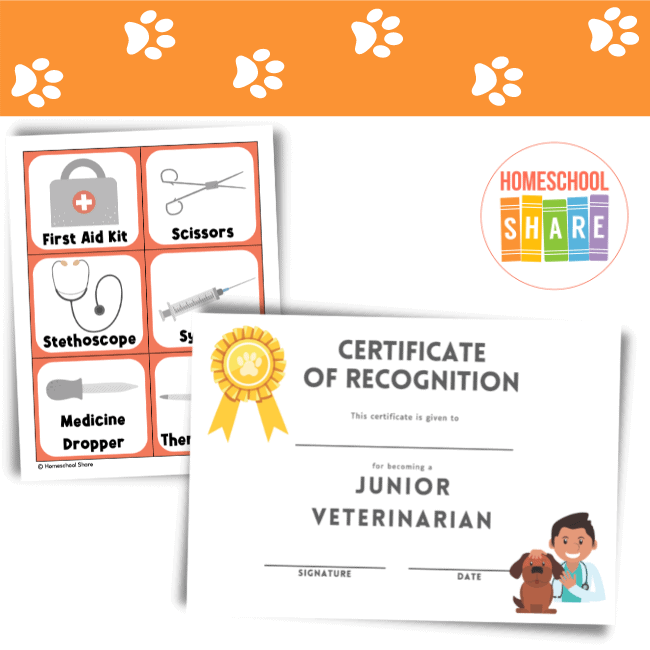 Props to Include for Your Dramatic Play Vet Clinic
Add more fun to your dramatic play center with some props and toys.
Stuffed Animals
Your students will need a variety of stuffed animals for the vet clinic. Any of the following would be great additions: cat, rabbit, kitten, dog, puppy, snake, fish, hamster, parrot, chameleon, frog, etc. You could also add large livestock animals that vets check on farms: horse, cow, pig, goats, sheep, etc.
Clipboards & Pencils
Attach the various forms to clipboards to make it easier for your student to perform the routine animal checkups.
Play Thermometer (a toy medical kit might be a good investment for this dramatic play area)
Measuring Tape or Ruler
Students will need to measure the stuffed animals and record heights on the Checkup Forms.
Other Items for Doctor Tools (like plastic pipettes for medicine droppers)
Small Cardboard Boxes (to create pet carriers)
Large Cardboard Box (to create an x-ray machine)
Band-aids
Get Your Free Dramatic Play Vet Clinic Printables
Get your free pretend play printables when you subscribe to the newsletter using the form below.
More Pet Printables for Preschool and Kindergarten
Check out these other printables and resources for your pet theme.