Affiliate Disclaimer
We sometimes use affiliate links in our content. This won't cost you anything, but it helps us to keep the site running. Thanks for your support.
Your students will love pretending to be at the dentist office with this free set of dentist dramatic play printables.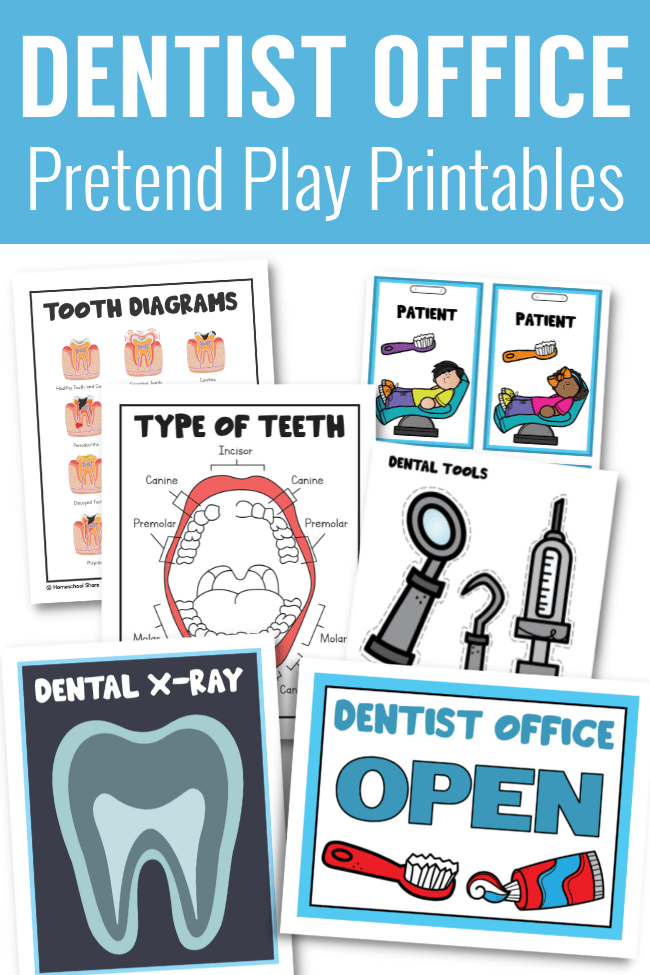 What Are the Benefits of Pretend Play?
Why should you encourage dentist office dramatic play for your preschool and kindergarten students? Because it is brain-building!
Pretend play is beneficial for your student because it promotes:
creativity and imagination
fine motor skills
gross motor skills
social development
language and communication skills
problem-solving abilities
teamwork
What's Included in the Dentist Dramatic Play Printables?
This set of dentist pretend play printables is chock full of fun for your kids or students; the printables will facilitate learning and play at the same time!
Dentist Office Pretend Play Badges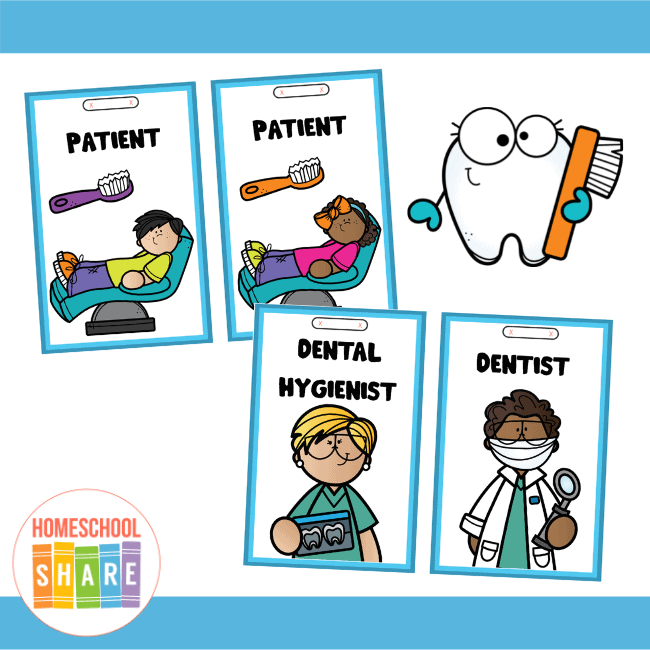 This set includes five dentist office badges to help your students become familiar with the various roles at the dentist office:
Office Manager
Patient (two options)
Dental Hygienist
Dentist
Patient Forms and Printables
Use these forms to let your students record information about the patients' teeth. The office manager can also give the patients appointment cards to remind them of their next appointments.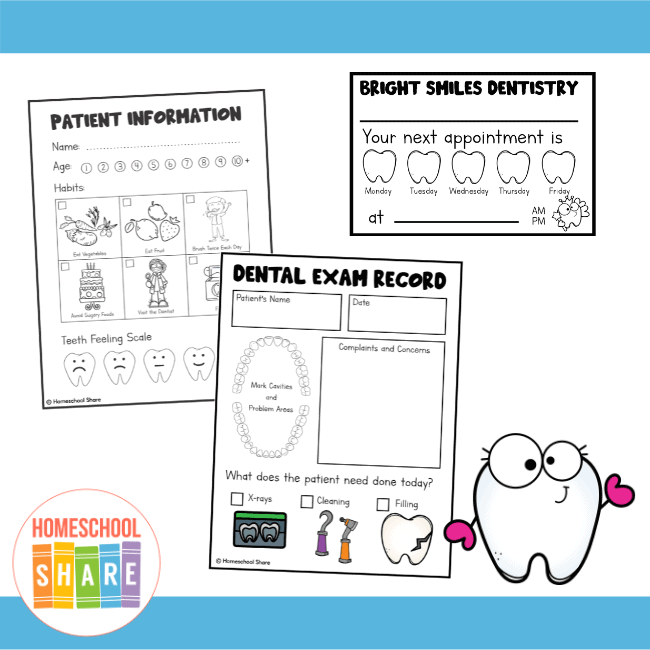 Patient Information Form
Dental Exam Record Form
Appointment Cards
Dentist Office Dramatic Play Posters
The pretend play set also includes some printable pages you can hang on the wall to make your space look more like a dentist's office.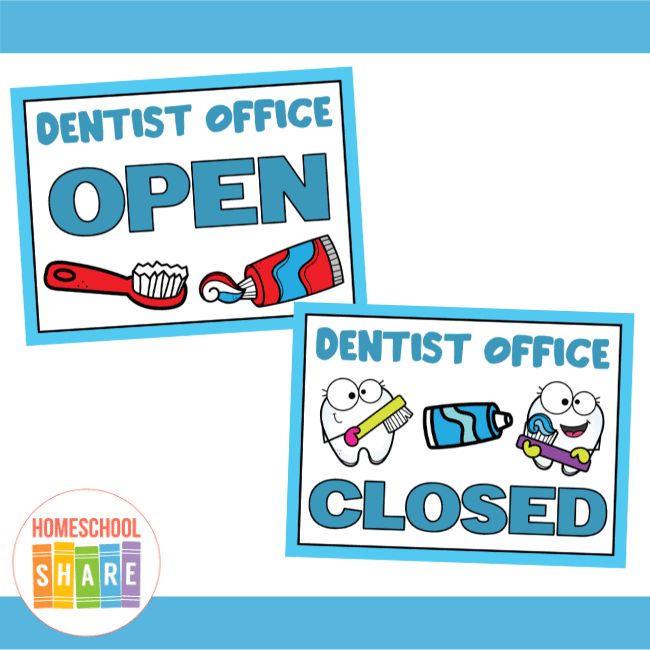 Office Clock (you can assemble this so that it has moveable hands)
Open Sign
Closed Sign
Types of Teeth Poster
Tooth Diagrams Poster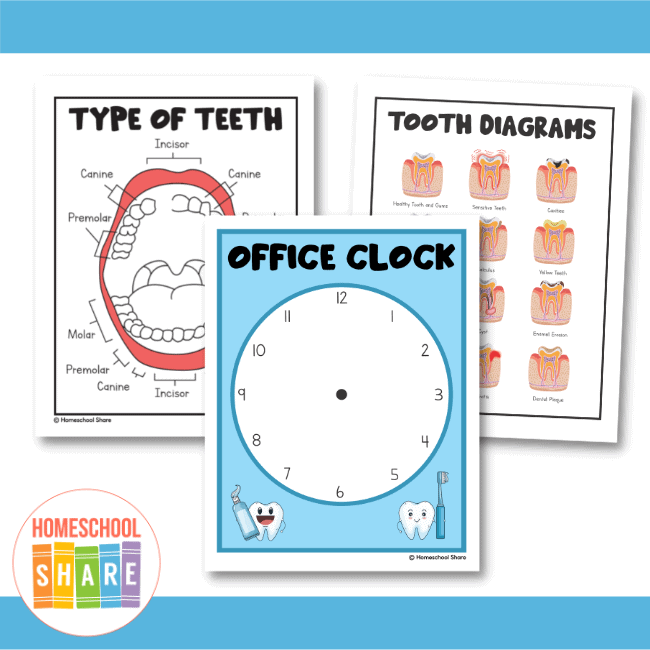 Dental Hygiene Sorting Activity
This set includes two pages that say "Good For Our Teeth" and "Bad For Our Teeth." It also includes a set of sorting cards. You could turn this into a sorting activity center for your students. Just print and laminate the pages and cut out the cards. Let your students sort what is good and bad for their teeth by placing the cards on or under the appropriate pages.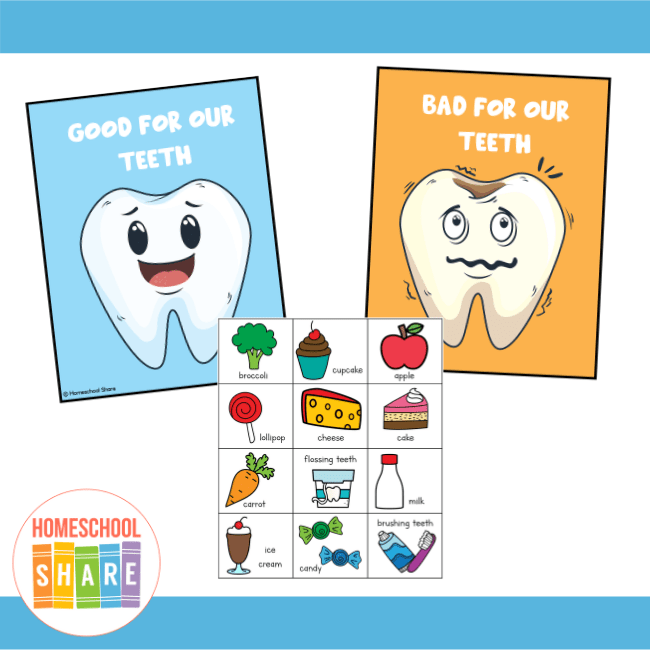 This could also be an activity within your dentist dramatic play area that is facilitated by the "hygienist" to help educate the patient on how to care for his or her teeth.
Additional Dentist Dramatic Play Printables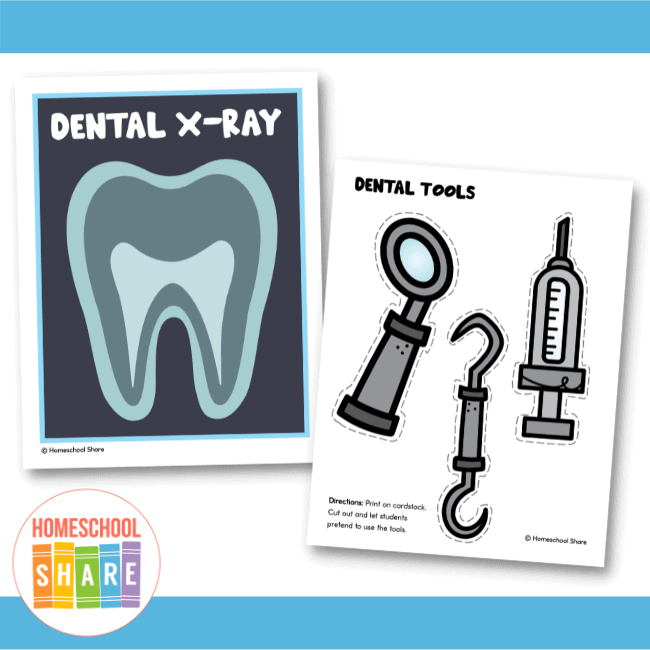 Other printables your children or students can use for the pretend play area:
Dental Vocabulary Word Cards (two pages)
Printable Tooth Brushing Chart
Tooth X-ray
Dental Tools (includes mirror, light, syringe, and dental picks; you can print these on cardstock and laminate so students can pretend to use them)
Props to Add to Your Dramatic Play Dentist Office
Adding a variety of props to your dramatic play center will help your students' creativity and imagination. Here are a few ideas:
Phone
Note pad
Cardboard Box or Tube (create an x-ray machine)
Sunglasses
Masks
Paper Bibs
Toothbrushes
Empty Floss Containers
Clipboards (to help students fill out the appointment sheet, dental exam record page, and patient information page)
Playdough Drill and Fill Toy (so much fun!)
Dentist Toolbox
If you want to splurge, you could add this amazing set of wooden pretend dentist toys to your dramatic play area. Some of these could also be used for a Vet Clinic Pretend Play.
Download Your Free Dentist Office Pretend Play Printables
Subscribe to the newsletter using the form below in order to snag your set of free pretend play printables.
Buy the Pretend Play Printable Bundle
If you'd like a bunch of dramatic play sets, but you don't want to hunt and peck throughout the entire site, you can grab them easily and conveniently in one big bundle. Simply head to the shop or use the buy button below.
Sets included: fire station, post office, grocery, dentist, vet, zoo, library, pet shop, garden shop, ice cream shop, candy store, and dinosaur museum.
More Dental Health Printable Activities
If your student wants to learn more about dental health, check out this huge resource that's full of lessons: Teeth Unit Study and Lapbook.