Affiliate Disclaimer
We sometimes use affiliate links in our content. This won't cost you anything, but it helps us to keep the site running. Thanks for your support.
The holiday season can bring out the wiggles! Grab this set of Christmas Exercise Cards and help improve your student's focus with gross motor movements. You can find all of our movement cards here.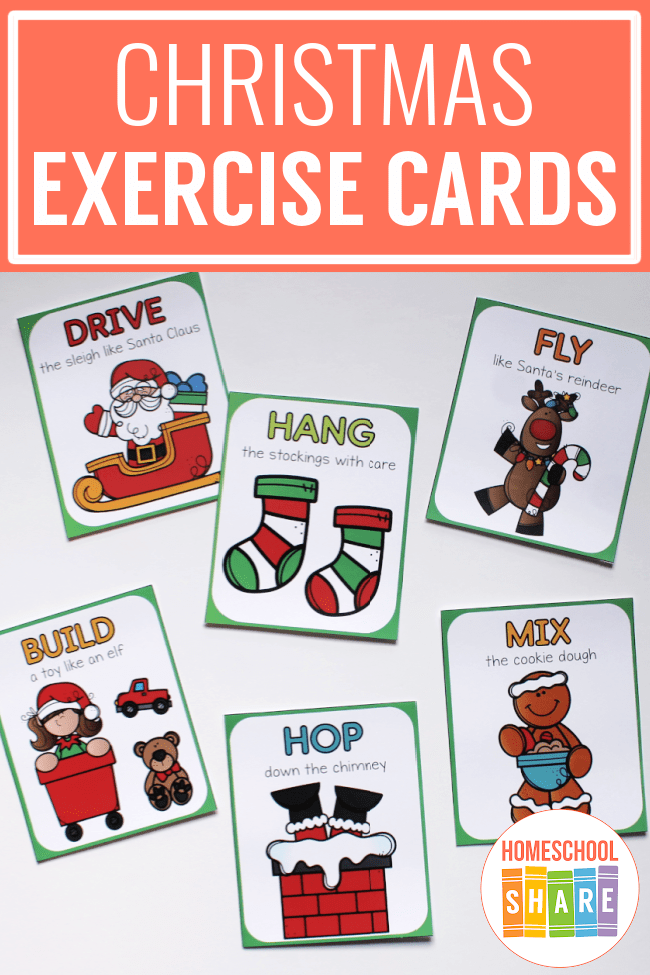 What's Included in the Christmas Exercise Cards?
The file includes holiday action cards with these exercises:
put ornaments on the tree
reach up and place the angel on the tree
drum like a drummer boy
melt like a snowman
cut the wrapping paper
mix the cookie dough
unwrap the holiday gifts
hop down the chimney
drive the sleigh like Santa Claus
build a toy like an elf
hang the stockings with care
fly like Santa's reindeer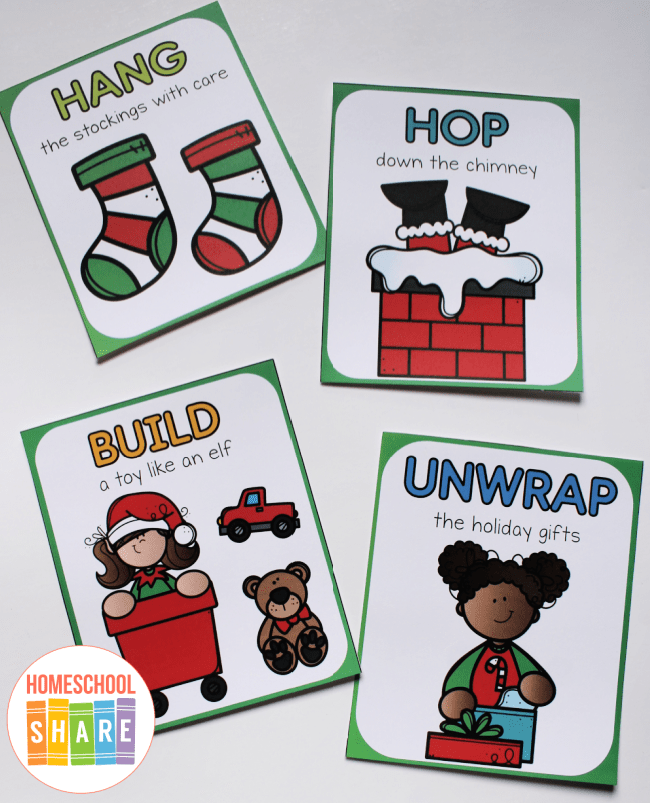 Add some enthusiasm while demonstrating the actions, and your students will catch on quickly. The cards are best used with the prompting of a teacher (or group leader—if you want to have one of the kids take the lead).
For some of the items, you can decide how many repetitions to do. For instance, for "put ornaments on the tree," you can help your students by saying, "Let's hang 10 ornaments on the tree. Reach high for this one. Reach low for this one." You can also determine the number of stockings to hang.
For "reach up and place the angel" you can stretch up high and hold your position. You can continue by prompting your students, "Almost! We've almost reached the top of the tree. Keep stretching. Keep reaching!"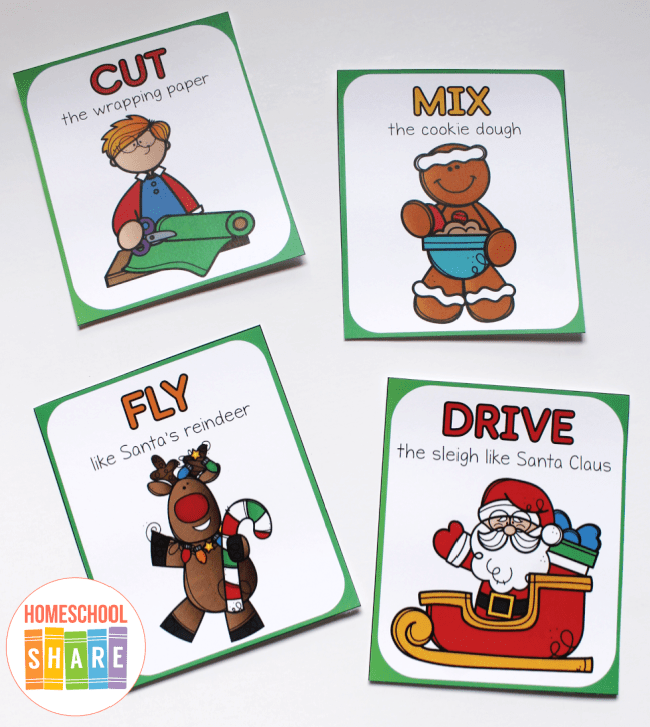 For other exercises, you may want to determine how to move before you instruct your students. For "fly like Santa's reindeer," will you run in place? For "hop down the chimney," will you hop and shrink?
Consider using big, dramatic movements to help your students get their wiggles out.
How to Use the Christmas Exercise Cards for Kids
Download the file.
Print the cards on cardstock.
If desired, laminate for durability.
Cut out the cards.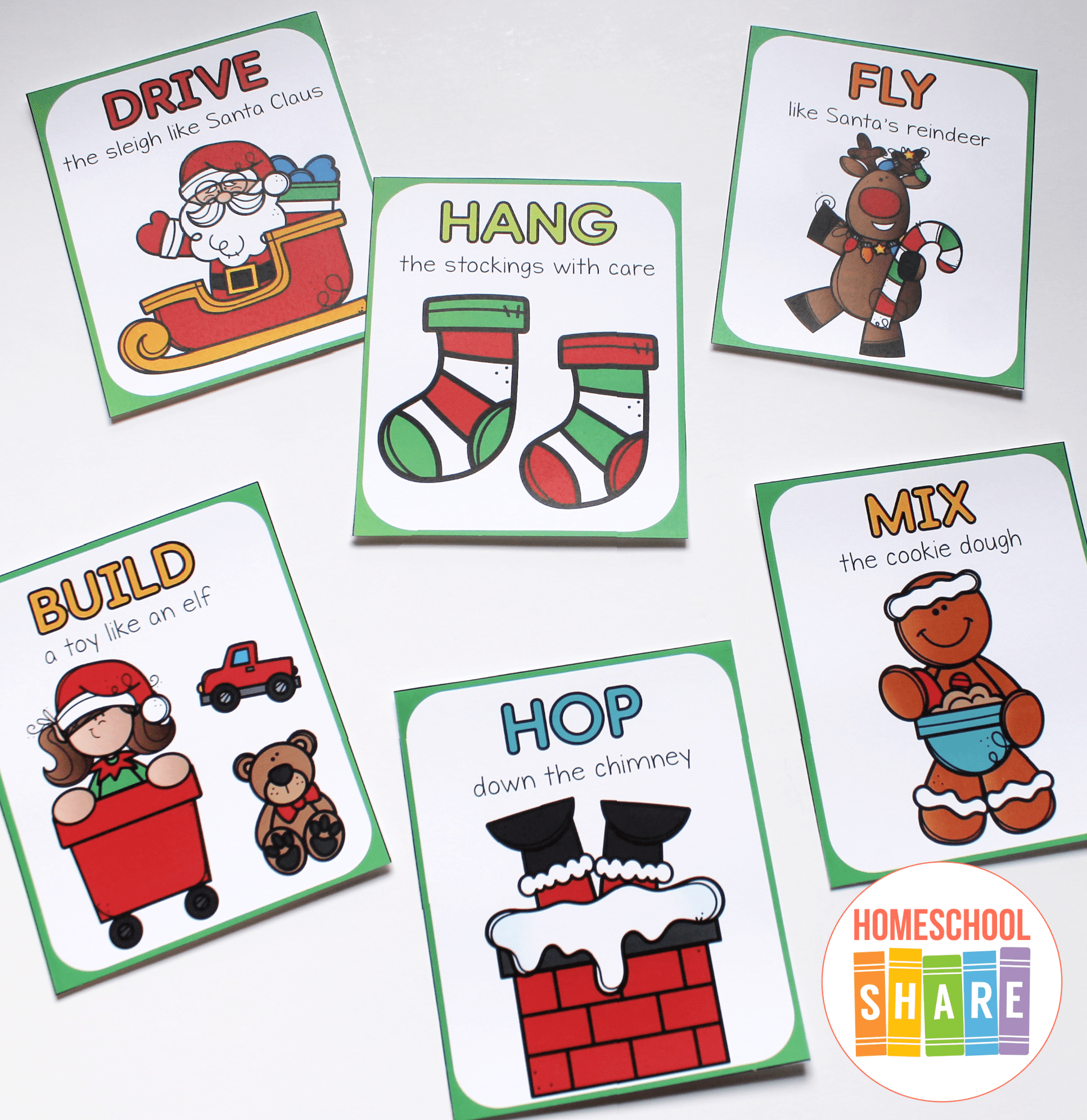 If you are a parent or homeschool teacher, you can use the cards in a variety of ways. Here are a few ideas:
Put them in a jar. When your student gets the wiggles, let her choose one and act out the card together.
Let your student choose 3-5 cards and put them in order for a holiday work-out! Complete the cards together.
Hide the cards around the house. When your student needs a break from schoolwork, go on a hunt for a card. Find one (or two or three!) and act out the exercises together.
Download Your Exercise Cards Printable
Simply subscribe to the newsletter using the form below in order to grab your exercise cards.
More Christmas Printables and Resources for Your Students
Check out these other Christmas printables for your preschool and kindergarten students.