Affiliate Disclaimer
We sometimes use affiliate links in our content. This won't cost you anything, but it helps us to keep the site running. Thanks for your support.
Every tot I know loves the book, Brown Bear, Brown Bear, What Do You See? The rhythmic questions, the bright colors, the various animals–it all adds up to the perfect formula to keep your child engaged. Grab this set of free Brown Bear, Brown Bear printables and activities to explore learning with your toddler or preschool student.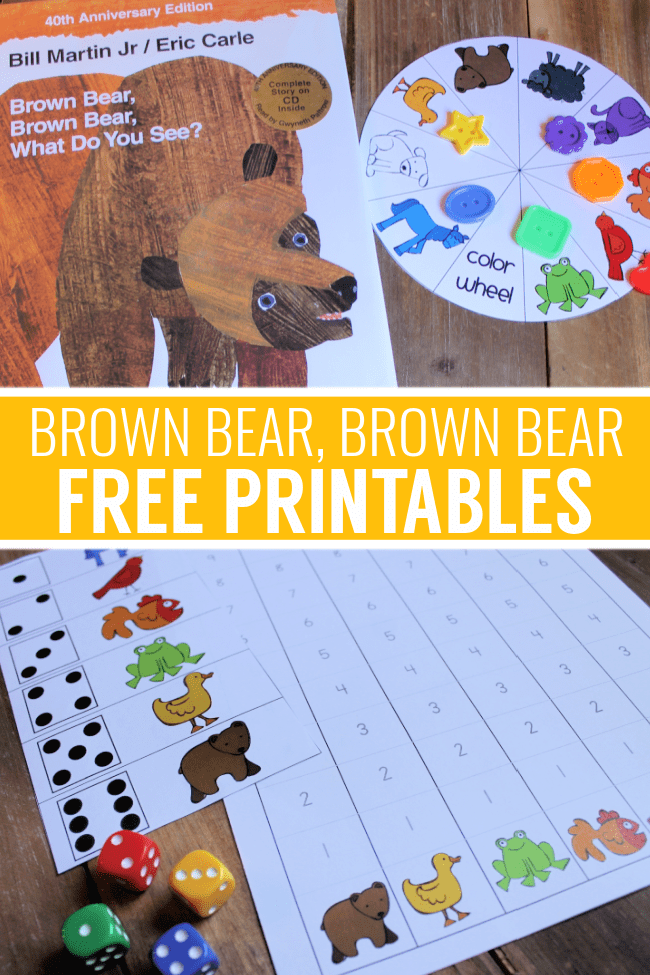 Thanks to Carmen Anderson for preparing this unit study.
Brown Bear, Brown Bear Activities
This downloadable unit study includes a variety of lessons, activities, and printables.
Here is a sample of the activities and lessons found in this Brown Bear, Brown Bear, What Do You See? unit study:
Language Arts Activities
1. Before you read the book with your student, flip through it and ask her to identify each animal and the sound each animal makes.
2. Make stick puppets with the animal cards and let your student retell the story.
3. Story Writing
Use the "What Do You See?" printable book. Let your student choose a color for each animal (different than the story, if he is willing) and color the animals. Cut out all the pages and stack together with the cover on top. Your student won't need any words to read the story he created.
4. Make another story using your student's name: "Braylen, Braylen what do you see?" Ask her what she sees. Write it down in a "book" and draw picture of it. Instead of drawing, you could also find pictures in a magazine to illustrate your story. Let your student help you glue them to the page.
5. Color Words: Introduce the colors mentioned in the book. Play a matching game with the animal and color cards. Ask your student to match the animal (bird) to the correct color card (red).
6. Make a new book allowing your student to fill in the blanks as you go. Here are some title suggestions:
7. Using the animal cards, play this game. Display all the animals. Let your student look, then ask her to cover her eyes. Take one away and let her guess which one is missing.
8. Make your own coloring book with the printable provided. Give your older student a handful of crayons. Have him match the words on the crayons to the words on the pages before he starts coloring. When the book is finished, cut the pages out. Stack together with the cover on top and staple on the left side.
As students work through these activities and printables, they will be learning basic math, pre-reading, and science skills while strengthening fine motor skills and learning to love a book.
Science Activities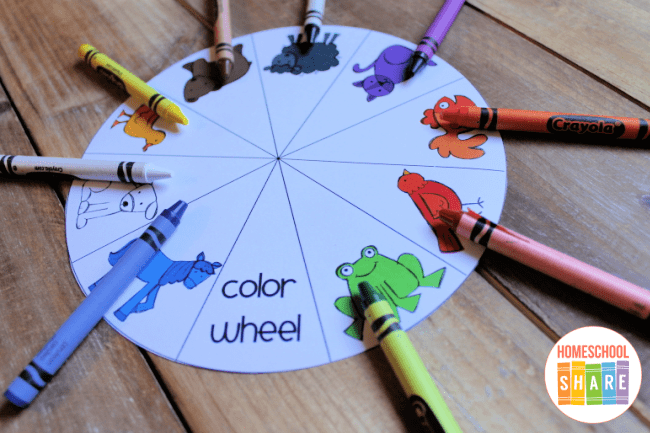 1. Color Wheel Matching
2. Give younger children pictures of real bears and teddy bears. Have them sort into two piles– real bears and pretend bears.
3. Make habitation boxes out of shoeboxes for the bears.
4. Read nonfiction books about bears.
5. With your older student, talk about what kinds of food bears eat, where they live, hibernation, etc. Compare polar bears to black bears. You might want to read Polar Bear, Polar Bear What Do You Hear? or Panda Bear, Panda Bear What Do You See?
Math Activities
1. Count how many animals are mentioned in the book.
2. Have your child gather all her teddy bears. Talk about what makes each one different. Sort them into piles according to characteristics like: size (small, medium, large), color (brown, white, black), or clothing (dressed, naked.)
3. Patterns
Discuss patterns with your student. Let your student complete the pattern activities found in the printables section.
4. Gummy Bear Fun
Give your child a handful of gummy bears. Have her name the colors. Have her count them. Have her count how many she has of each color. You could also have fun counting other bear shaped snacks like Teddy Grahams.
5. Play the animal graph game in the printables section. 6. Help the animals count the dots. This activity is found in the printables section. Let your student match the small number card next to the animal with the same number of dots.
How to Get Started with the Brown Bear Printables
Follow these simple instructions to get started with the Brown Bear, Brown Bear, What Do You See? activities and printables:
Buy a copy of the book, Brown Bear, Brown Bear, What Do You See?, or grab one from your local library.
Print the Brown Bear, Brown Bear, What Do You See? unit study and printables.
Choose the lessons you want to use with your student (a highlighter works great for this).
Choose and prepare the printables you want to use with your student.
Read the book to your student each day and choose some activities to accompany your reading.
Enjoy a week of fun-filled learning with your preschool student.
Download Your Free Brown Bear Activities and Printables
This free set of Brown Bear, Brown Bear activities and printables is only available to Homeschool Share subscribers. Use the form below to get your free printables.
More Bear Themed Resources for Your Preschooler
If you are looking for more bear-themed resources for your preschooler, check out these: