Affiliate Disclaimer
We sometimes use affiliate links in our content. This won't cost you anything, but it helps us to keep the site running. Thanks for your support.
This story chronicles the correspondence between a young boy and his music-student uncle. The boy's mother has taken a tenant who is eccentric, difficult, and deaf. He is also a composer–the great Ludwig van Beethoven.
Grab our free Beethoven Lives Upstairs unit study and start learning about the life of Beethoven.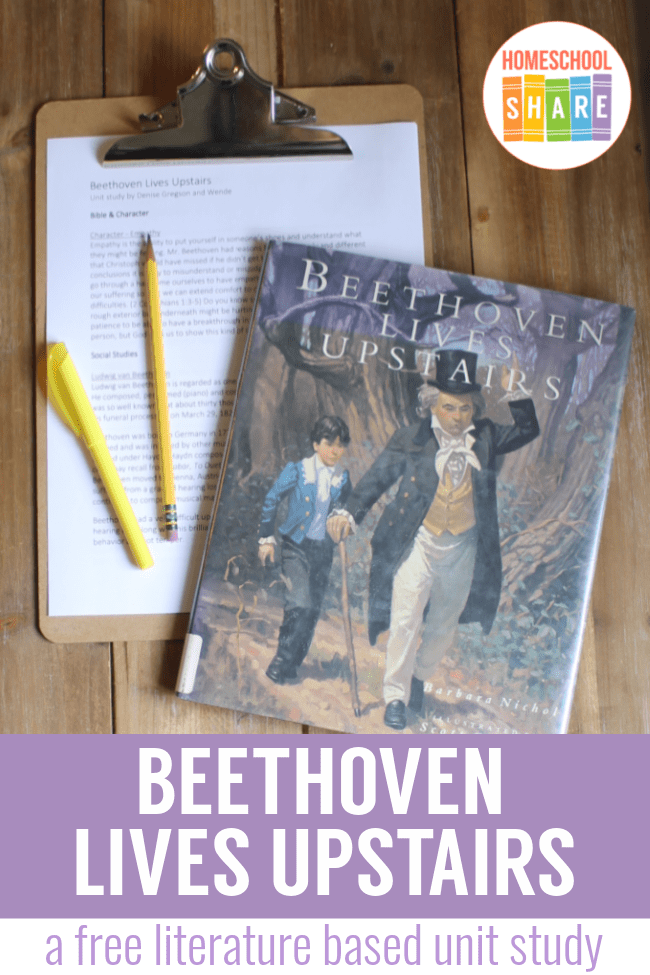 Thanks to Denise Gregson and Wende for preparing this Beethoven Lives Upstairs unit study.
Beethoven Lives Upstairs Unit Study Lessons
This unit study includes lessons and activities based on the book Beethoven Lives Upstairs by Barbara Nichol.
Here is a sample of the lessons found in this Beethoven Lives Upstairs unit study:
Character – Empathy
Empathy is the ability to put yourself in someone's shoes and understand what they might be feeling. Mr. Beethoven had reasons for being lonely and different that Christoph would have missed if he didn't get to know him. By jumping to conclusions it is easy to misunderstand or misjudge people. Sometimes we have to go through a hard time ourselves to have empathy for others. God comforts us in our suffering so that we can extend comfort to others who are going through difficulties. (2 Corinthians 1:3-5) Do you know someone who has grumpy and rough exterior but underneath might be hurting? Sometimes, it takes time and patience to be able to have a breakthrough in building a relationship with such a person, but God calls us to show this kind of compassion.
History: Ludwig van Beethoven
Ludwig van Beethovenis regarded as one of the greatest composers of all times. He composed, performed (piano) and conducted musical masterpieces. Beethoven was so well known that about thirty thousand people were said to be present at his funeral procession on March 29, 1827. (Note: He died on March 26, 1827.)
Beethoven was born in Germany in 1770. He came from a family of musicians. He studied and was inspired by other musicians such as Mozart and Haydn and he trained under Haydn (Haydn composed the famous Surprise Symphony which your child may recall from Babar, To Duet or Not to Duet, Five in a Row Volume 2). Beethoven moved to Vienna, Austria in his early twenties and during that time suffered from a gradual hearing loss. Even after he became totally deaf he continued to compose musical masterpieces!
Beethoven had a very difficult upbringing. The pain of this, combined with his hearing loss along with his brilliance all may have contributed to his strange behavior and hot temper.
Note: Is your child familiar with the Peanuts series? If so does she remember that Schroeder's favorite composer is Beethoven and he is often found playing music by Beethoven?
Language Arts: Weaving Fact with Fiction
The story is accurate in most of the details of the character of Ludwig Beethoven. I understand there really was a boy named Christoph as well. However, the author has taken some liberties in adding details that can't be verified. This type of writing would be considered historical fiction. Many people don't enjoy reading a bunch of facts as much as they enjoy reading facts in the form of story.
You can grab a copy of the entire Beethoven Lives Upstairs unit study in an easy-to-print file at the end of this post.
How to Get Started with the Beethoven Lives Upstairs Unit Study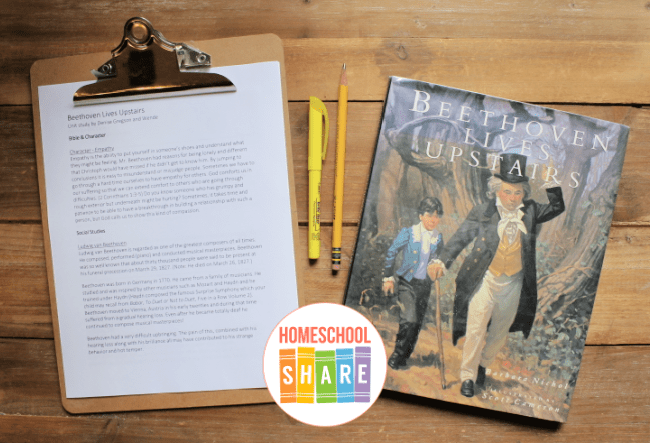 Follow these simple instructions to get started with the Beethoven Lives Upstairs unit study:
Buy a copy of the book, Beethoven Lives Upstairs, or borrow one from your local library.
Print the Beethoven Lives Upstairs unit study.
Choose the lessons you want to use with your student (a highlighter works great for this).
Enjoy a week of musical learning with your student.
Download Your Beethoven Lives Upstairs Unit Study
Simply click on the image below to grab the free Beethoven Lives Upstairs unit study.
More Music Related Resources