Affiliate Disclaimer
We sometimes use affiliate links in our content. This won't cost you anything, but it helps us to keep the site running. Thanks for your support.
This unit study includes lessons and activities based on the book Annika's Secret Wish by Beverly Lewis.
"What would I wish for?" Annika wondered aloud. "If ever I had the almond in my pudding…what would be my wish?"

In turn-of the-century Sweden, finding the almond hidden in the rice pudding is the Christmas Eve highlight for many children, since it means a chance to wish…for a new pair of snowshoes, a mountain of truffles coated with cocoa, an adorable kitten. For ten long years–all of her life–Annika has dreamed of discovering the almond in her own pudding. Will this be her year?
Thanks to Oney Jones for preparing this Annika's Secret Wish Unit Study.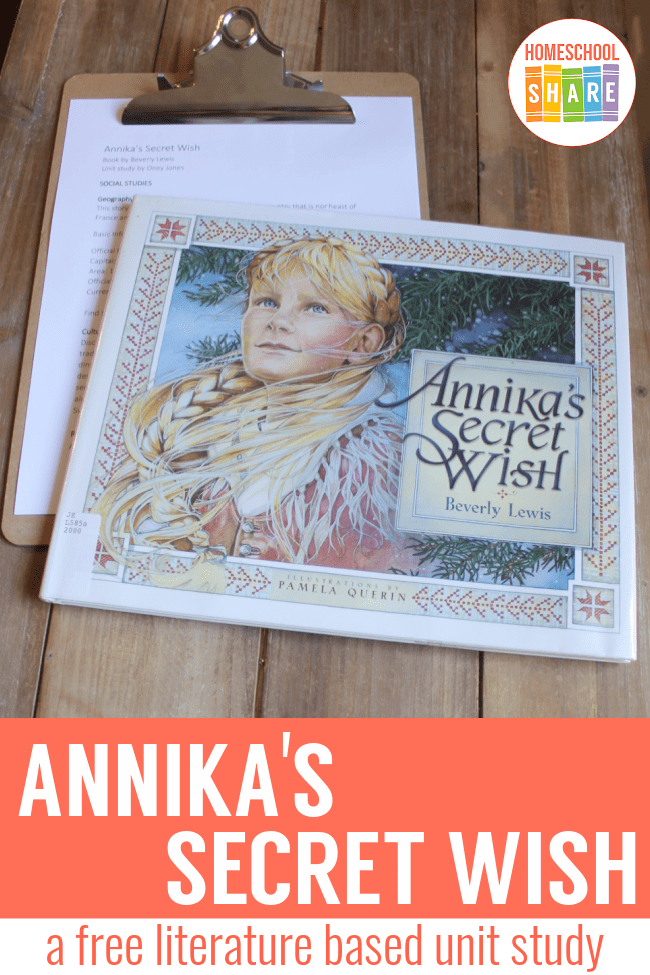 Annika's Secret Wish Unit Study Lessons
Here is a sample of the lessons found in this Annika's Secret Wish unit study:
Geography: Sweden
This story is set in Sweden. Sweden is a European country that is northeast of France and borders Norway and Finland. Find Sweden on the map.
Basic Information about Sweden:
Official Name: Kingdom of Sweden
Capital: Stockholm
Area: 173,860 square miles
Official Language: Swedish
Currency: Swedish krona

Find some library books about Sweden and learn even more!
Culture: Traditions
Discuss the word tradition with your student. What are some of the Christmas Eve traditions in your home? There is a Christmas tradition in Sweden. A Christmas Eve dinner is served with traditional Swedish foods completed by rice pudding for dessert. There is but one whole almond dropped into the rice pudding before serving and fun is in the anticipation of getting the bowl of pudding with the almond. Read page 32 of Annika's Secret Wish with your student; it tells of more Swedish traditions.
Language Arts: Open-ended stories
This story ends without us being told by the author what Davy's wish is or if he received his wish. How does not knowing make you feel? Sometimes it's fun to decide what happens next. What do YOU think happened? Leaving the story open-ended allows you, the reader, to use your imagination. Have your student narrate the "rest of the story" for you. Then, re-read the story with the new ending. What does your student think? Can he think of another possible ending?
Calendars
Christmas is always on December 25 every year. Look at this year's calendar. What day of the week is Christmas on this year? What date is Christmas Eve? How many days are there in the month of December? What month of the year is December?
You can grab a copy of the entire Annika's Secret Wish unit study in an easy-to-print file at the end of this post.
How to Get Started with the Annika's Secret Wish Unit Study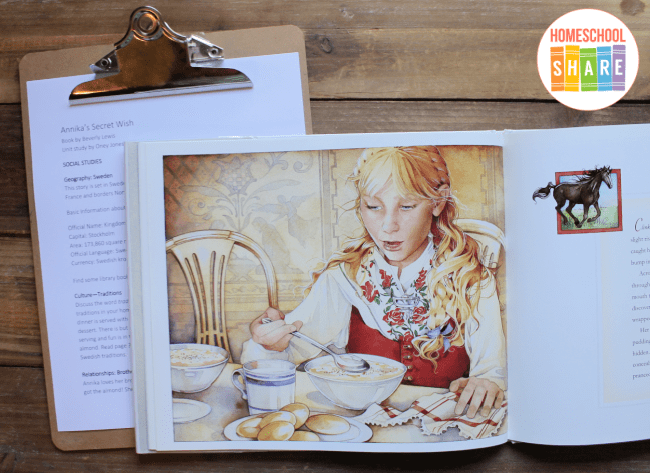 Follow these simple instructions to get started with the Annika's Secret Wish Unit Study:
Buy a copy of the book, Annika's Secret Wish, or grab one from your local library.
Print the Annika's Secret Wish unit study.
Choose the lessons you want to use with your student (a highlighter works great for this).
Enjoy a week of traveling to Sweden to learn about Christmas!
Download Your Annika's Secret Wish Unit Study
Simply click on the image below to grab the free unit study.
Learn More About Sweden