Affiliate Disclaimer
We sometimes use affiliate links in our content. This won't cost you anything, but it helps us to keep the site running. Thanks for your support.
This unit study includes lessons and activities based on the book Klara's New World by Jeanette Winter.
Leaving their drought-stricken farm in nineteenth-century Sweden behind them, Klara and her family set sail for America, embarking on a dangerous and exciting journey across the ocean.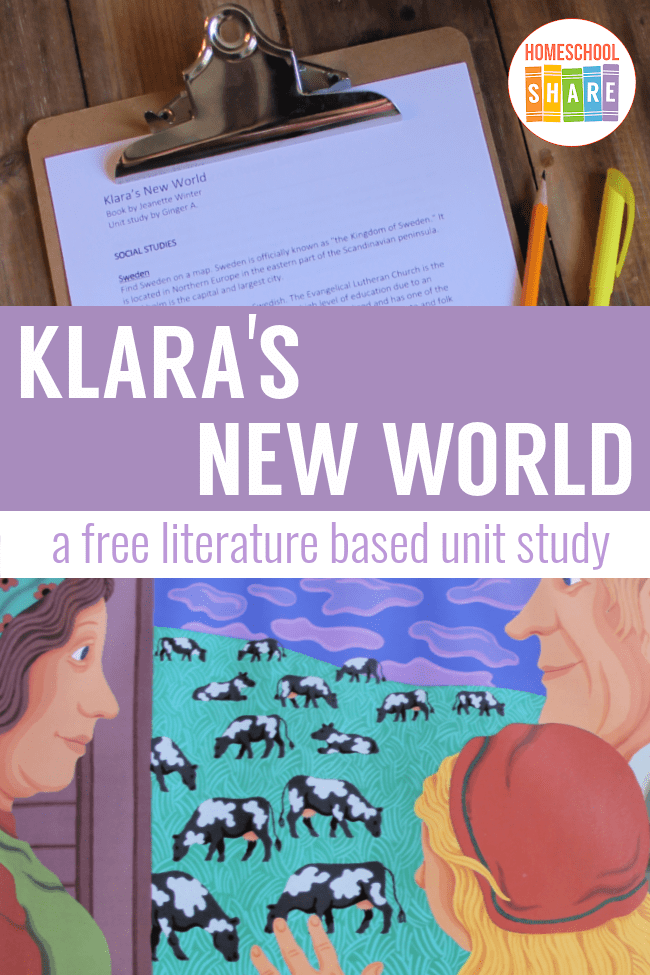 Thanks to Ginger A. for preparing this Klara's New World Unit Study.
Klara's New World Unit Study Lessons
Here is a sample of the lessons found in this Klara's New World unit study:
Geography: Sweden
Find Sweden on a map. Sweden is officially known as "the Kingdom of Sweden." It is located in Northern Europe in the eastern part of the Scandinavian peninsula. Stockholm is the capital and largest city.

Most of the population speaks Swedish. The Evangelical Lutheran Church is the largest church in Sweden. Citizens enjoy a high level of education due to an excellent school system. The country is highly industrialized and has one of the highest living standards in the world. Sweden is known for its decorate and folk arts, glass ware, and steel cutlery.
History: Freedom of Religion and the Bill of Rights
Bertil also mentions freedom of worship. Why is this important? Until 1858 the government in Sweden was connected to the State Lutheran Church. Many Swedes were intolerant of countrymen who practiced another religion. So, many Swedes left their homeland during 1840-1860 to find religious freedom.

What other freedoms do we, as Americans, have? Discuss the Bill of Rights with your student. The Bill of Rights includes the first ten amendments to the Constitution. Talk about the basic freedoms available to United States citizens. If you want, assign your student a project– to design a poster of The Bill of Rights. Some of our freedoms in the Bill of Rights include:
Freedom of Religion
Freedom of Assembly
To Keep and Bear Arms
Freedom of Speech
Freedom of the Press
Protection for those Accused of Crimes
Social Studies: Citizenship
Klara and her family do not want to visit in the USA and then return home to Sweden. They want to make a home in America. Explain to your student that living in a country is not the same as citizenship. Only citizens enjoy all the promises of the Constitution.

Steps to becoming a U.S. Citizen
1. Fill out an application form. The form asks background questions. The applicant is required to have a set of fingerprints taken.
2. Take a citizenship test which includes questions about American government and history.
3. Appear before a judge in a court. The judge listens to the person's reasons for wanting to become a citizen and decides whether or not to grant the request.
You can grab a copy of the entire Klara's New World unit study in an easy-to-print file at the end of this post.
How to Get Started with the Klara's New World Unit Study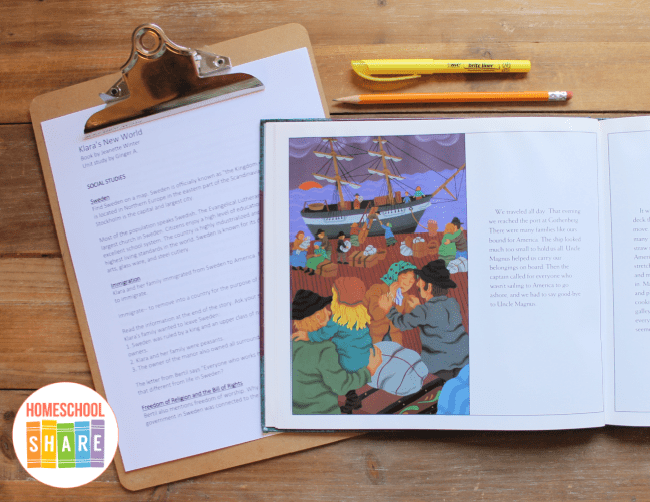 Follow these simple instructions to get started with the Klara's New World unit study.
Buy a copy of the book, Klara's New World, or grab one from your local library.
Print the Klara's New World unit study.
Choose the lessons you want to use with your student (a highlighter works great for this).
Enjoy a week of book-based learning with your student.
Download Your Free Klara's New World Unit Study
Simply click on the image below to grab the free Klara's New World unit study.
More Immigration Themed Resources
Check out these other resources that include an immigration theme.