Affiliate Disclaimer
We sometimes use affiliate links in our content. This won't cost you anything, but it helps us to keep the site running. Thanks for your support.
Take a fun plunge into the classic book by E. B. White with our free Stuart Little novel study.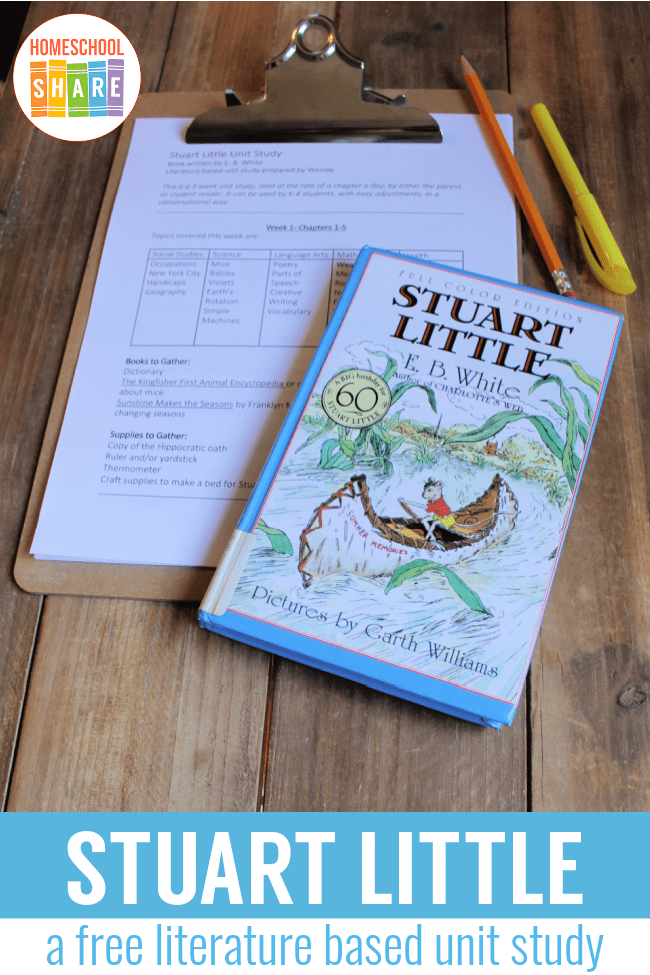 Thanks to Wende for preparing this Stuart Little novel study. Note from Wende: This is a 3-week study, read at the rate of a chapter a day, by either the parent or student reader. It can be used by K-4 students, with easy adjustments, in a conversational way.
Stuart Little Unit Study Lessons
This unit study includes lessons and activities based on the book Stuart Little by E. B. White.
Here is a sample of the lessons found for Chapter 1 in the Stuart Little Unit Study. You'll find a wide variety of ideas and options included for each chapter of the book.
Science (Mice) – Stuart is a mouse. Mice are rodents that have very sharp front teeth and long tails. They will eat just about anything, and while they are occasionally kept as pets, they are mostly considered a pest. Look up and read about mice in The Kingfisher First Animal Encyclopedia or other book containing information on mice.
Science (Babies) – Compare and contrast baby mice and baby humans. How are they alike? How are they different? Use a Venn Diagram to demonstrate your answers.
Science (Flowers) – Stuart had sprinkled a bit of his mother's violet water on him. Does your child know what a violet is? Violets are an herbaceous plant with alternate leaves. The flowers have five petals. The next time you are in a store that sells plants, look for a violet to bring home.
Social Studies (Occupations) – Stuart's mother was worried about him because he wasn't gaining enough weight, so she took him to the doctor. The doctor checked Stuart's temperature, chest, heart, and ears. Discuss the job of a doctor and the Hippocratic Oath. If the opportunity arises, visit and interview a doctor.
Social Studies (Geography) – The Little family lives in New York City. Research New York City. Henry Hudson explored the Hudson River for the Dutch in 1609. Then in 1624 more pioneers came from Holland and built Fort Orange along the Hudson River. One year later, another ship came from Holland and founded New Amsterdam, which they bought from the Manhattan Indians. The English recognized this area as a good port for commerce, and captured the island in 1664, when it was renamed New York. New York is now the largest city in the United States with a population of over 7 million people.
Language Arts (Vocabulary) – Have child look up words "worsted" and "solemnly" in dictionary and use them in proper context to show understanding.
Math (weights and measures)- Inches are used to measure height, width, and depth. Ounces are used to measure weight. Degrees are used to measure temperature.
When Stuart arrived he was only about two inches tall. Show child how big an inch is. How many inches in a foot? How many inches in a yard?
When Stuart was a month old he had only gained a third of an ounce. If you have kept baby records, look up how much weight your child had gained by one month old. Explain that there are 16 ounces in a pound, and compare Stuart's weight gain to your child's weight gain.
The doctor took Stuart's temperature and found it to be 98.6 degrees. This is the same normal body temperature as humans. Take your child's temperature and compare it to Stuart's. Help child to check the outside temperature, the oven temperature, and the freezer temperature, if such thermometers are available.
Math (fractions)– Stuart had only gained a third of an ounce. Introduce or review fractions with your child. A fraction is a part of a whole thing. Discuss fractions in daily life, through cooking, tools, etc.
Math (Roman Numerals) – Have child look at the chapter number, and then have him search out the rest of the chapter numbers. What does he notice about them? The chapter numbers are written using Roman Numerals. Romans were people who lived in Italy about 2,500 years ago, and they created a numeration system using straight lines, which could be written in any order because each numeral always stood for the same number.
I = one V= five X= ten L= fifty C= one hundred D= five hundred M= one thousand
Introduce or review Roman Numerals with your student.
You can grab a copy of the entire Stuart Little unit study in an easy-to-print file at the end of this post.
How to Get Started with the Free Stuart Little Novel Study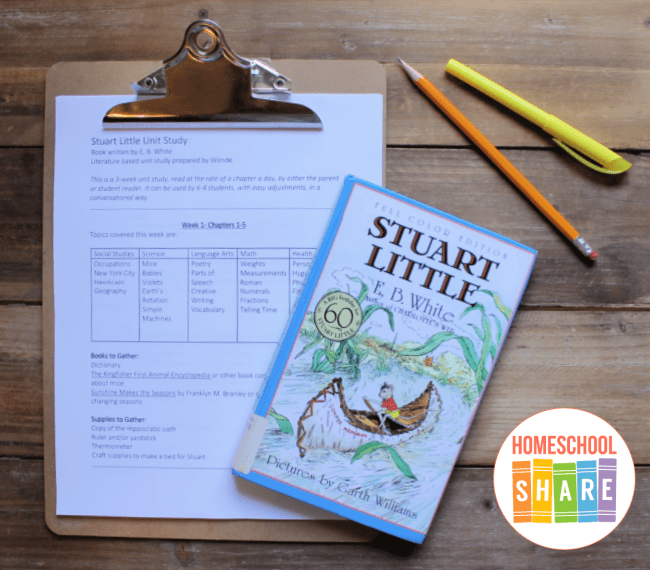 Follow these simple instructions to get started with the Stuart Little unit study:
Buy a copy of the book, Stuart Little, or grab one from your local library.
Print the Stuart Little unit study.
Choose the lessons you want to use with your student (a highlighter works great for this).
Enjoy a book-based learning adventure with your student.
Download Your Free Stuart Little Unit Study
Simply click on the image below to grab the free Stuart Little unit study.
More Novel Studies, Unit Studies, and Lapbooks