Affiliate Disclaimer
We sometimes use affiliate links in our content. This won't cost you anything, but it helps us to keep the site running. Thanks for your support.
Grab our free Pumpkin Jack activities and printables and learn all about the life cycle of a pumpkin, holidays, decomposition, and more!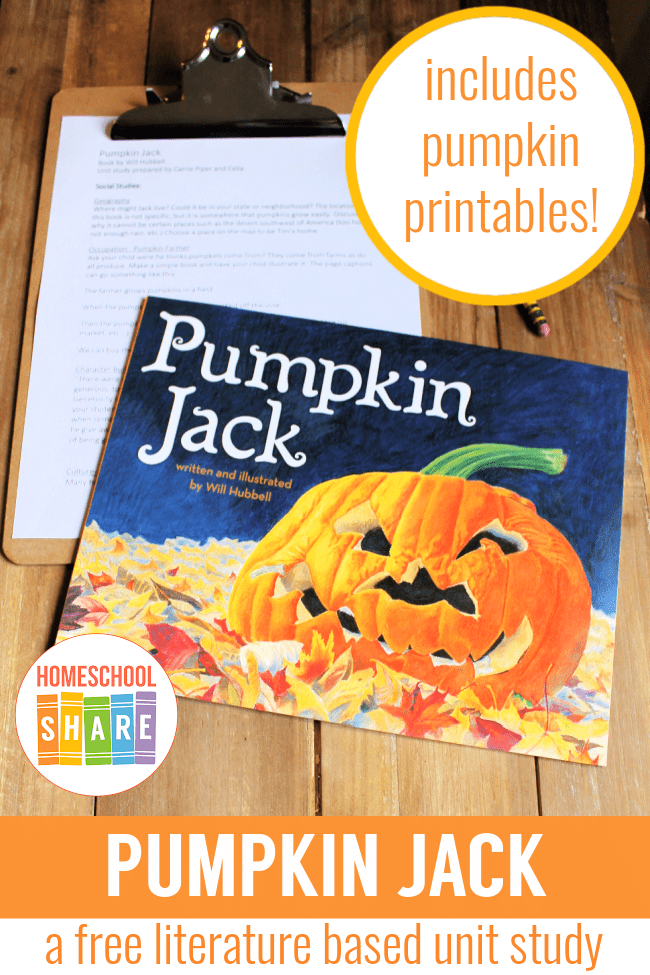 Thanks to Carrie Piper for preparing this Pumpkin Jack unit study.
Pumpkin Jack Book Summary
The first pumpkin Tim ever carved was fierce and funny, and he named it Jack. When Halloween was over and the pumpkin was beginning to rot, Tim set it out in the garden and throughout the weeks he watched it change. By spring, a plant began to grow!

from Pumpkin Jack at amazon.com
Pumpkin Jack Book Activities
This unit study includes lessons and activities based on the book Pumpkin Jack by Will Hubbell.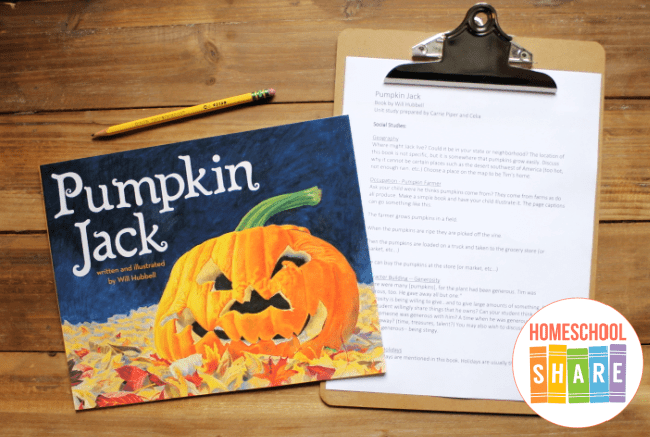 Here is a sample of the lessons and activities included in the free download.
Social Studies: Holidays
Many holidays are mentioned in this book. Holidays are usually the best days of the year; they are days on the celebrated calendar that are repeated each year. Most people get a break from their regular jobs, friends and family gather together to eat, play games, and remember why they are celebrating that day. Most holidays have a very special meaning (for instance, Easter is celebrated because Jesus rose from the dead, Christmas marks Jesus' birth, etc.)

Can your student remember which holidays were mentioned in the story? (Halloween, Thanksgiving, Christmas, and Valentine's Day). Can your student make a list of other holidays that weren't mentioned? (St. Patrick's Day, Easter, Independence Day, etc.) What special traditions does your family have for each holiday mentioned?
Language Arts: Describing Pumpkins
Get 2 or 3 pumpkins or mini pumpkins. Make a list of words that describe your pumpkins. Make sure to feel, look at closely, and even smell your pumpkins in order to think of as many descriptors as possible. Ex. rough, bumpy, spotty, orange, etc. Call attention to the words used to describe Jack throughout the book. Introduce that these words are called adjectives if appropriate.
Math: Comparing Pumpkins
Compare and contrast 2 or 3 pumpkins or mini-pumpkins. Measure the circumference of each pumpkin. For each pumpkin wrap a piece of yarn around the middle and cut it to length. Compare each yarn piece to see which pumpkin has the greatest circumference. It is fun to have the children predict which one will be bigger before you do this.
Compare the pumpkins weight. A bathroom scale will do. Be sure to make predictions as to heaviest and lightest beforehand.
You can add in some extra pumpkin math fun with our Halloween Roll and Cover Games.
Science: Mold
"Mold spread over Jack's bright orange skin. As the days turned colder, Jack grew flatter." Mold is fungus. It is important to the decomposition process. When Jack is beginning to rot, he is tossed outside into the garden. The story notes that every time Tim went out in the garden, Jack looked different. He began to get flatter. Mold had begun to grow (feed) on Jack.
Mold starts as spores floating in the air. When these spores land on moist food, they grow into mold. Unlike plants that contain chlorophyll, mold cannot make its own food, so the mold produces chemicals which will make the food begin to rot. The mold feeds on this and grows, while the food decomposes until gone. This process sounds pretty gross, but God knew we needed mold! What if nothing decomposed?
You can grab a copy of the entire Pumpkin Jack unit study in an easy-to-print file at the end of this post.
Pumpkin Printables for the Pumpkin Jack Unit Study
The printable unit study also includes a variety of pumpkin printable pages.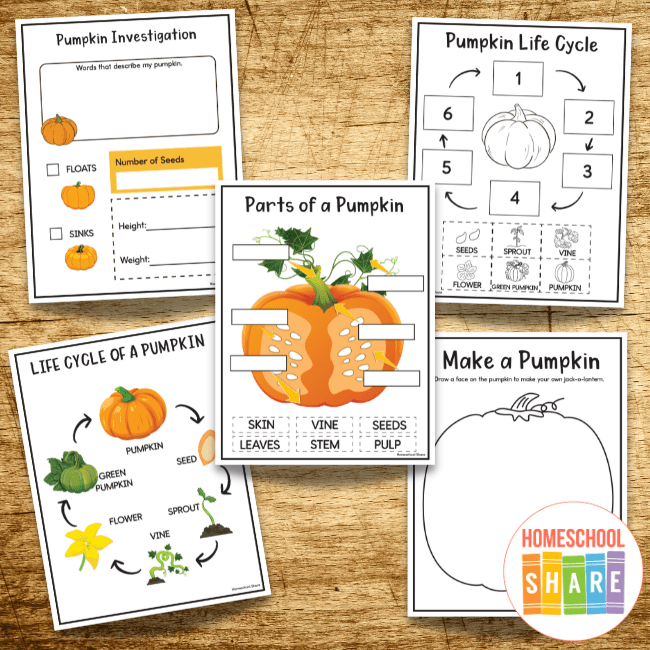 Heaviest Pumpkin Activity Page
Pumpkin Circumference Activity Page
Pumpkin Investigation Activity Page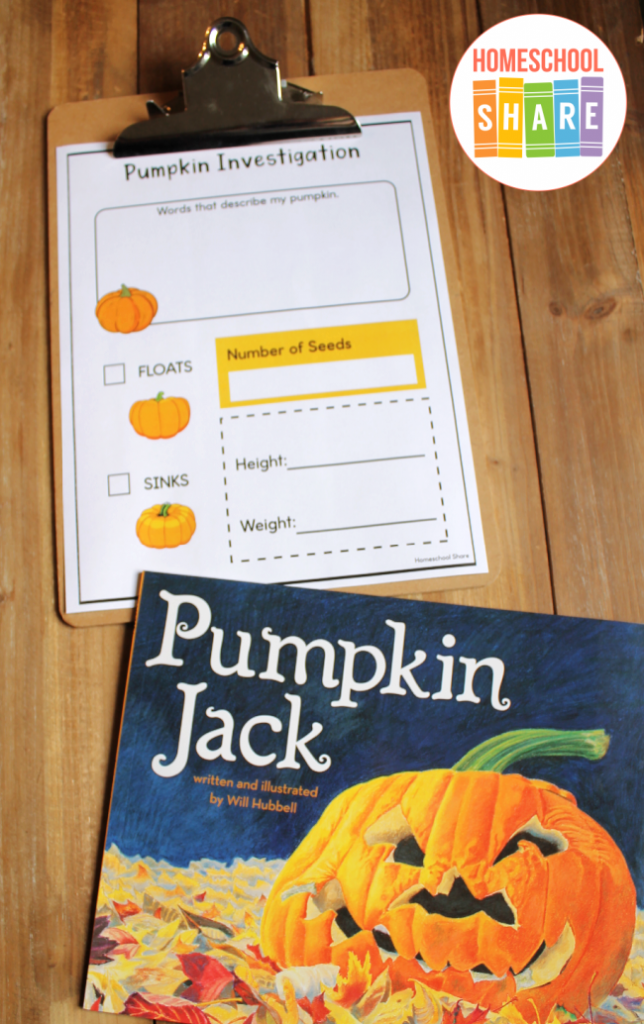 Parts of a Pumpkin Diagram Cut and Paste Activity
Life Cycle of a Pumpkin Diagram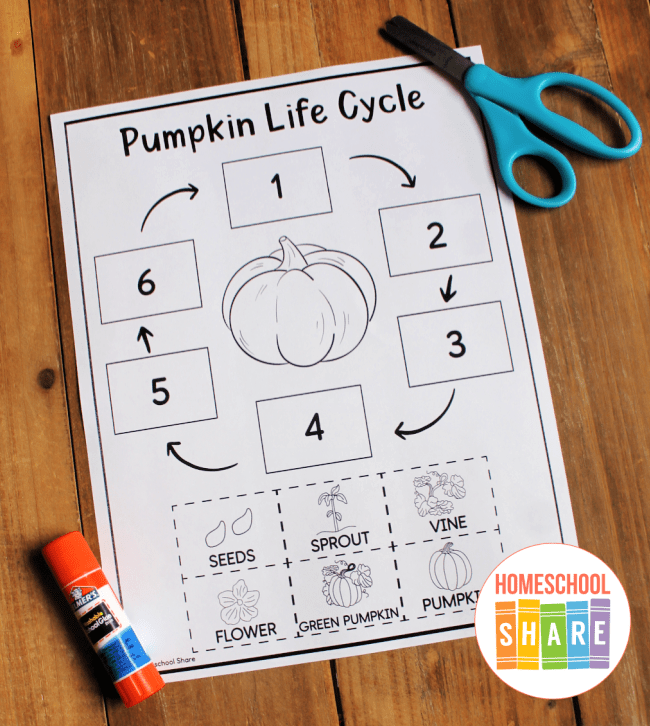 Pumpkin Facts (True or False) Activity Page
Make a Jack-o-Lantern
Cut and Paste Pumpkin Activity
Life Cycle of a Pumpkin Activity Page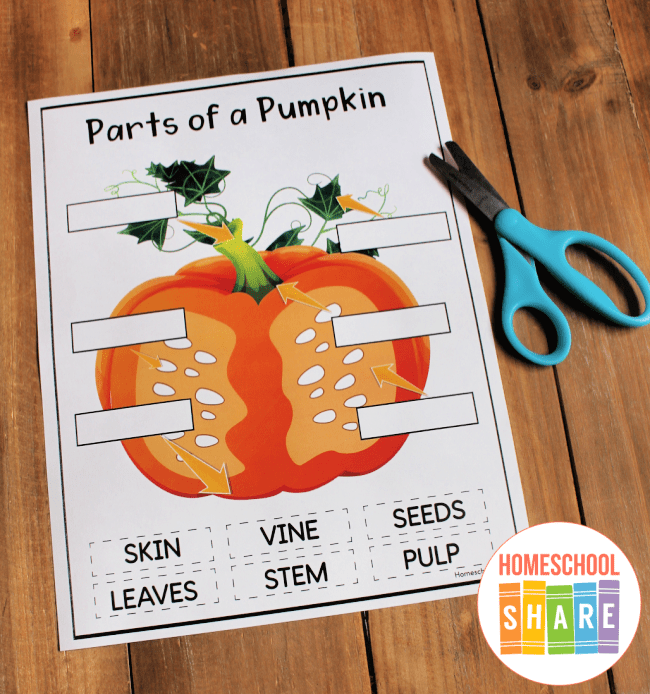 How to Get Started with the Pumpkin Jack Activities & Printables
Follow these simple instructions to get started with the Pumpkin Jack unit study.
Buy a copy of the book, Pumpkin Jack, or borrow one from your local library.
Print the Pumpkin Jack unit study.
Choose the lessons you want to use with your student (a highlighter works great for this).
Choose the pumpkin printables you want to use with your student.
Enjoy a week of memory-making learning with your student.
Download Your Free Pumpkin Jack Book Activities
Subscribe to the newsletter using the form below to grab your free Pumpkin Jack Book Activities and Pumpkin Printables.
More Pumpkin Printables and Resources for Your Student
Learn even more about pumpkins with these resources.