Affiliate Disclaimer
We sometimes use affiliate links in our content. This won't cost you anything, but it helps us to keep the site running. Thanks for your support.
Maisie Ferris and her parents are interested in new ideas and the world beyond their small town of Galesburg, Illinois, even though their neighbors frown on anything too different. When a visiting journalist from England tells Maisie he has never heard of popcorn, Maisie and her father come up with the wild idea of growing popcorn and selling it overseas. Their plan is a success, and Maisie's dreams of selling popcorn in England and meeting Queen Victoria come true.

from the Popcorn at the Palace summary at amazon.com
This Popcorn at the Palace unit study is crammed full of lessons for your student; you'll learn about pioneers, inventors, map skills, seeds, popcorn, figures of speech, choosing names for characters, magazines, measurement, and more!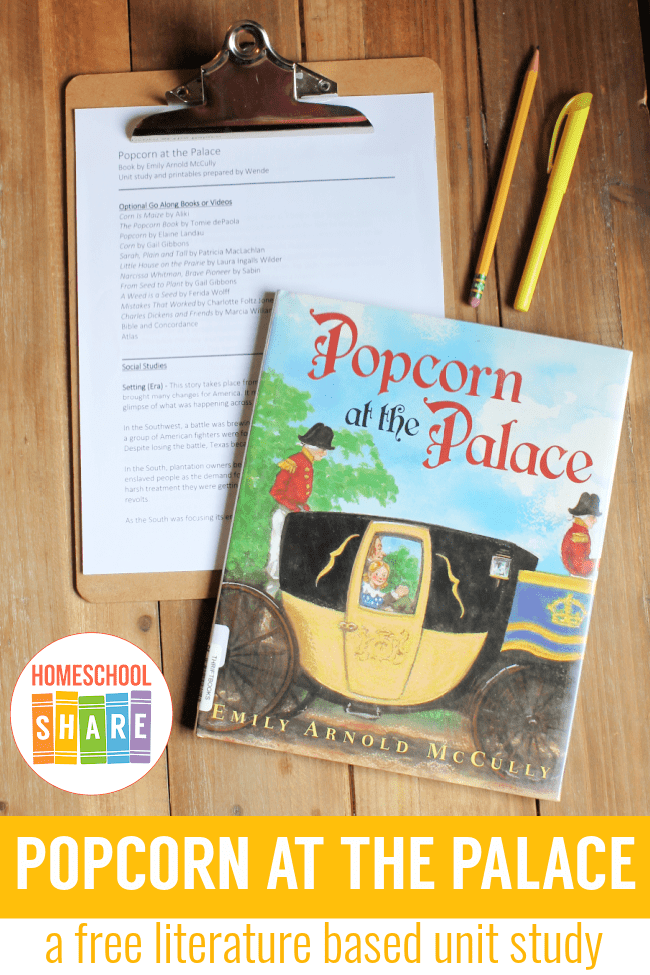 Thanks to Wende for preparing this Popcorn at the Palace unit study.
Popcorn at the Palace Unit Study Lessons
This unit study includes lessons and activities based on the book Popcorn at the Palace by Emily Arnold McCully.
Here is a sample of the lessons found in this Popcorn at the Palace unit study:
Science: Inventors and Inventions
Olmsted Ferris was an inventor. He invented a machine for threshing the seed out of the mustard and canary grass. He was always thinking and tinkering, trying to come up with the next great invention. Many people didn't understand Olmsted and his adventurous, open-minded attitude. That is, until he was actually successful. Fill out an Inventor Trading Card for Olmsted Ferris. Many inventors throughout history were treated the same way. They were ostracized for thinking outside the norm. Discuss with your child how to think like an inventor. Inventors take the time to dream, relax and tinker. They take chances, overcome failures, and learn from their mistakes. A fun book to read about inventions is Mistakes That Worked by Charlotte Foltz Jones. Encourage your child to come up with an invention of his own. To decide what kind of item he would like to invent, have your child ponder these questions: How will it work? Are there any others like it? Who needs your invention? What is your goal (make people's lives easier, save lives, advance science, make money, etc.)? What will it be named? How much will you sell it for? After going through the brainstorming process, let your child construct his invention and demonstrate how it works.

The people of Galesburg, Illinois did come around to Olmsted's way of thinking, and started dreaming up their own inventions and enterprises. Your child may be interested to know that it was the nephew of Olmsted Ferris, George Washington Gale Ferris, Jr. (1859 – 1896) who invented the Ferris Wheel!
Science: Seeds
Olmsted Ferris was excited by the beautiful wild prairie flowers, and he grew mustard, canary grass, and corn. These are all plants that start out as a single seed. A seed is a little package of plant life. A seed coat protects the inside embryo, which is the baby plant. Explain to your child how not all seeds will grow though. They need air, plenty of water, and the right temperature and amount of light to begin to grow, or germinate.
After the seed germinates, the root grows down into the soil, and the shoot grows up towards the sun. The leaves, buds, and flowers grow from this new shoot. The richer and more fertile the soil is (like that of Illinois), the healthier the plant will be. If possible, show your child a mustard seed (can be found in spice section of grocery store), a canary seed (in bird food), and a corn seed (the kernel that you eat is the seed), as well as some wild flower seeds. Let him plant a seed in some soil, water and watch it. Extend your study of plants into how seeds travel, the process of photosynthesis, the foods that come from seeds, and plant life cycle.
Cooking: Caramel Popcorn!
You will want to make some popcorn to eat during this unit. For an extra special treat, make some caramel popcorn:
Heat together in large pot, stirring constantly:
½ cup corn syrup
½ cup packed brown sugar
¼ cup butter
½ teaspoon salt
Add 8 cups of popped popcorn, stirring until popcorn is well coated. Mix in 1 cup pecan halves and ½ cup slivered almonds. Spread mixture onto buttered cookie sheet. Bake at 300° for 15 minutes. Cool for 10 minutes, loosen mixture from cookie sheet, and let stand for 1 hour to harden (if you can wait that long!).
You can grab a copy of the entire Popcorn at the Palace unit study in an easy-to-print file at the end of this post.
Popcorn at the Palace Unit Study Printables
In addition to the lessons, this Popcorn at the Palace unit study includes the following printables:
Corn Notebook Page
Corny Math Riddles Page
Popcorn Notebook Page
Inventors Trading Cards
Pioneer Notebook Page
Queen Victoria Notebook Page
Copywork Pages
Practicing 7s Multiplication Facts
Transportation Cards
Popcorn at the Palace Word Search
Measuring the Volume of Popcorn Experiment Page
Graph Paper
How to Get Started with the Popcorn at the Palace Unit Study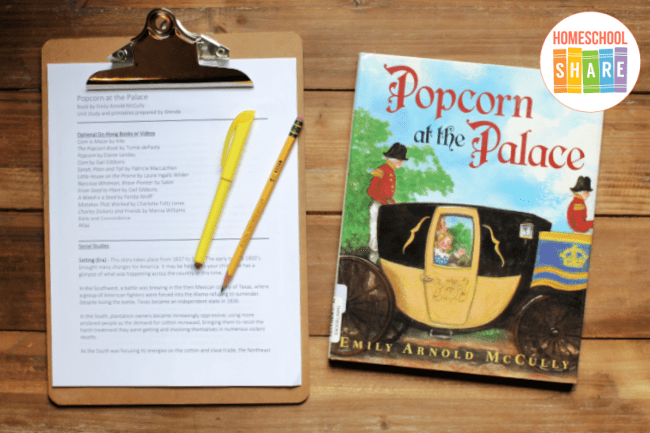 Follow these simple instructions to get started with the Popcorn at the Palace unit study.
Buy a copy of the book, Popcorn at the Palace, or grab one from your local library.
Print the Popcorn at the Palace unit study.
Choose the lessons you want to use with your student (a highlighter works great for this).
Enjoy a week of book-based learning with your student.
Download Your Free Popcorn at the Palace Unit Study
Simply click on the image below to grab the free Popcorn at the Palace unit study.
Other Unit Studies Based on Emily Arnold McCully Books
If your student enjoyed Popcorn at the Palace, check out these other unit studies based on books by the same author.