Affiliate Disclaimer
We sometimes use affiliate links in our content. This won't cost you anything, but it helps us to keep the site running. Thanks for your support.
This unit study includes lessons and activities based on the book Miss Twiggley's Tree by Dorothea Warren Fox.
Why did Miss Twiggley live in a tree? Why did she send her dog, Puss, out to do the shopping? Why did she always run away and hide when people came to visit? And it was rumored that Miss Twiggley had even more peculiar habits . . .

Old Miss Twiggley, Was friendly with bears. "They shed on the sofa," she said, "But who cares?"

And was it true, as the mayor's wife had heard, that she actually slept in her hat? "Simply disgraceful!" they said. But when a hurricane hits the town and the water rises, everyone is grateful to Miss Twiggley and her tree. Even better, Miss Twiggley herself learns a very important lesson, with a warm and happy ending.

from Miss Twiggley's Tree at amazon.com
Our Miss Twiggley's Tree unit study is packed full of great lessons: Noah's Ark, Kindness, Hospitality, Law, Hurricanes, Wind, Buoyancy, Trees, Rainbows, Calendar, Graphing, Playing Store, and more!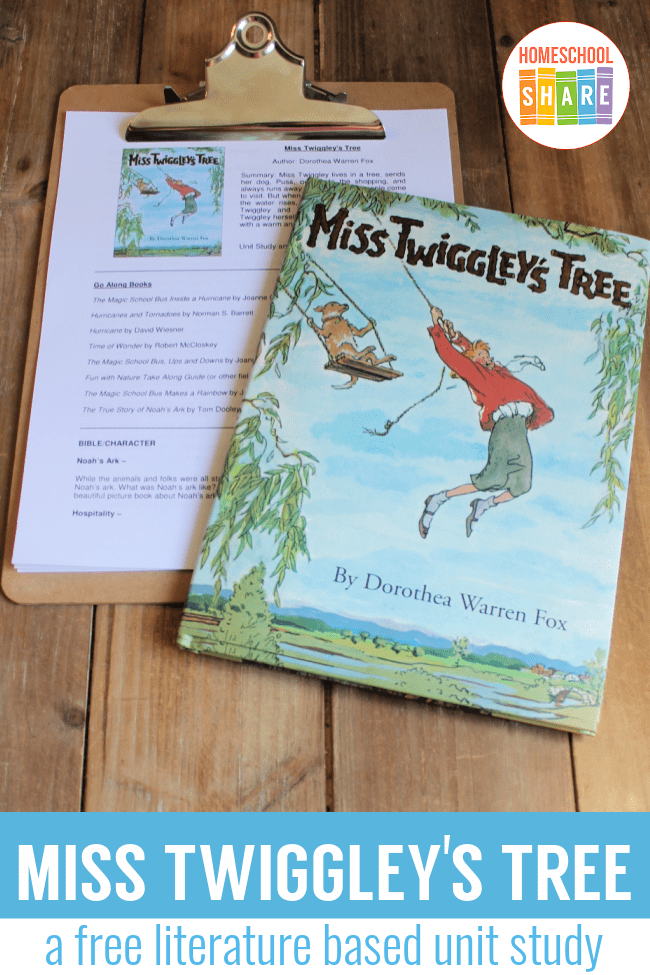 Thanks to Wende for preparing this Miss Twiggley's Tree unit study.
Miss Twiggley's Tree Unit Study Lessons
Here is a sample of the lessons found in this Miss Twiggley's Tree unit study:
Science: Hurricanes
The mayor feared that the town was in for a wild hurricane. Hurricanes are powerful, whirling storms. They form over the warm oceans close to the equator and can travel hundreds of miles. As the sun heats up the seas, warm water vapor rises into the air forming large thunderclouds.
Wind causes the masses of clouds to whirl strongly. The hurricanes move across the ocean creating huge waves that can crash on the shore. Often times, the hurricane never makes it to land. When they do come to land, they bring high, destructive winds and heavy rains.
Science: Spyglass
Puss used a spyglass, also called a telescope, to look for the coming guests.
Telescopes were first invented about 400 years ago to make objects appear closer than they were. Telescopes such as the one invented by Galileo in 1609 were "refracting telescopes". They had two lenses,
a larger objective lens and a smaller ocular lens, which was held near the eye. Rays of light would enter through the objective lens, and as they passed through the second lens, the light was bent again to magnify the image. The image, while appearing to be up to 33X closer, actually appeared backward and upside down. This design was later improved by the addition of mirrors.
Just for fun, maybe your child would like to make a spyglass out of cardboard tubes from paper towels or gift wrap.
Language Arts: Poetry
This fun story is written in verse. Did your child enjoy having it read to him? The story is actually one big poem. Discuss with your child the parts of a poem:
Title – Usually at the top of the work, some poems have a title and some don't. The title of this poem is the same as the title on the book, Miss Twiggley's Tree.
Stanza – A stanza is a group of lines in a poem, often separated by a space. Have your child look for the stanzas throughout the book.
Line – Poems are made of lines. Stanzas sometimes organize lines. Each of the stanzas in this poem has four lines, except for a couple occasions. Can your child find the stanzas that don't have four lines?
Rhyme scheme – Pattern of rhyming lines is called the rhyme scheme. Not all poems have a rhyme scheme, but this one does. Every second and fourth lines rhyme.
Poet – Usually you will find the author's name at the bottom of the poem, but on occasions where the poem is made into a book, you'll usually find it on the cover and title page. Have your child locate the name of the poet.
To access all of the lessons in this Miss Twiggley's Tree unit study, you can grab a copy at the end of this post.
How to Get Started with the Miss Twiggley's Tree Unit Study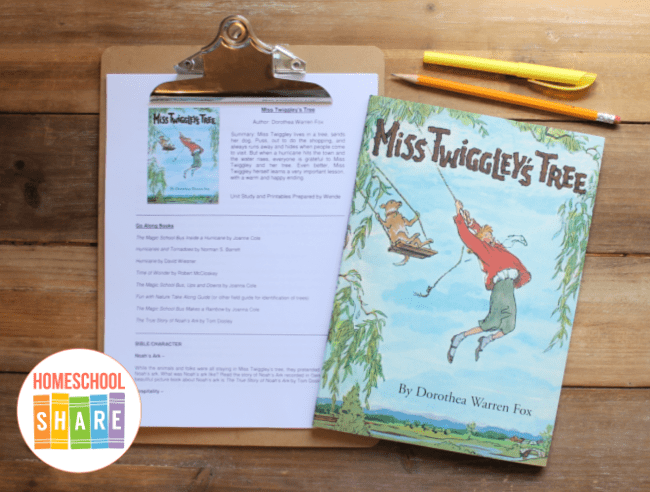 Follow these simple instructions to get started with the Miss Twiggley's Tree unit study:
Buy a copy of the book, Miss Twiggley's Tree, or borrow one from your local library.
Print the Miss Twiggley's Tree unit study.
Choose the lessons you want to use with your student (a highlighter works great for this).
Enjoy a week of book-based learning with your student.
Download Your Miss Twiggley's Tree Unit Study
Simply click on the image below to grab the free Miss Twiggley's Tree unit study.