Affiliate Disclaimer
We sometimes use affiliate links in our content. This won't cost you anything, but it helps us to keep the site running. Thanks for your support.
Miss Tizzy is a wonderful book, and it serves as the base for the variety of lessons in our Miss Tizzy unit study. You can pick and choose from lessons on titles, character, using a thesaurus, elements of a story, patterns, puppets, birds, wildflowers, recycling, stars, weather, simple machines, the history of crayons, and even the history of roller skates! Don't miss this amazing book and study.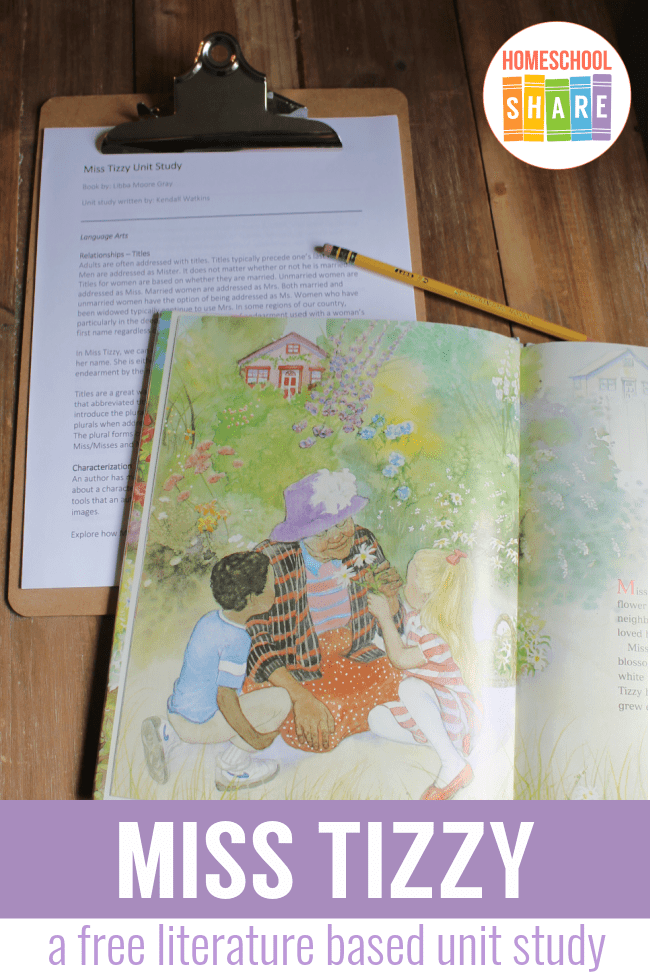 Thanks to Kendall Watkins for preparing this Miss Tizzy unit study.
Miss Tizzy Unit Study Lessons
This unit study includes lessons and activities based on the book Miss Tizzy by Libba Moore Gray.
Here is a sample of the lessons found in this Miss Tizzy unit study:
Language Arts: Characterization
An author has many tools available with which to develop and provide information about a character. Descriptive words are used. Visual text or illustrations are other tools that an author can use. Visual text is when information is conveyed with images.

Explore how Miss Tizzy is described in words as well as what the reader learns about her through the visual text. Miss Tizzy is described as peculiar in the opening paragraph. Take time to examine the title page and the following page with Miss Tizzy sitting on the ground accompanied by the children picking flowers. Have your student point out things he finds different or peculiar about Miss Tizzy. We can infer from the text and images that Miss Tizzy is eccentric based on her clothing and house. She is also sort of a free spirit who marches to the beat of her own drum because she has a colorful house with a wild yard in the midst of conservative whites houses with manicured lawns. She also wears colorful mixed patterns at the same time with high top tennis shoes.
Social Studies: Relationships (Cross-generational Friendships)
A generation is the number of years between the birth of parents and the birth of their children. This number of years is 30 on average for human beings. It appears that Miss Tizzy is two generations older than the neighborhood children because she looks as if she is old enough to be their grandmother. Count how many generations are living in your family as an example.

Most often people develop friendships with people of their same generation; however, sometimes friendships develop between people of different generations. Such is the case in Miss Tizzy. Miss Tizzy has taken an interest in and befriended the neighborhood children. They genuinely enjoy her friendship as does she enjoy theirs. Look for word and visual clues that demonstrate the fact that they enjoy each other. Some possibilities include the fact that she engages them in daily activities, allows them to pick flowers and lick the bowl when baking. The children provide Miss Tizzy with company and laughter. Cross-generational friendships are often wonderful because each generation can share its experiences, teach the other something, as well as learn from the other.

There are several clues that Miss Tizzy is from an older generation than the children. Help your student identify them. For example, Hiram sits across Miss Tizzy's neck like an old fur piece and is reminiscent of the 1940s when women's fur stoles were popular; Miss Tizzy has old-fashioned shoe skates; She has a feather mattress and has a doctor who makes house visits.
Math: Measurements
Miss Tizzy and the children baked cookies on Mondays. Use your favorite cookie recipe to introduce fractions and to practice measuring. A fraction is part of a whole. The parts make up a whole. Alternatively, you can make pink lemonade like the children did on Fridays.
To access all of the lessons in this Miss Tizzy unit study, grab an easy-to-print file at the end of this post.
How to Get Started with the Miss Tizzy Unit Study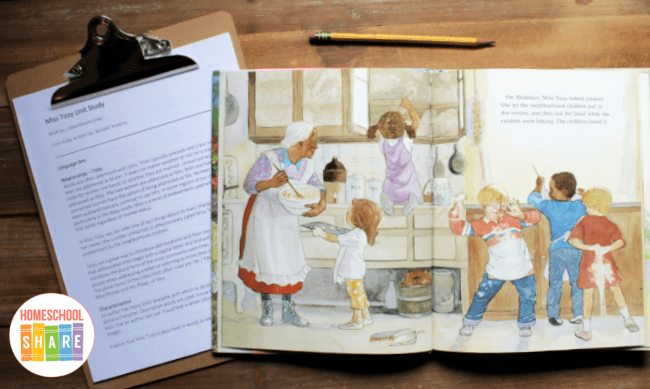 Follow these simple instructions to get started with the Miss Tizzy unit study:
Buy a copy of the book, Miss Tizzy, or grab one from your local library.
Print the Miss Tizzy unit study.
Choose the lessons you want to use with your student (a highlighter works great for this).
Enjoy a week of book-based learning with your student.
Download Your Miss Tizzy Unit Study
Simply click on the image below to grab the Miss Tizzy unit study.
More Unit Studies for Your Student
If you enjoy Miss Tizzy, check out these other literature based unit studies: