Affiliate Disclaimer
We sometimes use affiliate links in our content. This won't cost you anything, but it helps us to keep the site running. Thanks for your support.
Are you looking for an engaging activity to add to your insect or ladybug theme?
Review colors, build words, and challenge your student to be creative with these Ladybug Color Word Playdough Mats.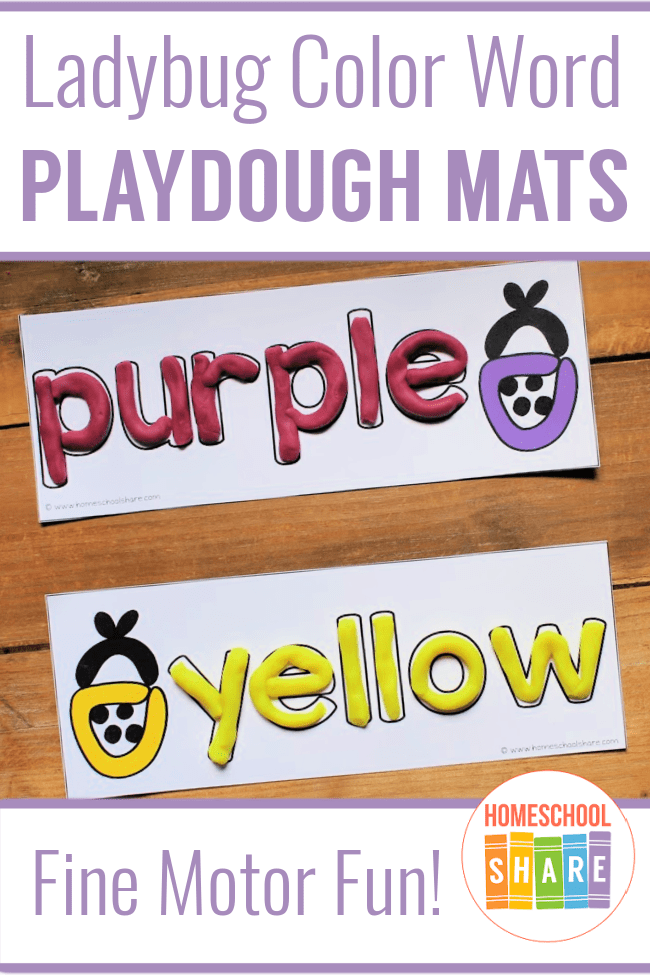 The ladybug color word playdough mats includes these ten colors: blue, orange, green, red, yellow, purple, pink, brown, black, and white.
How to Use the Ladybug Color Word Playdough Mats
The ladybug color word playdough mats are simple to use.
Print the ladybug color word playdough mats.
Laminate the mats or put them in dry erase pockets.
Get out a variety of colors of playdough.
Show your student how roll the dough into long snake-like shapes. Form the lines of dough into the letters of the color word on the playdough mat.
Let your student go for it!
You can use this time to review colors and practice learning letters (and even some letter sounds).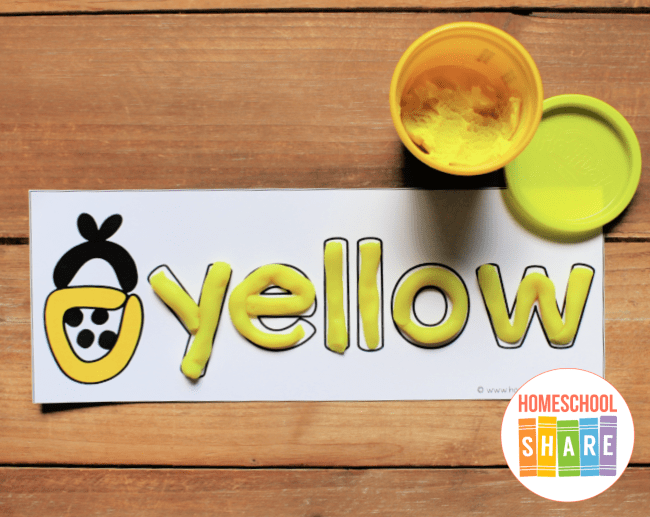 Benefits of Playing with Playdough
Playdough is a great toy for your preschool or kindergarten student. It provides several benefits:
Strengthens Grip
Squeezing, squishing, and warming up the playdough helps to strengthen your student's grip.
Builds Fine Motor Skills
Rolling the dough into the snake-like shape and using it to fill the color word helps build your student's fine motor skills.
Boosts Creativity
After your student builds the ladybug color words, challenge her to create something out of that color of playdough. Can she make a purple ladybug? What other things are purple? (violet, grapes, lilac, plum, kite, octopus, etc.) Encourage her to use her imagination to build other purple things.
These cards are unlike most of our other color word playdough mats; these include images to create playdough ladybugs. Maybe your student can use his creative thinking skills to make ladybugs and other insects with playdough. The options for playdough play are endless!
Download the Ladybug Color Word Playdough Mats
To access the Ladybug Colors Playdough Mats, subscribe to Homeschool Share's email list by using the form below.
More Insect Themed Resources
Learn all about insects with our resources at Homeschool Share. Here are a few additional ladybug themed resources for your preschool or kindergarten student.