Affiliate Disclaimer
We sometimes use affiliate links in our content. This won't cost you anything, but it helps us to keep the site running. Thanks for your support.
This unit study includes lessons and activities based on the book Goin' Someplace Special by Patricia C. McKissack.
There's a place in this 1950s southern town where all are welcome, no matter what their skin color…and 'Tricia Ann knows exactly how to get there. To her, it's someplace special and she's bursting to go by herself. But when she catches the bus heading downtown, unlike the white passengers, she must sit in the back behind the Jim Crow sign and wonder why life's so unfair.

Still, for each hurtful sign seen and painful comment heard, there's a friend around the corner reminding 'Tricia Ann that she's not alone. And her grandmother's words—"You are somebody, a human being—no better, no worse than anybody else in this world"—echo in her head, lifting her spirits and pushing her forward.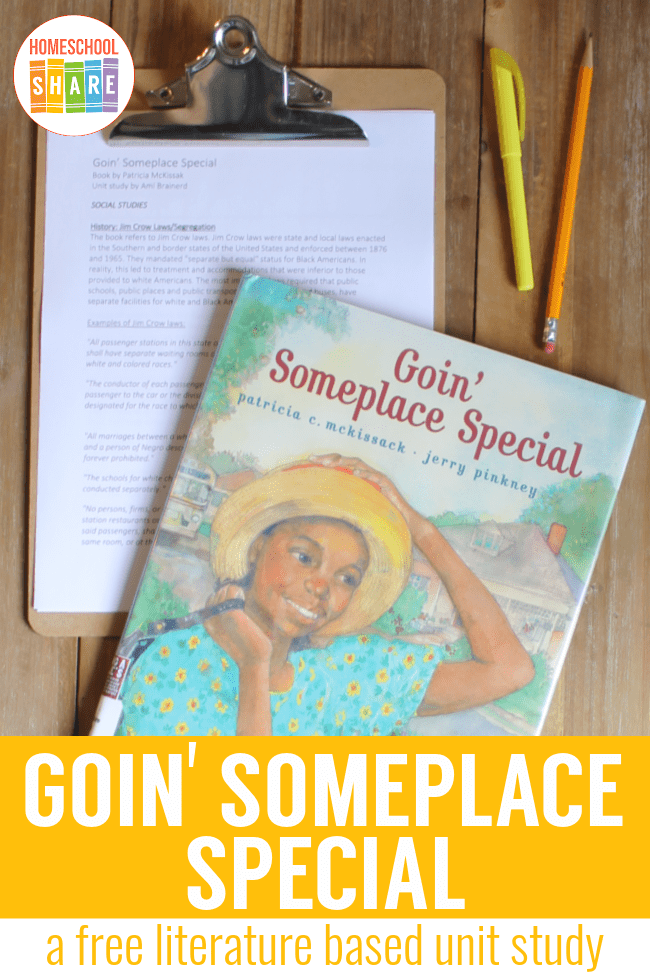 Goin' Someplace Special Unit Study Lessons
Here is a sample of the lessons found in this Goin' Someplace Special unit study:
History: Libraries
A library is a place where books, magazines, and records are kept for use but not for sale. It is maintained by a public body, institution, or private individual.
The first libraries open to the public were the collections of Greek and Latin scrolls which were available in the dry sections of the many buildings that made up the huge Roman baths of the Roman empire. However, they were not lending libraries. The "halls of science" run by different Islamic sects in many cities of North Africa and the Middle East in the 9th century were open to the public. Some of them had written lending policies, but they were very restrictive. William James Sidis claims the public library is an American invention and states that the first town library was established in Boston, MA in 1636 (the library is still in existence!).

The Library Company of Philadelphia was founded in 1731 by Benjamin Franklin and a group of his friends as a means to settle arguments. The subscription library was born. A subscription library allowed individuals to buy "shares." The money raised from the sale of shares went into buying more books. A member or shareholder then had rights to use the library.
Discuss with your student how this is different from the library you use today. How do libraries afford to exist?
History: Jim Crow Laws/Segregation
The book refers to Jim Crow laws. Jim Crow laws were state and local laws enacted in the Southern and border states of the United States and enforced between 1876 and 1965. They mandated "separate but equal" status for Black Americans. In reality, this led to treatment and accommodations that were inferior to those provided to white Americans. The most important laws required that public schools, public places and public transportation, like trains and buses, have separate facilities for white and Black Americans.

Examples of Jim Crow laws:
"All passenger stations in this state operated by any motor transportation company shall have separate waiting rooms or space and separate ticket windows for the white and colored races."
"The conductor of each passenger train is authorized and required to assign each passenger to the car or the division of the car, when it is divided by a partition, designated for the race to which such passenger belongs."
"All marriages between a white person and a Negro, or between a white person and a person of Negro descent to the fourth generation inclusive, are hereby forever prohibited."
"The schools for white children and the schools for Negro children shall be conducted separately."
"No persons, firms, or corporations, who or which furnish meals to passengers at station restaurants or station eating houses, in times limited by common carriers of said passengers, shall furnish said meals to white and colored passengers in the same room, or at the same table, or at the same counter."
"All persons licensed to conduct a restaurant, shall serve either white people exclusively or colored people exclusively and shall not sell to the two races within the same room or serve the two races anywhere under the same license."
"It shall be unlawful for any amateur white baseball team to play baseball on any vacant lot or baseball diamond within two blocks of a playground devoted to the Negro race, and it shall be unlawful for any amateur colored baseball team to play baseball in any vacant lot or baseball diamond within two blocks of any playground devoted to the white race."
Discuss discrimination with your student. Did these laws make things separate but EQUAL? Have your student identify examples of discrimination throughout Goin' Someplace Special.
You can grab a copy of the entire Goin' Someplace Special unit study in an easy-to-print file at the end of this post.
How to Get Started with the Goin' Someplace Special Unit Study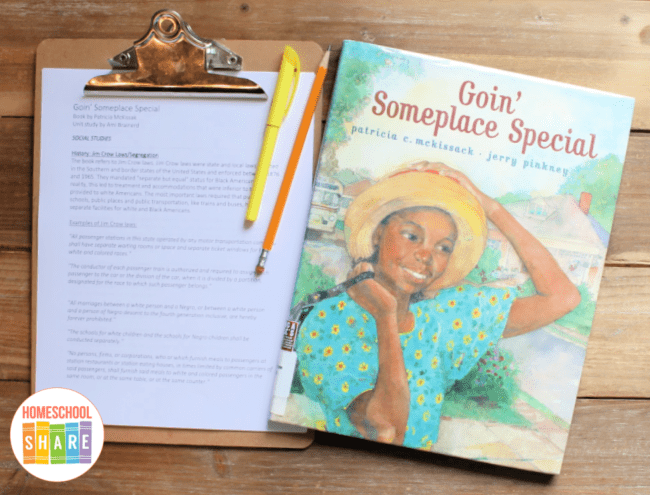 Follow these simple instructions to get started with the Goin' Someplace Special unit study:
Buy a copy of the book, Goin' Someplace Special, or grab one from your local library.
Print the Goin' Someplace Special unit study.
Choose the lessons you want to use with your student (a highlighter works great for this).
Enjoy a week of book-based learning with Goin' Someplace Special.
Download Your Free Goin' Someplace Special Unit Study
Simply click on the image below to grab the free Goin' Someplace Special unit study.
Related Resources