Affiliate Disclaimer
We sometimes use affiliate links in our content. This won't cost you anything, but it helps us to keep the site running. Thanks for your support.
Earthworms are everywhere, and they are a fantastic study for kids. Grab some worms (real and gummy!) and get started with our free earthworms worksheets.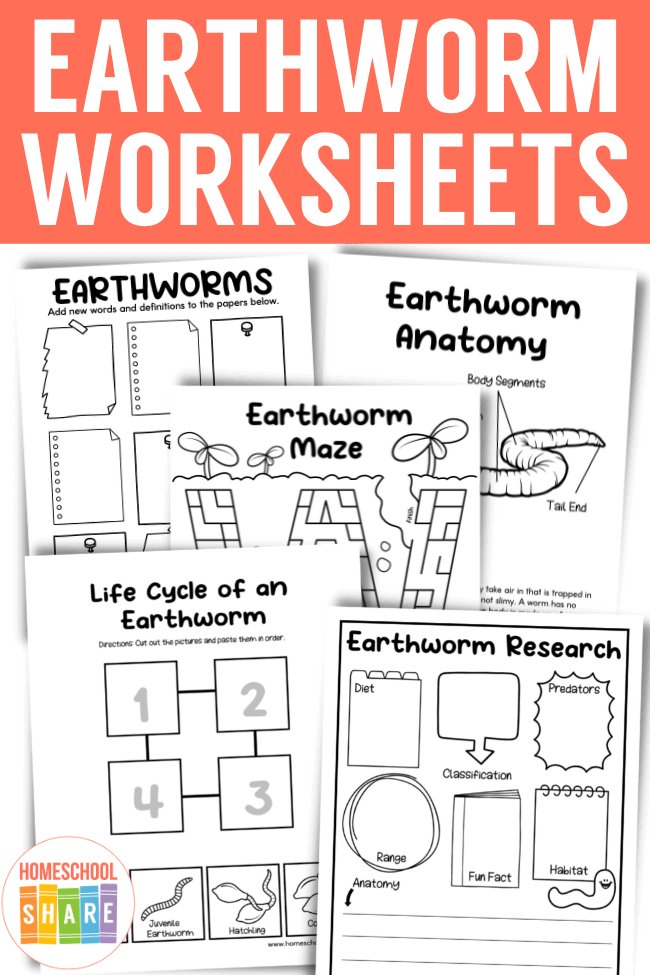 What's Included in the Earthworm Worksheets?
You'll find a variety of activity pages and worksheets in the set. Pick and choose what works best for your child.
Life Cycle of an Earthworm
You can use this as a coloring page to introduce the earthworm's life cycle to your student.
Life Cycle of an Earthworm Activity Page
Color, cut, and paste to review the earthworm's life cycle.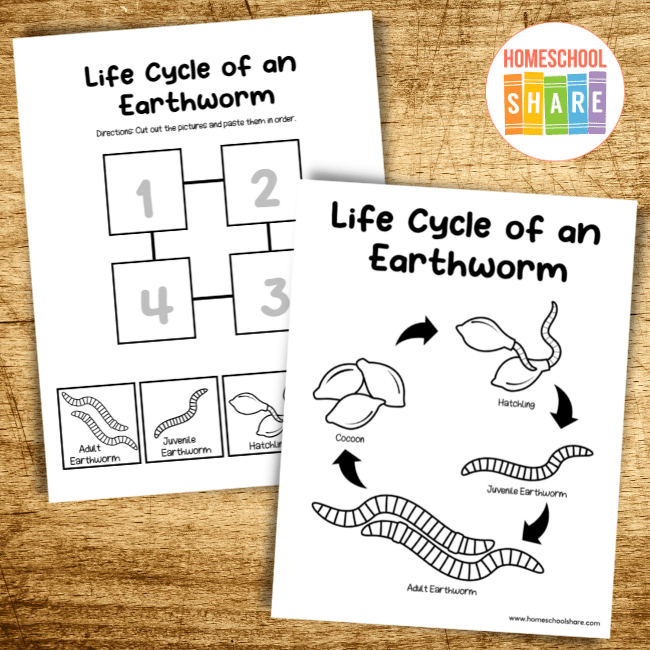 Earthworm Anatomy
Learn basic worm anatomy with this page. You can read through the information with your student, and your student can color the picture of the earthworm.
Label an Earthworm Activity Page
Color, cut, and paste to compete this simple earthworm diagram.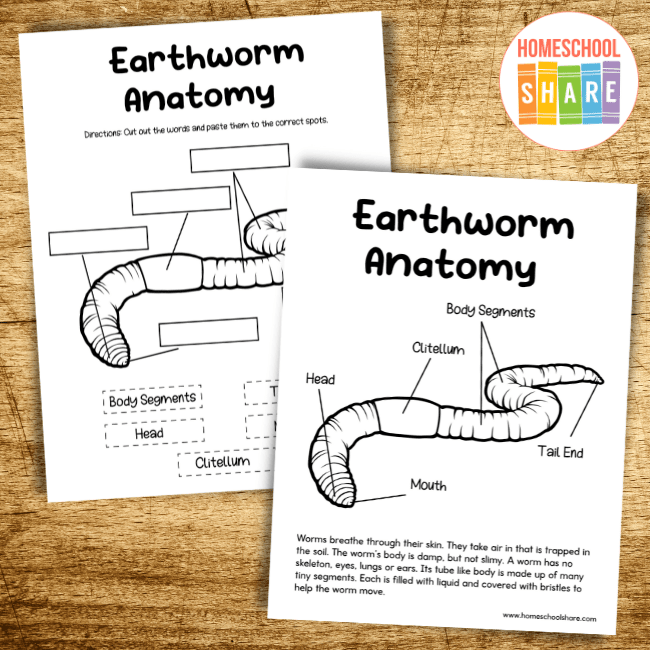 Earthworm Maze
This activity is great for fine motor skills.
Worm Observations Worksheet
Give your student a worm to observe. Your student will engage her senses as she makes new discoveries and observations about earthworms.
Compare and Contrast Worksheet
Compare an earthworm to a gummy worm! They may have more in common than you think. Your student will use observation skills and critical thinking skills to complete the Venn diagram.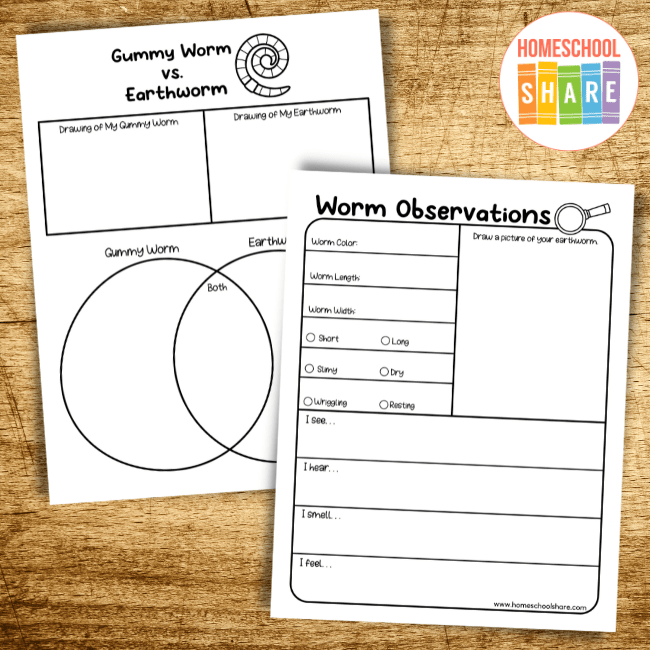 Earthworms Vocabulary Worksheet
Record new words and definitions on this page.
Earthworm Research Worksheet
Research earthworm facts and record findings on this page.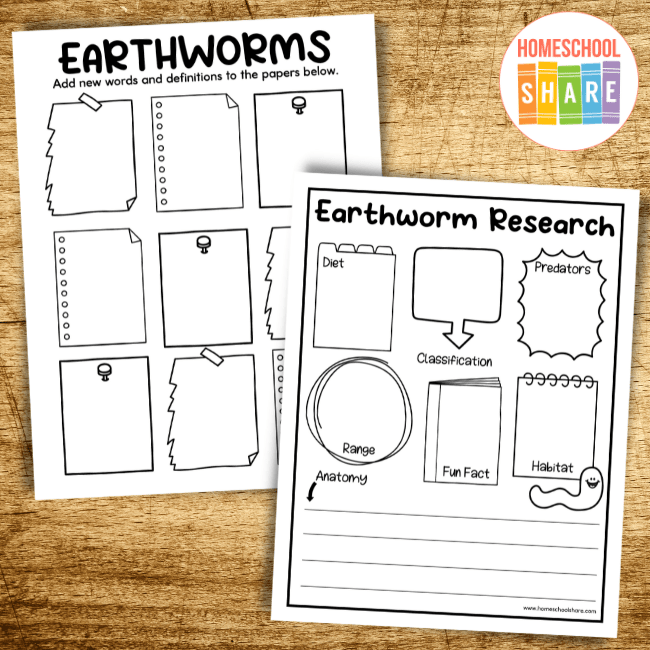 Earthworm Word Find
Let your student search for the worm words. Can your student use each word in a sentence?
Earthworms Word Fun Worksheet
How many words can your student find in the word earthworm? (Answers will vary: earth, worm, hot, ear, art, smart, and more!)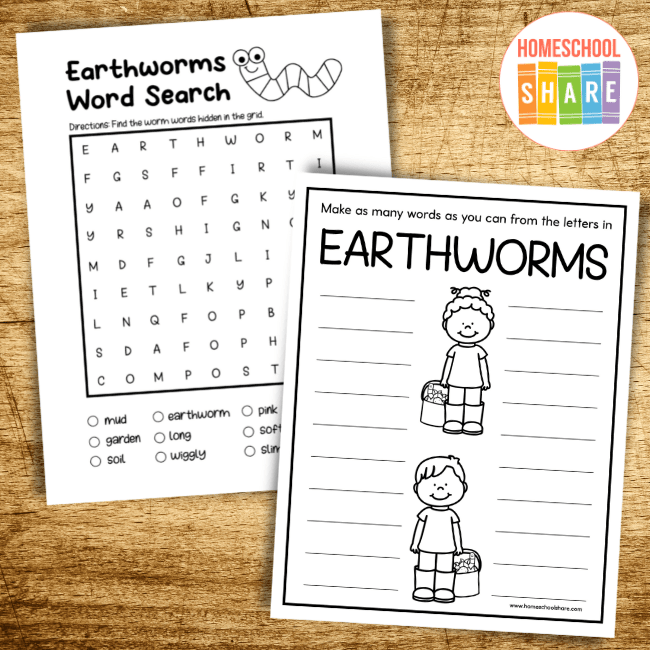 Earthworm Research
Your student will need to research in order to complete a few of the notebook pages. You can check out a variety of books about earthworms at your local library, or you can use reliable websites.
Here are a few recommended websites for your worm research:
How to Get Started with the Earthworm Activity Sheets
Print the pages you think will interest your student.
Grab some books from the library or show your student how to use reliable websites for research.
Let your student complete the pages.
Three-hole punch the pages and add them to a folder or binder to create a – Notebook, a portfolio your student will be proud to display and show off!
Grab Your Free Set of Earthworm Worksheets
Use the form below to subscribe to the newsletter. Once you confirm, you'll receive an email with the link to the worm worksheets. If you are already confirmed, simply enter your email address below, and you will receive an email with the link.
Learn More About Worms and Soil
If this was a hit with your student, check out these related resources: