Affiliate Disclaimer
We sometimes use affiliate links in our content. This won't cost you anything, but it helps us to keep the site running. Thanks for your support.
This unit study includes lessons and activities based on the book Cocoa Ice.
In the late 19th century, American schooners brought ice, refined sugar, and other goods to Santo Domingo to exchange for cocoa and coffee beans, and out of that Appelbaum spins a fine story of two children who love chocolate ices.

from Kirkus Reviews
This parallel tale of two girls provides a fascinating look into the 1800s. Your student will love learning how ice and cocoa are harvested and how the lives of the two girls intertwine to bring them delicious treats.
Spend a week with our Cocoa Ice unit study and the many lessons that can be gleaned from the story.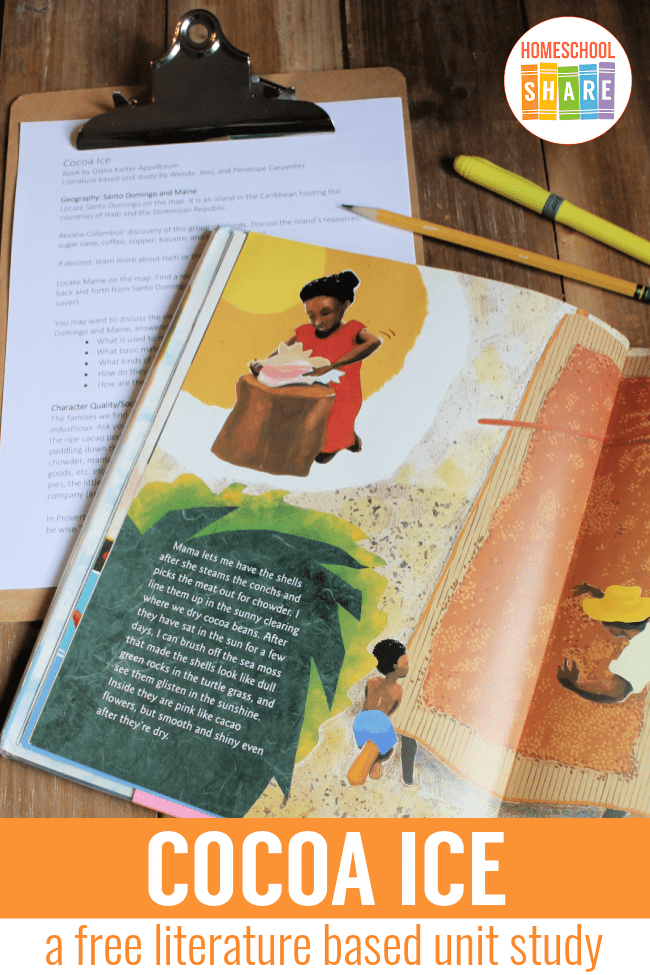 Thanks to Wende for preparing this Cocoa Ice unit study.
Note: Unfortunately, Cocoa Ice is out of print. It is worth finding, but if you can't find a reasonably priced copy, you can ask your local library if they will do an interlibrary loan for you.
Cocoa Ice Unit Study Lessons
Here is a sample of the lessons found in this Cocoa Ice unit study:
Science: Rainforests
A tropical rain forest is a forest that receives up to 32 feet of rain each year. They are located within a narrow region near the equator in Africa, South and Central America, and Asia. Discuss why they are important to our earth:
they support over half of the world's plant and animal life
about ¼ of the medicines we use come from plants of the tropical rainforests
play an important role in the climate control of our planet by affecting the wind, rainfall, humidity, and temperature. Within the rain forest, water, oxygen, and carbon are recycled. This natural recycling helps to reduce flooding, soil erosion, and air pollution.
In most countries there is a noticeable difference in seasons. Close to the equator, however, there are no seasons. Here people have much of the same kind of weather day after day throughout the entire year. This is true of the rainforests. It is hot ("always summer"), and some rainforests get 200 days of rain per year! Compare a rain forest's annual rainfall with the amount of rain you received in your region last year.
Science: Cacao Beans to (Hot) Chocolate
The book simply describes the process of turning the cacao plant into chocolate.
1. Plant a cacao tree in the shade
2. It grows pink flowers
3. Papa splits the pods open with his machete
4. We spread slippery beans and sticky sweet pulp on a carpet of banana leaves
5. They sit in the sun for a few hot days and begin to change color
6. We pick beans out of the smelly pulp
7. We spread the beans in the sun until they turn dark brown
8. We turn the beans every day until they are dry
9. Mama roasts them over a hot fire
10. She puts them in a mortar and they are crushed
11. We add water and sugar and cook it in a pot
Science: Tropical Fruit
The first few pages of this story mention lots of tropical fruits: coconut, papaya, mango, orange, banana, and guava among others. Which ones is your student familiar with? You could take a trip to the grocery store to find as many as possible (of the above mentioned) and make a fruit salad. If you don't want to do that, you could just get a coconut and let your student taste coconut milk. Is your student familiar with any tropical fruits that weren't mentioned in the story? (Pineapple? Star fruit? Passion fruit? Kiwi?).
You can grab a copy of the entire Cocoa Ice unit study in an easy-to-print file at the end of this post.
How to Get Started with the Cocoa Ice Unit Study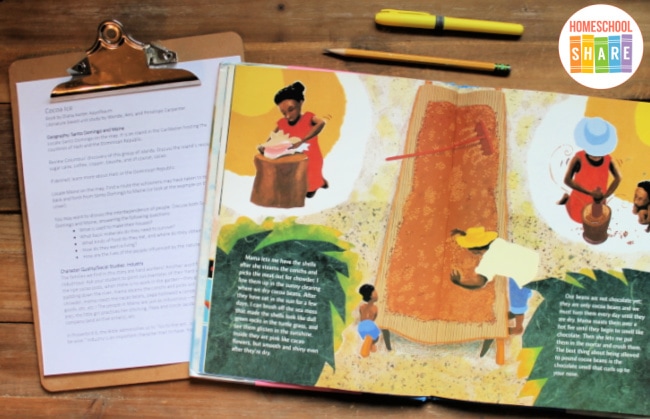 Follow these simple instructions to get started with the Cocoa Ice unit study:
Buy a copy of the book, Cocoa Ice, or grab one from your local library.
Print the Cocoa Ice unit study.
Choose the lessons you want to use with your student (a highlighter works great for this).
Enjoy a week of book-based learning with your student.
Download Your Cocoa Ice Unit Study
Simply click on the image below to grab the free Cocoa Ice unit study.