Affiliate Disclaimer
We sometimes use affiliate links in our content. This won't cost you anything, but it helps us to keep the site running. Thanks for your support.
This literature based unit study includes lessons and activities based on the book Chicken Man by Michelle Edwards.
Rody is in charge of the chicken coop on the kibbutz where he lives in Israel's Jezreel Valley. He loves his job so much and makes the work seem so delightful that everyone wants a chance to tend the brood. When they do, Rody is transferred elsewhere. But as Rody moves from job to job, the kibbutz learns it's not what you do, but how you do it that makes a difference.

from Chicken Man at amazon.com
This book provides oodles of lessons for your student in a variety of subjects. Grab our free Chicken Man unit study and start learning about Israel, chickens, estimation, cartooning, and more.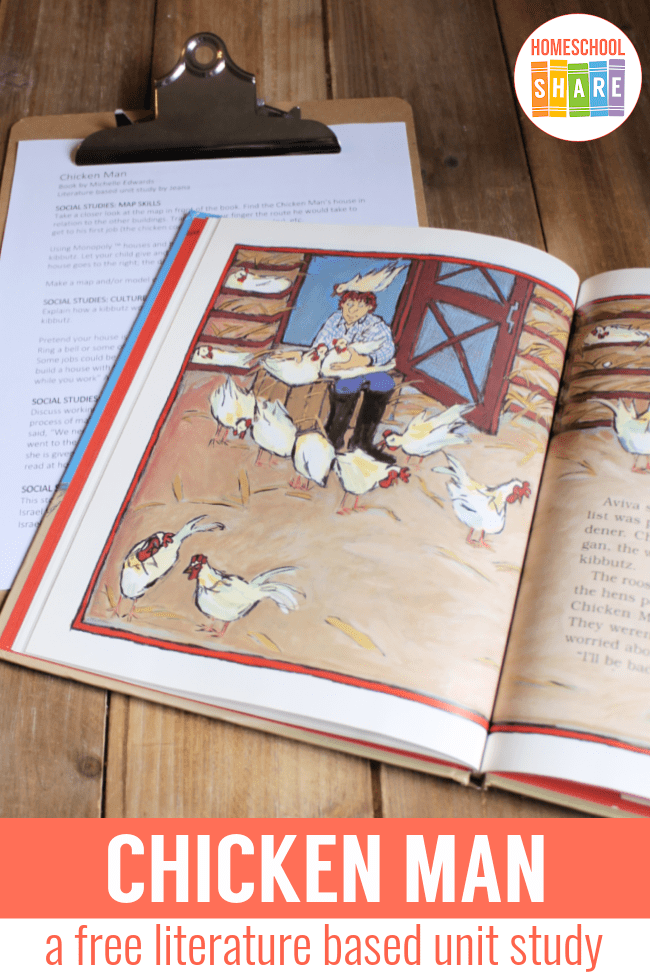 Thanks to Jeana for preparing this Chicken Man unit study.
Chicken Man Unit Study Lessons
Here is a sample of the lessons found in this Chicken Man unit study:
SOCIAL STUDIES: MAP SKILLS
Take a closer look at the map in front of the book. Find the Chicken Man's house in relation to the other buildings. Trace with your finger the route he would take to get to his first job (the chicken coop), his second job (laundry), etc.

Using Monopoly ™ houses and hotels or Lego ™ blocks, make a model of the kibbutz. Let your child give and follow directions by looking at the map. Example: The house goes to the right; the dairy is to the north, etc. Label each building.

Make a map or model of your own neighborhood.
LANGUAGE ARTS: CRITICAL THINKING SKILLS
Why do you suppose the workers were required to change jobs every so often? Do you think they made the right decision at the end to leave Chicken Man in the chicken coop? Do you think the other workers were happy about this? Why or why not? Create a "chores graph" for your household. Assign everyone a task for a certain amount of time and post in a central place.
ART: CARTOONING
Consider the cartoon-like illustrations in this book. Try drawing some cartoons of your own. Does chicken man look happy in the drawings? Try drawing happy characters. Look at some of the other characters. Do they look happy? Try expressing particular feelings through cartoon faces.
SCIENCE: GARDENING
Talk about the hard work involved in taking care of garden – weeding, mulching, and trimming. Act these things out. Or plant flowers and have a little garden or your own. Go outside and observe the different parts of a flower (stem, petals, leaves, stamen, and sepal).
You can grab a copy of the entire Chicken Man unit study in an easy-to-print file at the end of this post.
How to Get Started with the Chicken Man Unit Study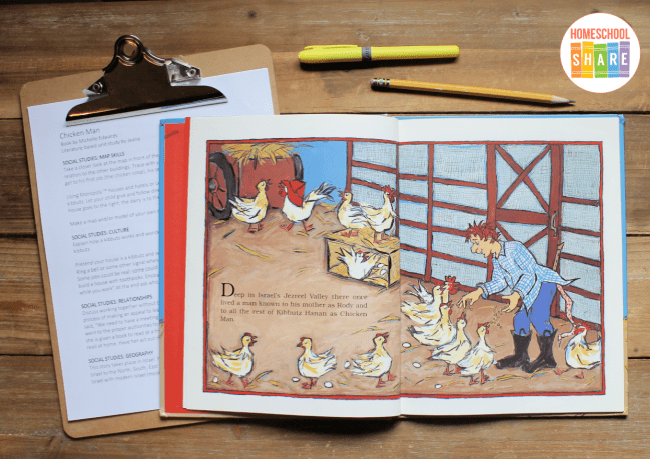 Follow these simple instructions to get started with the Chicken Man unit study:
Buy a copy of the book, Chicken Man, or grab one from your local library.
Print the Chicken Man unit study.
Choose the lessons you want to use with your student (a highlighter works great for this).
Enjoy a week of literature-based learning with your student.
Download Your Chicken Man Unit Study
Simply click on the image below to grab the free Chicken Man unit study.
Learn All About Chickens
Grab our free Chickens Lapbook and learn all about these farm animals.