Affiliate Disclaimer
We sometimes use affiliate links in our content. This won't cost you anything, but it helps us to keep the site running. Thanks for your support.
Do your preschool and kindergarten students ever need a break? Grab this set of free printable bug movement cards and help improve your student's focus with gross motor movements. You can find all of our movement cards here.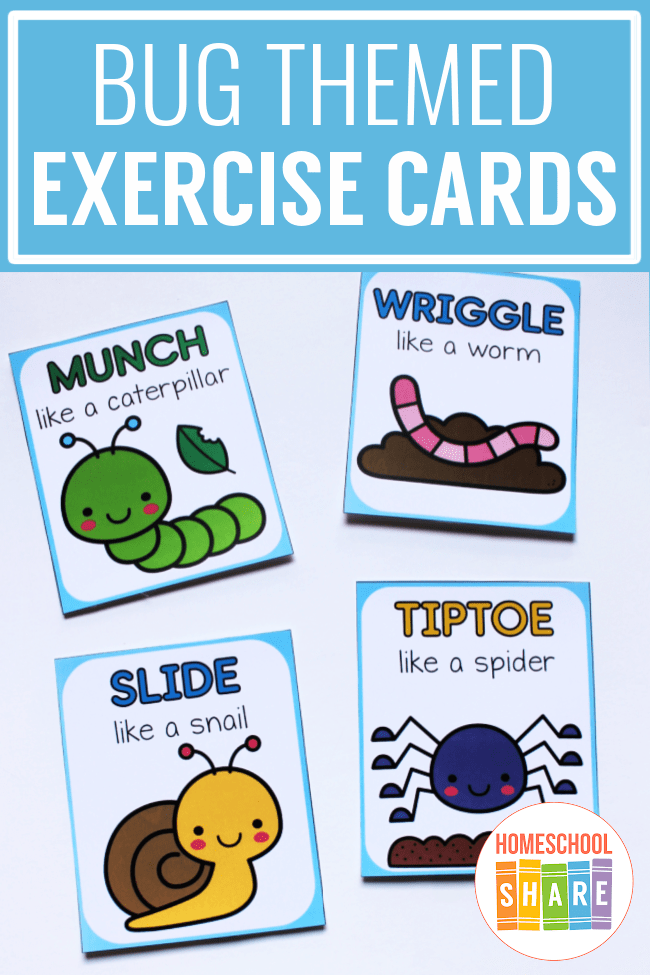 What's Included in the Bug Movement Cards?
The file includes 16 bug action cards with these exercises:
flutter like a butterfly
munch like a caterpillar
wriggle like a worm
wait like a cocoon
pollinate like a bee
zip like a housefly
crawl like an ant
buzz like a hive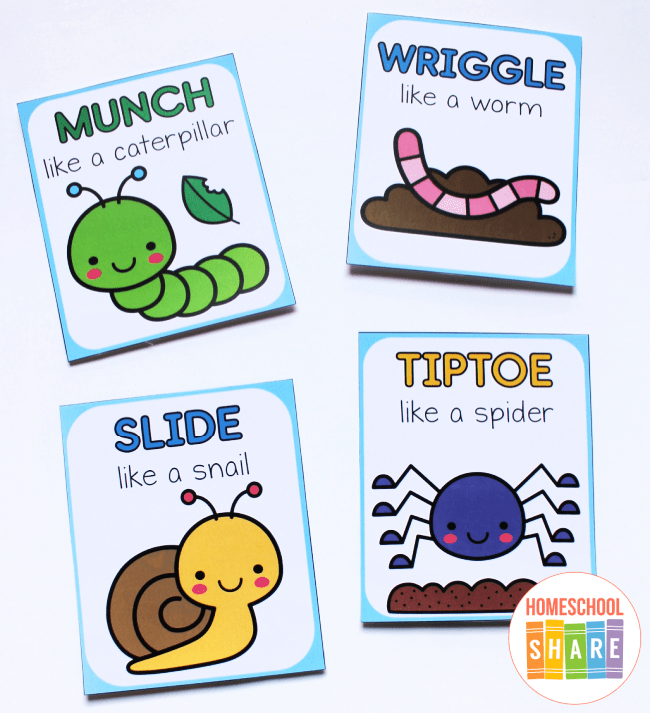 twirl like a ladybug
hop like a grasshopper
slide like a snail
tiptoe like a spider
creep like a slug
fly backwards like a dragonfly
catch a firefly
roll up like a pill bug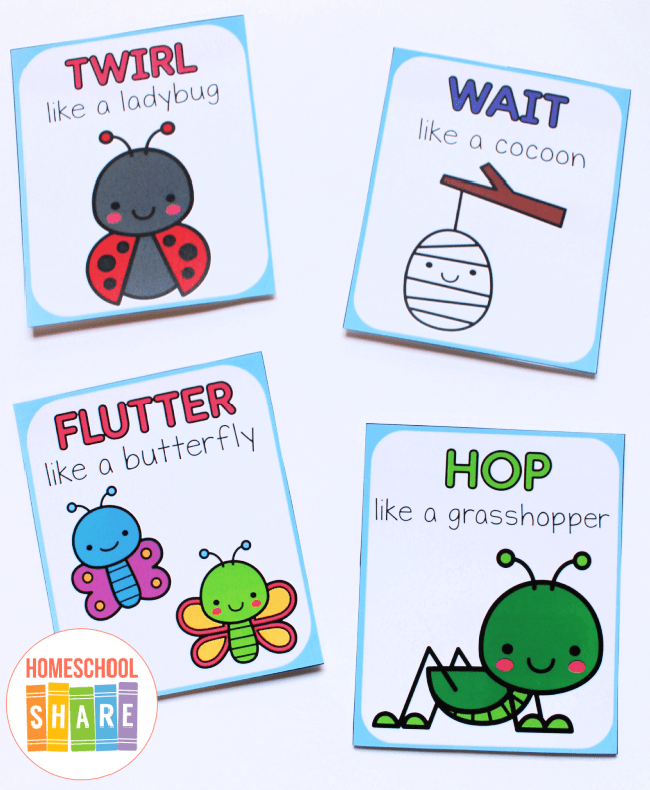 Add some enthusiasm while demonstrating the actions, and your students will catch on quickly. The cards are best used with the prompting of a teacher (or group leader—if you want to have one of the kids take the lead).
You can roll on the floor like a pill bug. You can swoop in the air for a firefly. You can even flap your arms and walk backwards to fly like a dragonfly. Have fun imagining and acting out the bug actions!
Consider using big, dramatic movements to help your students get their wiggles out.
For extra educational fun, sort the creepy crawlers (bug cards) into two piles: insects and bugs. You can use this as a discussion about what an insect is vs. what a bug is.
How to Use the Bug Exercise Cards for Kids
Download the file of action cards.
Print the cards on cardstock.
If desired, laminate for durability.
Cut out the cards.
You can use the cards in a variety of ways. Here are a few ideas:
Put them in a jar. When your student gets the wiggles, let her choose one and act out the insect movement card together.
Let your student choose a buggy workout! He could pick and line up 3-5 of the action cards and then lead you through the exercises.
Play a hide and go seek game. Hide the cards around the house. When your student needs a break from schoolwork, go on a hunt for a card. Find one (or two or three!) and act out the exercises together.
These cards would also make a great classification exercise. Sort the cards into two groups: insects and not insects. Spiders, slugs, snails, pill bugs, and earthworms are creepy and crawly, but they are not insects.
Download Your Free Exercise Cards Printable
Simply subscribe to the newsletter using the form below in order to grab your bug themed exercise cards.
More Insect Printables and Resources for Your Students
If you are hoping for more insect printables, you are in the right place. Try some of these: