Affiliate Disclaimer
We sometimes use affiliate links in our content. This won't cost you anything, but it helps us to keep the site running. Thanks for your support.
People have always told Jonathan that there are no bears on Hemlock Mountain, no bears at all. So he isn't afraid to set out alone over the mountain. But as Jonathan discovers one cold winter night, people aren't always right . . . there are bears on Hemlock Mountain!
Thanks to Wende, Heidi Jasper, and Ginger A. for preparing this The Bears on Hemlock Mountain unit study.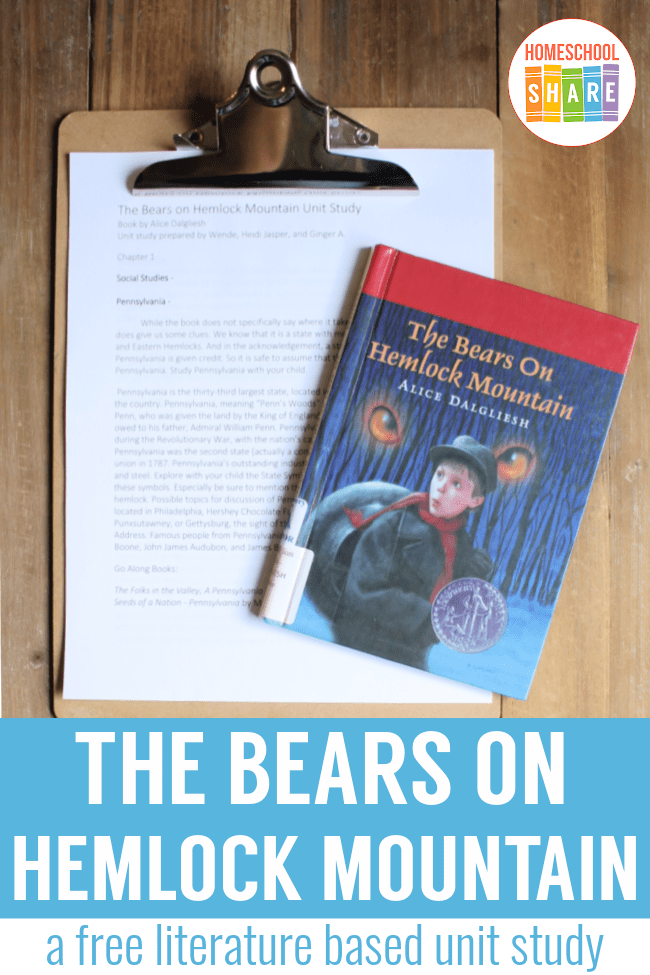 The Bears on Hemlock Mountain Unit Study Lessons
This unit study includes social studies, language arts, science, math, and art lessons and activities based on the book The Bears on Hemlock Mountain by Alice Dalgliesh.
Here is a sample of the lessons found in this The Bears on Hemlock Mountain unit study:
Language Arts: Writing Project
The title of Chapter 1 is "About Jonathan". We learn how old Jonathan is, where he lives, that he loves animals and birds, and a bit about his family. Have your child write a short story about himself, "About _________", making sure to include some of this same information.
Art: Drawing
Jonathan's mother cut out cookies in every shape you could imagine. Either freehand or using stencils draw every shape you can imagine. Decorate the shapes to look like cookies.
Geography: Landforms
There are a few landforms mentioned throughout this story. Familiarize your child with these terms:
Mountains – A natural elevation of the earth's surface, usually having steep sides and a narrow summit, rising higher than a hill.
Hills – An elevation of the earth's surface, not as high as a mountain.
Brook – A natural stream of water, smaller than a river or creek.
Science: Woodland Animals
Jonathan and his uncle enjoyed observing nature. They waited, looked, and listened. If possible, take your child for a nature walk, with some birdseed to scatter or breadcrumbs to throw, and have him wait, look, and listen. Have him identify and sketch any wildlife he sees. Discuss and research the animals Jonathan and his uncle had observed.
Cottontail – Cottontail is another name for rabbit. Rabbits are mammals that burrow underground and can have up to 10 babies per litter. They do not hibernate and can be seen throughout wintertime. What did the rabbits eat in the story? Rabbits are herbivores, which means they eat fruits and vegetables. Have your child research rabbits.
Song Sparrow – Sparrows make up the largest family of birds in the world. The Song Sparrow is one species of sparrow. Song Sparrows live in hedgerows, shrubbery, and fields. Heard most frequently in early spring, they have a melodious, recognizable song. The identifying mark of the Song Sparrow is a large brown center spot on a streaked breast, and a long, rounded tail. They are about 6 – 6 ¾ inches long.
Raccoon – Raccoons are carnivorous animals that eat poultry, mice, birds' eggs, insects, fish and frogs. Sometimes they vary their diet and will eat nuts or fruits. What did the raccoon in the story do with his apple? Raccoons have a habit washing their food before they eat it. Raccoons are mammals. Their bodies are covered with fur, they are warm blooded, and they have live births. You will find raccoons living in woodland, near ponds and streams. They are nocturnal, meaning they sleep during the day and hunt at night. Raccoons hibernate in the tops of hollow trees during the wintertime.
Squirrel – Squirrels are rodents that are found all over the world except Australia. Squirrels live mainly in trees, and while they mostly eat nuts and fruits, they will sometimes eat eggs or small birds. They are mammals, their bodies being covered with fur, being warm blooded, and having live births. Squirrels do not hibernate, and during the cold winter months will feed on the nuts and berries that they have buried the previous fall.
You can grab a copy of the entire The Bears on Hemlock Mountain unit study in an easy-to-print file at the end of this post.
The Bears on Hemlock Mountain Notebook Printables
In addition to the lessons, this The Bears on Hemlock Mountain unit study includes the following notebook pages for your student:
Winter Birds Notebook Pages (including Song Sparrow, Blue Jay, Bluebird, Chickadee, Tufted Titmouse, Nuthatch, and Owl)
Family Names Page
Rabbit Notebook Page
Eastern Hemlock Notebook Page
Pennsylvania Notebook Page
Animal Tracks Notebook Page
Woodland Animal Cards & Pocket
How to Get Started with The Bears on Hemlock Mountain Unit Study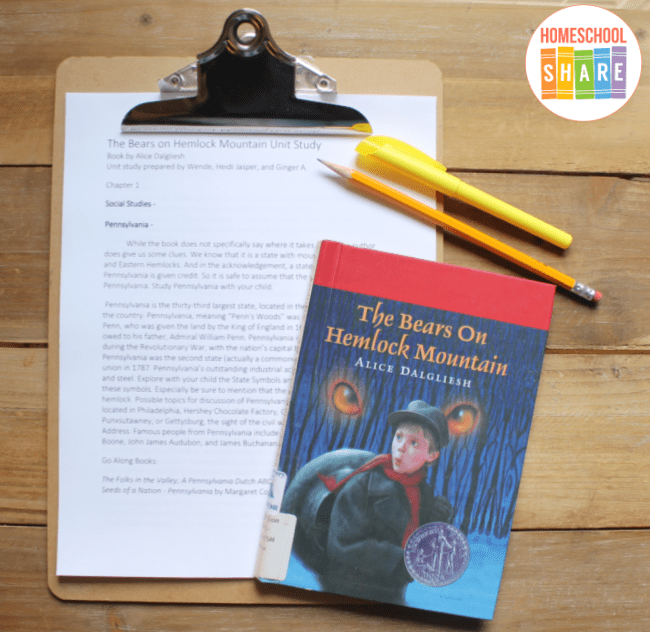 Follow these simple instructions to get started with the The Bears on Hemlock Mountain unit study:
Buy a copy of the book, The Bears on Hemlock Mountain, or grab one from your local library.
Print the The Bears on Hemlock Mountain unit study.
Choose the lessons and printables you want to use with your student (a highlighter works great for this).
Enjoy a week of book-based learning with your student.
Download Your The Bears on Hemlock Mountain Unit Study
Simply click on the image below to grab the free unit study.
More Chapter Book Unit Studies
Check out these other unit studies based on chapter books: