Affiliate Disclaimer
We sometimes use affiliate links in our content. This won't cost you anything, but it helps us to keep the site running. Thanks for your support.
This unit study includes lessons and activities based on the book Bach's Big Adventure by Sallie Ketcham.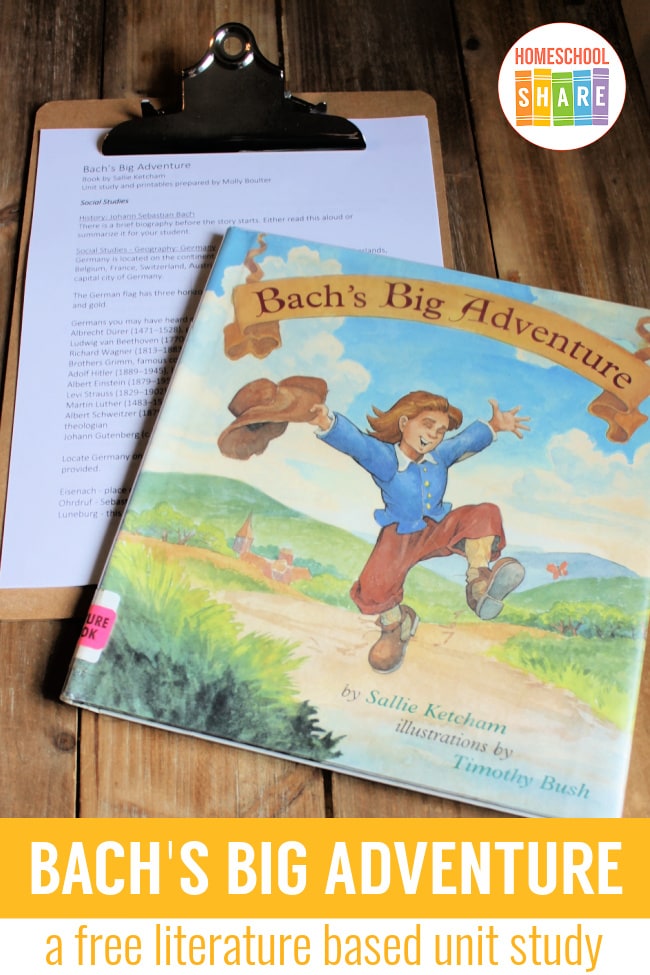 Thanks to Molly Boulter for preparing this Bach's Big Adventure Unit Study.
Bach's Big Adventure Unit Study Lessons
Here is a sample of the lessons found in this Bach's Big Adventure unit study:
Classical Music: Baroque
Different periods of time bring about different styles of music. On the classical music timeline, the Baroque Period (1600-1750) comes after the Renaissance period and before the Classical period. The Baroque era gave birth to the beginning of the orchestra. Composers would place musicians all over the church– in the balconies, by the altar, etc. The audience was surrounded with the sounds of the music creating an amazing experience!

Baroque music is characterized as tuneful and organized with decorated and elaborate melodies. Movements within the music contain conflict, contrast, and drama (you may hear a fast movement, then a slow movement, then another fast movement). These same elements were also prevalent in the artwork and architecture of the time.

Bach is known for bringing the Baroque period to its height. Other composers in this style were Monteverde, Vivaldi and Handel.
Punctuation: Hyphens
When two adjectives are put together to make one word they are hyphenated.. Look on the page that begins with, "And walk he did." There are examples of hyphenated words on this two-page spread. Have your younger student point out the hyphens.
Math: Fractions
Does your student notice anything about these words whole / half / and quarter notes? They sound a lot like fractions. Each bar in a sheet of music is a whole and the notes tell you how many sections in which it is divided.
You may want to take a look at the Rhythm/Fraction page for an illustration.
Practice counting and clapping different beat patterns.
You can grab a copy of the entire Bach's Big Adventure unit study in an easy-to-print file at the end of this post.
Bach's Big Adventure Printables
This Bach's Big Adventure unit study includes a few notebook and lapbook printables to go with the lessons.
Label the Map of Germany
Musical Fractions
Musical Note Pattern Cards
Ear Diagram
Johann Sebastian Bach Notebooking Page
Johann Sebastian Bach Shuttertied Mini-book
Flag of Germany Mini-book
How to Get Started with the Bach's Big Adventure Unit Study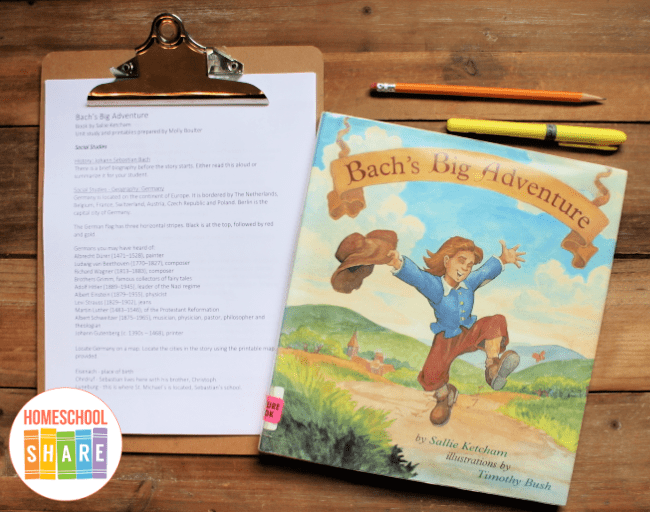 Follow these simple instructions to get started with the Bach's Big Adventure unit study:
Buy a copy of the book, Bach's Big Adventure, or grab one from your local library.
Print the Bach's Big Adventure unit study.
Choose the lessons you want to use with your student (a highlighter works great for this).
Print the printables you want to use.
Enjoy a week of musical learning with your student.
Download Your Bach's Big Adventure Unit Study
Simply click on the image below to grab the free unit study.
More Music Themed Resources