Affiliate Disclaimer
We sometimes use affiliate links in our content. This won't cost you anything, but it helps us to keep the site running. Thanks for your support.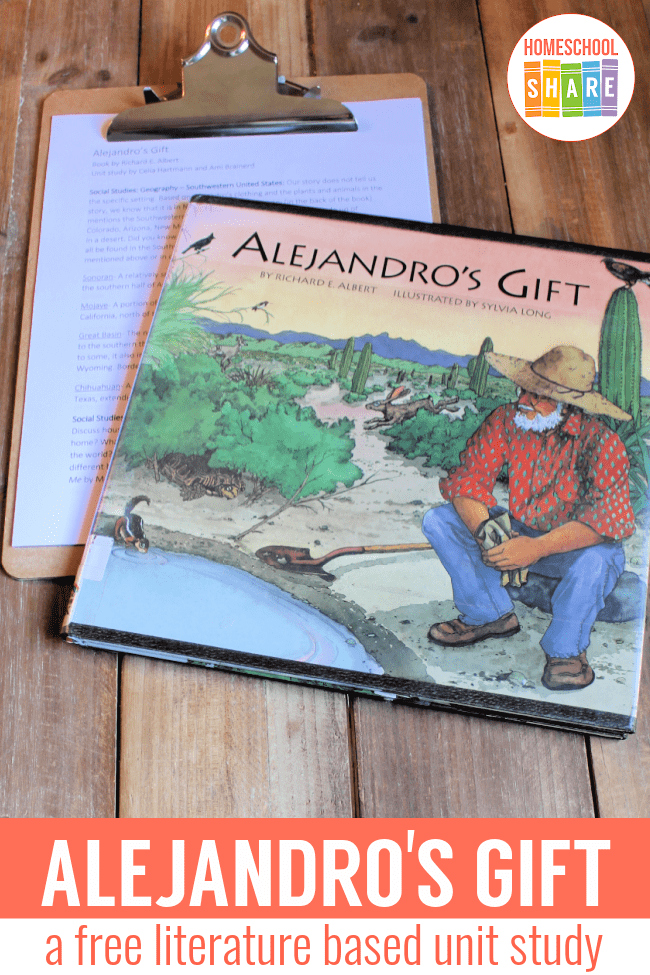 Thanks to Celia Hartmann for preparing this Alejandro's Gift Unit Study.
Alejandro's Gift Unit Study Lessons
This unit study includes lessons and activities based on the book Alejandro's Gift by Richard E. Albert.
Here is a sample of the lessons found in this Alejandro's Gift unit study:
Social Studies: Geography – Southwestern United States: Our story does not tell us the specific setting. Based on Alejandro's clothing and the plants and animals in the story, we know that it is in North America. The glossary (in the back of the book) mentions the Southwestern region of the United States which is made up of Colorado, Arizona, New Mexico, and Utah. We also know that this story takes place in a desert. Did you know that there are four deserts in North America? They can all be found in the Southwest. Make a story disk and place it in one of the states mentioned above or in one of the deserts mentioned below.
Sonoran- A relatively small region ofextreme south-central California and most of the southern half of Arizona, east to almost the New Mexico line.
Mojave- A portion of southern Nevada, extreme southwestern Utah and of eastern California, north of the Sonoran Desert.
Great Basin- The northern three-quarters of Nevada, western and southern Utah, to the southern third of Idaho and the southeastern corner of Oregon. According to some, it also includes small portions of western Colorado and southwestern Wyoming. Bordered on the south by the Mojave and Sonoran Deserts.
Chihuahuan- A small area of southeastern New Mexico and extreme western Texas, extending south into a vast area of Mexico.
Language Arts — Compound Words: Compound words are two words that have been put together to make one word. Examples from the story are: windmill, roadrunner, woodpeckers, nightfall, hoof beats. Can your student come up with others?
Art — Faces: Notice the pictures where Alejandro's hat covers most or all of his face (on his knees in the garden, with the burro, digging the second water hole). If your child does not like to draw faces because "he just can't get it right" ask him if he'd like to try drawing a person with a hat covering the face….it may be less intimidating!
On the other hand, if you have a budding artist who likes a challenge, have him look at the pictures where you can see only the side of Alejandro's face (close-up in the garden or the first water hole under the windmill). When we can only see the side of a person in a drawing that is called a profile drawing. Have your artist try drawing a profile.
You can grab a copy of the entire Alejandro's Gift unit study in an easy-to-print file at the end of this post.
How to Get Started with the Alejandro's Gift Unit Study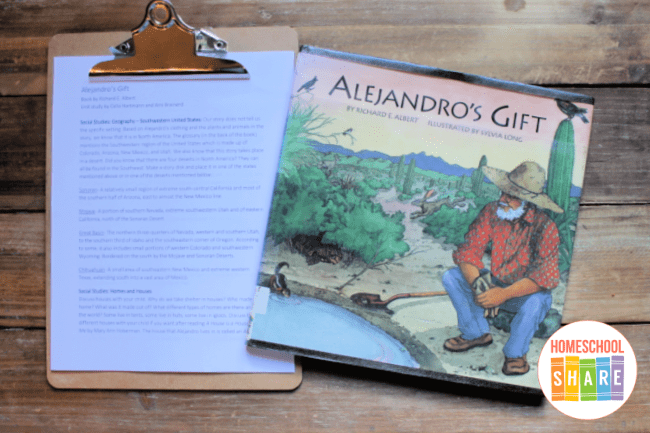 Follow these simple instructions to get started with the Alejandro's Gift unit study.
Buy a copy of the book, Alejandro's Gift, or grab one from your local library.
Print the Alejandro's Gift unit study.
Choose the lessons you want to use with your student (a highlighter works great for this).
Enjoy a week of literature-based learning with your student.
Download Your Alejandro's Gift Unit Study
Simply click on the image below to grab the free unit study.
More Resources for Learning About the Desert